XP Protection Center. How to remove? (Uninstall guide)
removal by Alice Woods
-
- Also known as
XPProtectionCenter, XP ProtectionCenter, XPProtection Center
| Type:
Malware
XP Protection Center is promoted as anti-spyware tool for MS Windows XP. XPProtectionCenter is neither related to Microsoft nor Windows XP operating system, but it is related to AntiSpyware XP 2009 malware.
XP Protection Center claims it can provide security protection and privacy protection, but you shouldn't expect much from a program installed by trojans. It uses fraudulent tactics to enter a system and to make users purchase the full version of this tool. People rarely pay for something that appears on a computer without their permission, but XP Protection Center tricks customers by presenting itself as reputable security application. It installs various files and picks them up during scan as those were infections. It also demands paying $49.95 or $79.95 for deleting the fabricated threats.
It's impossible to uninstall XP ProtectionCenter as regular program and it even might be impossible to close it. XPProtection Center modifies Windows registry and runs on every startup. It also hijacks web browser and redirects it to websites that promote XP Protection Center. It usually opens xp-protection-center.com, xp-protectioncenter.com, xp-prot-center.com, xpprotcenter.com, xp-p-center.com and xppcenter.com. Articles on these websites are full of logical mistakes and every website is fraudulent. There are no details provided about a company behind this software; and legitimate software developers don't hide like that. And there is no way to contact the creators of XP Protection Center unless you pay for a full version.
XPProtectionCenter is clearly a scam and it shouldn't be trusted.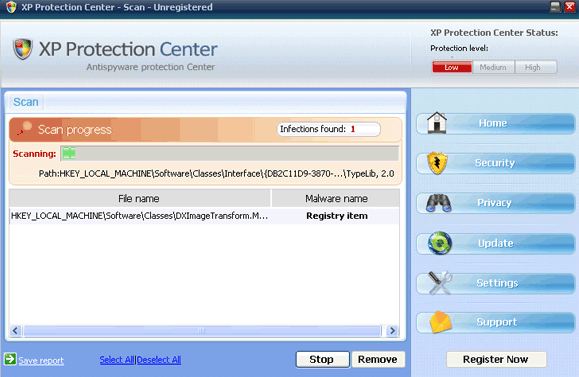 XP Protection Center manual removal:
Kill processes:
Uninstall.exe
XPProtectionCenter.exe
alarefuqe.exe
mokofyf.exe
pyxixu.exe
lavev.exe
Delete registry values:
HKEY_LOCAL_MACHINESOFTWAREMicrosoftWindowsCurrentVersionUninstallXPProtectionCenter
HKEY_LOCAL_MACHINESOFTWAREXPProtectionCenter
HKEY_CURRENT_USERControl Paneldon't load "scui.cpl"
HKEY_CURRENT_USERControl Paneldon't load "wscui.cpl"
HKEY_LOCAL_MACHINESOFTWAREMicrosoftWindowsCurrentVersionRun "XP Protection Center"
Unregister DLLs:
AVEngn.dll
htmlayout.dll
pthreadVC2.dll
msvcm80.dll
msvcp80.dll
msvcr80.dll
foxubory.dll
ogituqiv.dll
ojow.dll
Delete files:
c:\Program Files\XPProtectionCenter\AVEngn.dll
c:\Program Files\XPProtectionCenter\htmlayout.dll
c:\Program Files\XPProtectionCenter\pthreadVC2.dll
c:\Program Files\XPProtectionCenter\Uninstall.exe
c:\Program Files\XPProtectionCenter\wscui.cpl
c:\Program Files\XPProtectionCenter\XPProtectionCenter.cfg
c:\Program Files\XPProtectionCenter\XPProtectionCenter.exe
c:\Program Files\XPProtectionCenter\data\daily.cvd
c:\Program Files\XPProtectionCenter\Microsoft.VC80.CRT\Microsoft.VC80.CRT.manifest
c:\Program Files\XPProtectionCenter\Microsoft.VC80.CRT\msvcm80.dll
c:\Program Files\XPProtectionCenter\Microsoft.VC80.CRT\msvcp80.dll
c:\Program Files\XPProtectionCenter\Microsoft.VC80.CRT\msvcr80.dll
c:\WINDOWS\agof.sys
c:\WINDOWS\fykutejudi.sys
c:\WINDOWS\nojeneqy.bin
c:\WINDOWS\olis._dl
c:\WINDOWS\totewake.db
c:\WINDOWS\uzoxapylu.reg
c:\WINDOWS\system32\_scui.cpl
c:\WINDOWS\system32\foxubory.dll
c:\WINDOWS\system32\gihakigobu.dat
c:\Documents and Settings\All Users\Application Data\aqugomafa.reg
c:\Documents and Settings\All Users\Application Data\kiwivaxav.inf
c:\Documents and Settings\All Users\Documents\ozipajy.reg
%UserProfile%\Application Data\hewifehaby._dl
%UserProfile%\Application Data\ojas.scr
%UserProfile%\Cookies\esed._dl
%UserProfile%\Cookies\ogituqiv.dll
%UserProfile%\Cookies\ojow.dll
%UserProfile%\Cookies\zygewusyfa.pif
%UserProfile%\Local Settings\Application Data\aboh.com
%UserProfile%\Local Settings\Application Data\alarefuqe.exe
%UserProfile%\Local Settings\Application Data\mokofyf.exe
%UserProfile%\Local Settings\Application Data\pyxixu.exe
%UserProfile%\Local Settings\Application Data\sefyjemasy.vbs
%UserProfile%\Local Settings\Application Data\tuqijorujo.reg
%UserProfile%\Local Settings\Application Data\weci.bat
%UserProfile%\Local Settings\Temporary Internet Files\lavev.exe
%UserProfile%\Local Settings\Temporary Internet Files\ruhuf.sys
c:\Program Files\Common Files\liguzynaku.pif
c:\Program Files\Common Files\palozace.vbs
c:\Program Files\Common Files\usuk.scr
Delete directories:
c:Program FilesXPProtectionCenter
%UserProfile%Start MenuProgramsXPProtectionCenter
About the author