Yah000.net virus. How to remove? (Uninstall guide)
Yah000.net virus is a browser hijacker, which obviously uses other site's appearance in order to fool its victims. Basically, you can start looking for this redirect virus if you are continuously rerouted to this domain or other unwanted website. No matter that yah000.net looks similarly to yahoo.com, these two sites have nothing in common and belong for different people. According to our readers, many users have already been fooled by its tricky design but you should simply pay attention to the left upper side of this website. You won't find 'Make Y! Your homepage', 'Home', 'Yahoo!' and 'Yahoo! Sites' buttons there. We highly recommend to stay away from yah000.net website and remove its browser hijacker from your PC.
HOW CAN I GET INFECTED WITH Yah000.net virus?
yah000.net virus can be accidentally downloaded together with such programs as free games, program updates, audio/video codecs and similar. This is done without any permission asked by including this program into Components' list. Once it is installed, yah000.net virus changes DNS settings and starts its redirections on every browser, which is installed on victim's PC. Mostly, users find themselves redirected to yah000.net or see the "Error" page, but you can also find it instead of your homepage/start page. Basically, it helps for Internet criminals to generate the money through pay-per-click scheme. If you suffer from such problems, you should immediately remove yah000.net virus from your computer.
HOW CAN I REMOVE Yah000.net virus?
Firstly, in order to be sure that Yah000.net virus hasn't led you to malicious website and hasn't infected your computer, you should run a full system scan with Reimage or other reputable anti-malware program. Additionally, reset your homepage by following these steps:
On Internet Explorer:
Open IE -> go 'Tools' -> 'Internet Option' -> 'General'. Now set your homepage as a blank page or as a certain website and click OK to save the changes.
On Mozilla Firefox:
Open 'Mozilla Firefox' -> Go 'Tools' -> 'Options' -> 'General' -> 'Startup'. Now type in a certain website into the address box and click OK to save the changes.
On Google Chrome:
Open 'Google Chrome'-> choose 'Wrench Icon' -> 'Options' -> 'Basics'. On Startup area, select 'Open the home page'. Then go to the Home page area, type in a certain website into the address box and click OK to save the changes.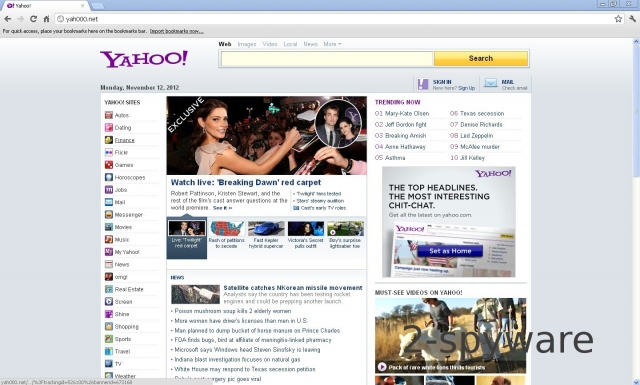 About the author
Removal guides in other languages