"Your Microsoft Computer has been blocked" virus. How to remove? (Uninstall guide)
How to react when "Your Microsoft Computer has been blocked" pop-up shows up?
The appearance of "Your Microsoft Computer has been blocked" virus alert does not necessarily mean that your PC is at risk. It means that you have installed a piece of malware that displays fraudulent warnings to you, seeking to frighten you and convince you to get in touch with tech support scammers, which deceptively claim that they are "Microsoft technicians." The "Your Microsoft Computer has been blocked" virus message also includes such lines: "Windows System Alert! System has been infected due to unexpected error!" However, later the message states that the computer might be compromised by a virus. You should know that these words are entirely made up, and you will not find a single true statement in them. This type of malware displays the same message to every computer user who accidentally installs it. The aim of these programs is to scare the PC user by repetitively mentioning the word "virus," telling tales about all possible problems that can happen to the computer, such as "hard drive is about to crash, DLL files got corrupted, possible registry failure" and so on. These lines can scare an inexperienced computer user, and force him/her to take ill-considered actions.
No matter what, do not call the number provided in the message, or you will only call tech support scammers, who are ready to scare you even more. These scammers tend to take advantage of inexperienced users and convince them to buy rogue programs, provide them remote access to the computer. Sometimes, these scammers ask for credit card details, too. If your computer has been infected with this deceptive malware, we strongly recommend you to ignore all these warnings and remove "Your Microsoft Computer has been blocked" virus from the system. For that, we suggest using the Reimage software.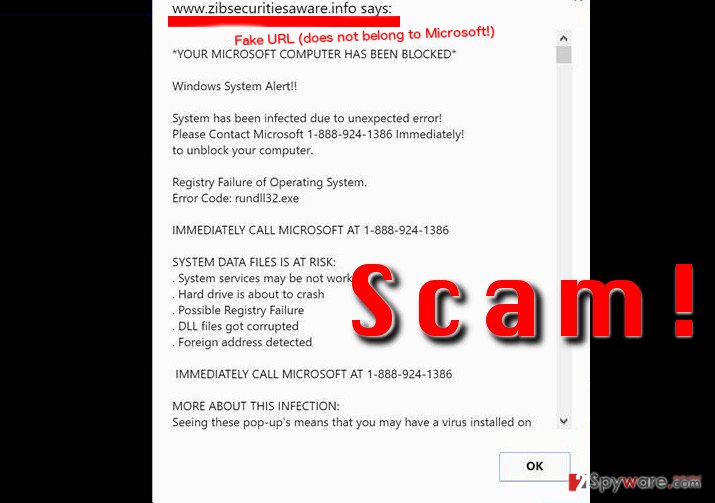 How did your computer get infected with this fraudulent program?
Remember – you have to be very careful and watch what you install on the system. Nowadays, many computer programs are distributed with the help of software bundling technique, which helps to install several programs at once. Many free software developers use this software distribution method in order to force computer users to install partners' software in a legitimate way. Hence, you should always choose Advanced or Custom settings to install the program you want because then you will be able to see whether it comes with additional software bundled with it or not. If after choosing these settings you notice a few suggestions to place additional programs, search tools, or other files on your computer system, deselect them. This way, you will stop them from entering your computer system unnoticed.
We also advise you to stay away from suspicious websites online. For example, you can find a lot of dangerous links on gambling and adult-oriented websites. If you see aggressive pop-up ads showing up on your screen, resist the urge to click on them; otherwise, you can put your computer at risk. You might get redirected to a malicious website or even immediately download malicious files to your PC.
How to eliminate "Your Microsoft Computer has been blocked" virus?
To remove "Your Microsoft Computer has been blocked" virus, you need to find and delete the executive file, as well as other components that make these fraudulent pop-ups appear. As we have stated before, the easiest way to carry out "Your Microsoft Computer has been blocked" removal is to run a malware removal software and let it find these files for you. We do not advise you to mess with this virus manually – it is designed to hide in your computer system, so if you are not an experienced PC user, it might be tough for you to identify and delete its components manually.
Alternate Software
We have tested Plumbytes Anti-Malware's efficiency in removing "Your Microsoft Computer has been blocked" virus (2016-09-01)
We have tested Malwarebytes's efficiency in removing "Your Microsoft Computer has been blocked" virus (2016-09-01)
We have tested Hitman Pro's efficiency in removing "Your Microsoft Computer has been blocked" virus (2016-09-01)
We have tested Malwarebytes's efficiency in removing "Your Microsoft Computer has been blocked" virus (2016-09-01)
About the author