Remove Zeast PC Tuneup (Removal Instructions)
"My computer was working properly until I installed a new media player on my computer. Now I am being flooded with warning messages that claim my computer is awfully infected! These alerts suggest me to call the Zeast PC Tuneup support number. What is the problem? Is my computer infected?"
What you should know about Zeast PC Tuneup:
Zeast PC Tuneup belongs to system tools category, and our research team also claims that this application is labeled as a potentially unwanted program (PUP). The description of this system device claims that it is an excellent product that will optimize your computer's performance, delete junk files and infectious programs from your system. However, you will not find this program on its official website, because one does not exist. Therefore, it means that this program is spread trickily – it slithers into users' systems without their permission when bundled with other freeware or shareware. After it hijacks your system, it will start to display various alerts, pop-up warning messages, which will claim that your computer is infected. You should not believe such threatening behavior because these warnings are fake. The aim of Zeast PC Tuneup PUP is to frighten you and make you think that your computer's safety is in danger. Typically, it blocks various computer processes and displays this error message: "All services have been stopped to prevent further damage". This website will show a support number – 1-800-935-0823. Do NOT call this number! It is a deceptive number that may charge you enormous amounts of money. Also, it may ask you to reveal personal details about you or even credit card information. In other words, this PUP program just wants to earn money from you, but it does not provide any system optimization service at all. Needless to say, Zeast PC Tuneup scanner is a suspicious application, which should be deleted immediately. For that, you can use a reliable anti-spyware program – SpyHunter.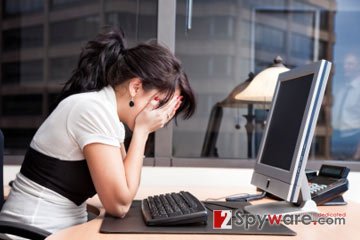 How did Zeast PC Tuneup hijack your computer without your knowledge:
Questions about Zeast PC Tuneup
This computer parasite travels together with freeware or shareware – and because of that you have to investigate if the website that provides the freeware's download link is the official one. Otherwise, you may receive a bundled software pack, which may include Zeast PC Tuneup. However, there is a way to check if your download includes any attachments. Launch the installation of your downloaded program, and proceed to the installation settings step. Then, select "advanced" or "custom" installation mode and look through the information that will be shown to you. Make sure you untick the statements that claim you agree with optional installations, and you are done. Now you can be sure that you will install only the preferred program.
How to get rid of this system tool:
You will get rid of Zeast PC Tuneup pop-up messages and alerts as soon as you delete Zeast PC Tuneup virus from your computer. We have prepared clear and easy removal instructions for you. Follow these steps:
1. Click 'Start' and select 'Control Panel.
2. Click 'Uninstall a Program' under 'Programs'.
3. Choose 'Zeast PC Tuneup' and select the 'Uninstall/Change' option.
4. Click 'Yes' and 'OK' to save the changes.
Alternative Software
Different security software includes different virus database. If you didn't succeed in finding malware with Reimage, try running alternative scan with SpyHunter.
Alternative Software
Different security software includes different virus database. If you didn't succeed in finding malware with Reimage, try running alternative scan with Combo Cleaner.
About the author

October 19th, 2015 at 4:11 am

At first, I was afraid that my computer is infected, but then I decided to search information about this scanner online. I have removed these fraudulent warnings easily!


October 19th, 2015 at 10:31 am

I have to admit, I was really scared for a moment that maybe my computer was badly messed up by some virus!


October 19th, 2015 at 10:34 am

These warning messages can scare anyone who is not an experienced or advanced computer user. It is always a wise decision to search the applications name online, guys, before doing what the error messages command you 😉


October 19th, 2015 at 10:38 am

Thanks for the removal guide! Zeast PC alert messages freaked me out at first, but, lucky me, I thought that I can google about this error using my phone because this computer parasite did not let me access some reliable and secure websites.