Introducing Restoro
Restoro is a powerful and comprehensive application that provides users with complete system solutions. It is designed to optimize the performance of PCs and ensure they operate at their maximum capacity. With its advanced features, Restoro is an excellent choice when it comes to all things maintenance, repair, and security.
One of the most notable features of Restoro is its ability to remove malware threats – it uses Avira's anti-malware engine, which is legally licensed. Malware can be a serious problem for computer users, and it can cause severe damage to your system. It can easily detect and remove malware threats, ensuring that your computer remains secure.
Another significant benefit of Restoro is its ability to detect dangerous websites. Many websites on the internet can be harmful, and it is essential to avoid them to prevent any harm to your computer. The software can detect dangerous websites and alert users before they visit them, providing an extra layer of protection.
Restoro can also restore maximum performance to your computer. Computers can become slow and sluggish over time, making it difficult to perform basic tasks such as opening apps or browsing files. This repair tool can optimize your computer's performance and ensure that it runs smoothly and efficiently.
In addition, Restoro can free up precious disk space by removing unwanted files and programs that are no longer needed. This can help improve your computer's overall performance and prevent it from slowing down.
Restoro software can replace damaged Windows files, ensuring your PC operates correctly. Damaged Windows files can cause various problems for your computer, including BSODs, registry corruption, and other errors. The software can easily replace these files and keep your machine running smoothly.
In conclusion, Restoro is an excellent choice for any computer user who wants to optimize their computer's performance and keep it secure. With its advanced features, it can remove malware threats, detect dangerous websites, restore maximum performance, free up precious disk space, and replace damaged windows files.
Whether you are a casual computer user or a professional, Restoro is the complete system solution you need and works perfectly when combined with a comprehensive security application.
Download and install Restoro on Windows
You can easily download the Restoro installer. Regardless of which browser you are using, the downloaded Restoro.exe file should be shown at the bottom-left corner – you should click it once to begin the installation process. Next, follow these steps:
After clicking the executable, User Account Control (UAC) will ask you whether you want to allow changes to your system – click Yes.
The setup window will show up. Here, you can select your language (or leave it as it is if you use English) and also untick Scan my computer after installation is complete option if you don't want the software to perform immediate evaluation and repair suggestions. We recommend leaving this option ticked.
Click Install and wait till the installation is finished.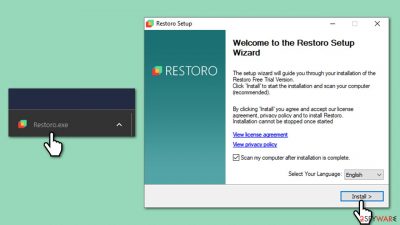 The scan and results
If you have chosen to leave the Scan my computer after installation is complete option, the scan of your system will begin immediately. If you haven't, you should double-click the Restoro shortcut on your desktop to launch the application. 
It will first compile data about your device and then create your PC profile, listing technical details such as what CPU, RAM, motherboard, and other hardware you use, available space, and more. The next step is to scan five different (potentially problematic) sections of Windows, which include:
Crashed programs. This section compiles a list of apps that can sometimes cause problems or crash unexpectedly in an unusual frequency in the past 4 months.
Malware and PUA scan ensures that all malicious programs, registries, and other components are detected and removed.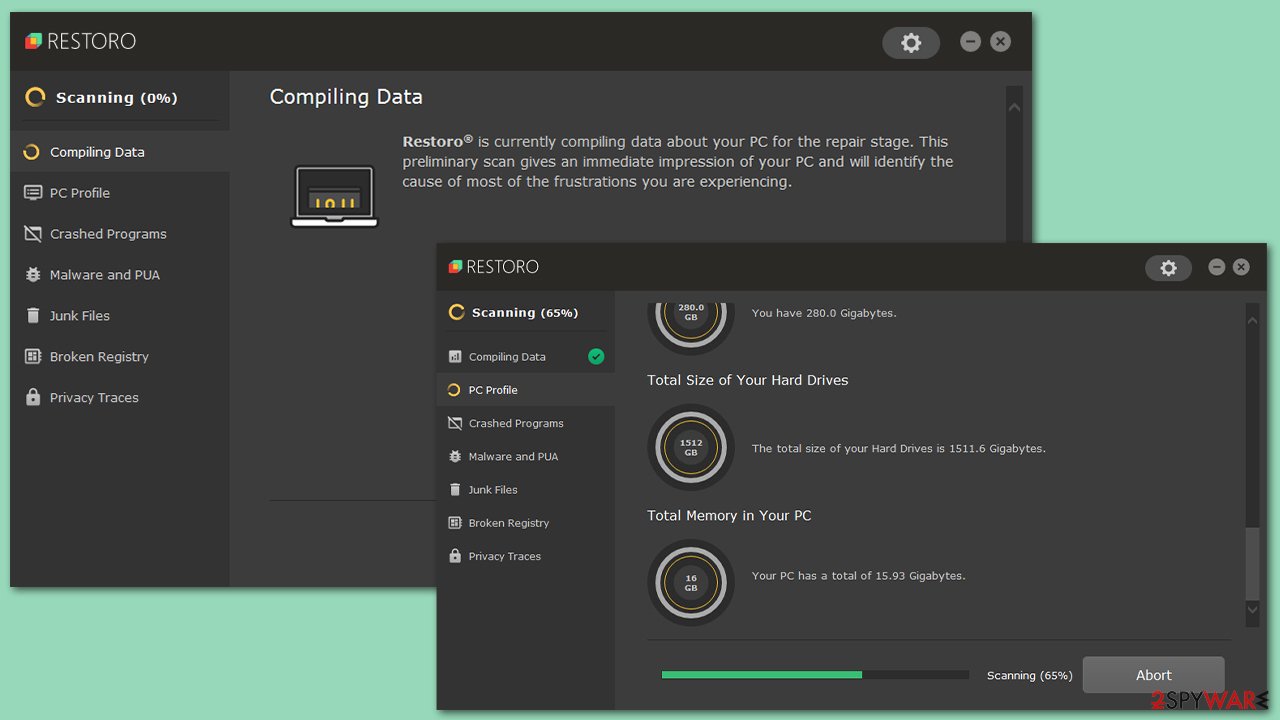 Junk Files can sometimes grow incredibly large, which can cause all sorts of issues. With Restoro, you can remove them conveniently with just one click.
Broken Registry. The registry database is a vital part of Windows, as it stores all your configuration settings. Sometimes, apps may leave broken registries when they are uninstalled, which can sometimes cause issues. That being said, modifying the Registry manually can be dangerous, as incorrect removal of important entries might cause stability issues. This is why leaving registry cleaning for specialized apps is recommended.
Privacy Traces. This scan is extremely useful when dealing with browser caches and other locations, which are used to store cookies and other trackers collected via the browser. This way, you can be sure that no suspicious parties are tracking your data.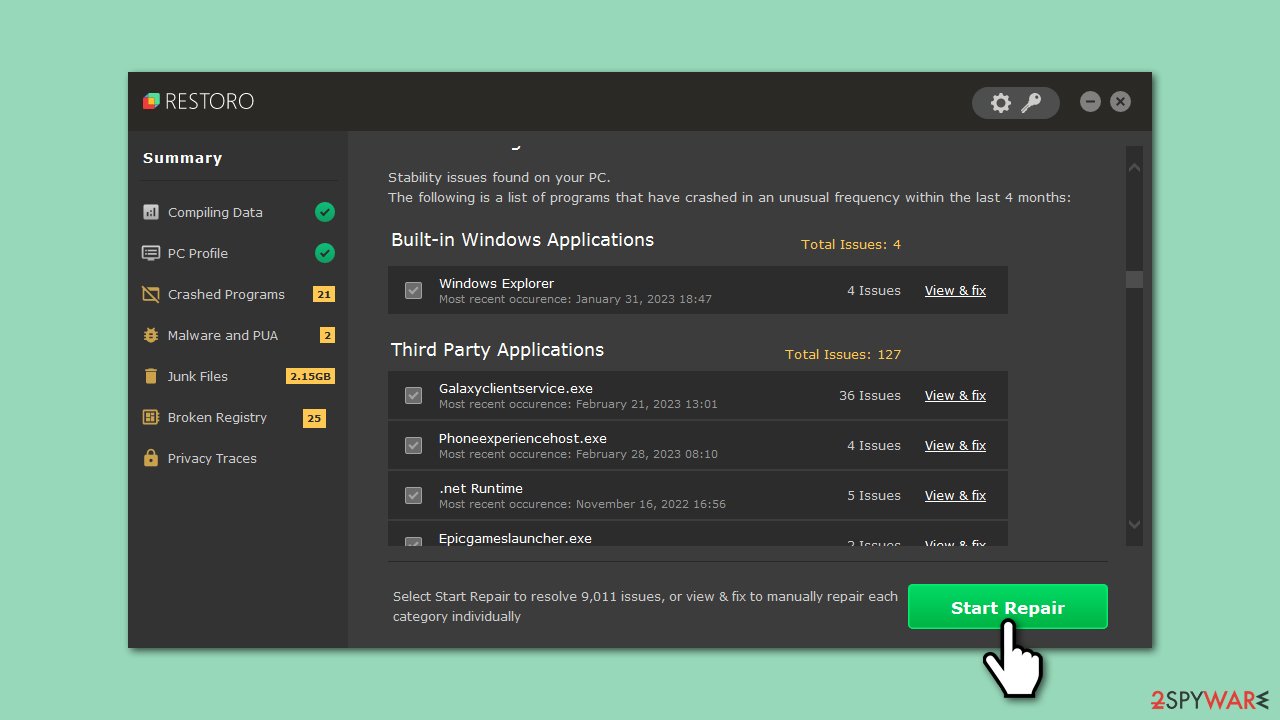 After the scan is finished, you can either access each issue manually and fix them yourself or rely on a quick, automatic fix by Restoro. If you choose the latter, you should click the Start Repair button at the bottom-right corner of the window, which would then redirect you to purchasing page – you can choose the plan that suits you best here.