Ads Alert, developed by PCPrivacySoftware company, can be purchased on pcprivacysoftware.com. Free version also exists and can be downloaded from this site.
We have tested free version of Ads Alert on clean uninfected computer. The application recognized files related to legitimate software, such as Adobe Acrobat Reader or Microsoft Windows Media Player, as browser hijackers and suggested eliminating them (see screenshot below). Scan report contained entry related to Lop spyware, although this parasite wasn't installed to the system. These results show that Ads Alert uses false positives.
Free version of Ads Alert does not have update function. Definitions database is quite old and cannot be updated. The application refuses to remove any found critical objects and asks to register and purchase full commercial version first.
The official PCPrivacySoftware site is uninformative. It lacks contact information, detailed products overviews and screenshots that you definitely want to see on such Internet resource.
Ads Alert IS NOT a good choice. Spyware remover with false positives cannot be trusted.
Ads Alert download:
not recommended
Ads Alert was carefully tested by 2-spyware.com research center. The review is the result of our test. If you know additional information about Ads Alert please
send us the note
Advice:
If your computer seems sluggish, or you are suffering from unwanted advertisements and redirects to unknown websites, we highly recommend you to scan it with reputable anti-spyware program. Do some FREE scan tests and check the system for unwanted applications that might be responsible for these problems.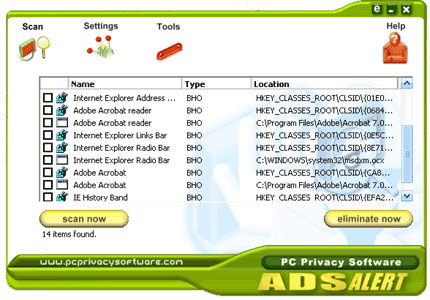 About the author