Adware Agent is made by Killersoftware LLC. Official domain associated with it is killersoftware.com. The web page lacks detailed information about the product and company. We were unable to find privacy policy in both site and installed Adware Agent.
We have tested demo version of Adware Agent on clean system. The application did not find any adware or spyware, it doesn't use false positives. However, its performance is poor. It doesn't scan for files and directories. System scan involves checking of registry and startup locations, although harmful objects can be located elsewhere.
Demo version refuses to remove parasites and asks to purchase full commercial version.
Adware Agent cannot provide good protection from spyware, adware and other malicious programs. We DO NOT recommend it.
Adware Agent download:
not recommended
Adware Agent was carefully tested by 2-spyware.com research center. The review is the result of our test. If you know additional information about Adware Agent please
send us the note
Advice:
If your computer seems sluggish, or you are suffering from unwanted advertisements and redirects to unknown websites, we highly recommend you to scan it with reputable anti-spyware program. Do some FREE scan tests and check the system for unwanted applications that might be responsible for these problems.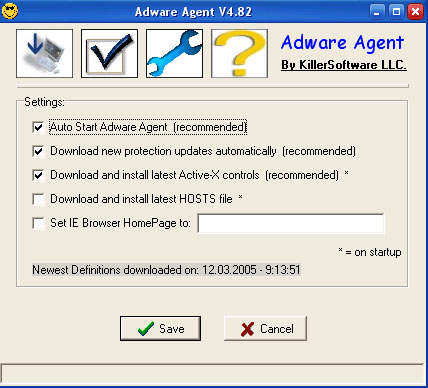 About the author