Adware Spyware Remover review
Adware Spyware Remover uses false positives. We have scanned clean system and it found two viruses. Files reported to be malicious are related to fully legitimate licensed applications (a computer game and interactive development environment). These files surely are not infected and do not possess any threat.
Free version of Adware Spyware Remover refuses to remove any critical objects it found. It asks to register and purchase full commercial version first. Official domains are adware.storesbiz.com and spy.storebiz4u.com. Both sites are identical and lack detailed information about the product and its developers. Links are incorrect. For instance, both "About Us" and "Products" links lead to "Frequently Asked Questions" page.
Adware Spyware Remover has more negative sides:
– It does not provide detailed information about found parasites. It can be very difficult to say which files are harmful and should be removed immediately and which are safe, especially if scan was performed on infected computer.
– It does not scan the Windows registry and running processes. Only files appear in report, while effective antispyware should check every part of the system.
– Program has poor and inconvenient interface (see a screenshot below). Reputable spyware remover must have a professional look.
We DO NOT recommend purchasing or using Adware Spyware Remover!
Adware Spyware Remover download:
not recommended
Adware Spyware Remover was carefully tested by 2-spyware.com research center. The review is the result of our test. If you know additional information about Adware Spyware Remover please
send us the note
Advice:
If your computer seems sluggish, or you are suffering from unwanted advertisements and redirects to unknown websites, we highly recommend you to scan it with reputable anti-spyware program. Do some FREE scan tests and check the system for unwanted applications that might be responsible for these problems.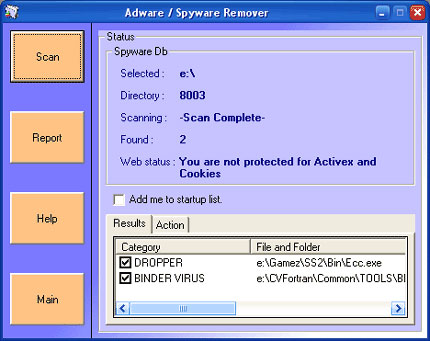 About the author