AdwareSpy is made by Elite Concepts company. It can be purchased on the official website adwarespy.com. Free version also exists and can be downloaded from there.
We have tested AdwareSpy on clean system. A full scan took 30 minutes. The application reported that a file and several Windows registry entries are related to adware, browser hijackers and should be removed. However, found file was a fully legitimate component of installed Adobe Photoshop program. Suspicious registry entries belonged to Creative sound card drivers and were required by multimedia devices to work properly. All these objects weren't harmful. Such results prove that AdwareSpy uses false positives. See screenshot below.
AdwareSpy functions, settings, interface and other components exactly resemble those found in other antispyware products, such as AdDriller, Ad-Where 2005 or ADS Adware Remover. All these programs are knockoffs of legitimate Ad-Aware antispyware. They use the same spyware definitions database and produce similar scan results.
We DO NOT recommend purchasing and using AdwareSpy.
AdwareSpy download:
not recommended
AdwareSpy was carefully tested by 2-spyware.com research center. The review is the result of our test. If you know additional information about AdwareSpy please
send us the note
Advice:
If your computer seems sluggish, or you are suffering from unwanted advertisements and redirects to unknown websites, we highly recommend you to scan it with reputable anti-spyware program. Do some FREE scan tests and check the system for unwanted applications that might be responsible for these problems.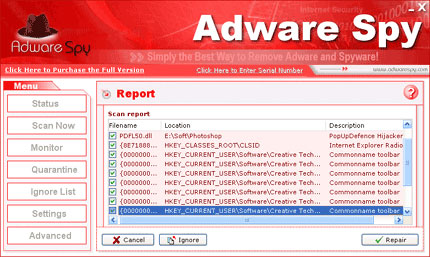 About the author