Privacy Solution Spyware Remover review
Free version of Spyware Remover, published by Privacy Solution company, was tested on clean computer. All hard disks were scanned. The application has detected 11 files related to spyware and viruses. However, each object listed in scan report was absolutely harmless and couldn't compromise the system or violate user's privacy. Analysis showed that 8 executables uninst.exe were recognized as dangerous Sandbox spyware. However, these files were simple uninstall tools, included in other tested antispyware software. File update.exe, which is a part of reputable Spybot – Search & Destroy antispyware, was detected as Direct Connection Virus. Other Spybot – Search & Destroy components borlndmm.dll and zipdll.dll were detected as Funny Trojan Virus and FTP SMTP Virus. These facts prove that Privacy Solution Spyware Remover uses false positives. See screenshot below.
The application uses incorrect scanning technique. It checks the hard disk containing thousands of files in only 5 seconds. However, currently no such spyware remover exist, which is able to perform full scan so quickly. The program doesn't check the Windows registry or running processes. It doesn't have any update function and uses outdated spyware definitions database.
Free version refuses to remove any parasites it found and asks to register and purchase full product.
The official site is adware.privacy-solution.com.
Avoid purchasing and using this software!
Privacy Solution Spyware Remover download:
not recommended
Privacy Solution Spyware Remover was carefully tested by 2-spyware.com research center. The review is the result of our test. If you know additional information about Privacy Solution Spyware Remover please
send us the note
Advice:
If your computer seems sluggish, or you are suffering from unwanted advertisements and redirects to unknown websites, we highly recommend you to scan it with reputable anti-spyware program. Do some FREE scan tests and check the system for unwanted applications that might be responsible for these problems.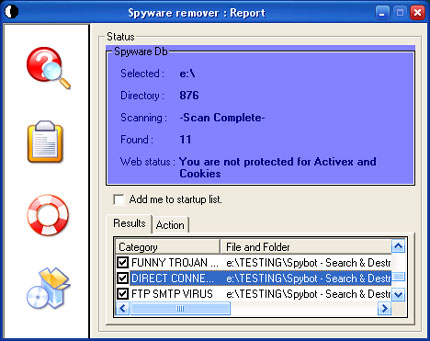 About the author