The both registred and free version were tested on clean computer. Each of them has detected 6 objects related to a browser hijacker and BearShare malware.
Deep analysis showed that items, which were detected as parasite browser helper objects (registry key C333CF63-767F-4831-94AC-E683D962C63C and file C:\ProgramFiles\TGTSoft\StyleXP\TGT_BHO.dll) actually belong to safe and legitimate StyleXP program, published by TGTSoft Corporation. They cannot compromise the system or violate user's privacy. StyleXP enhances the look of Windows XP interface. It manages visual styles, themes, wallpapers, icons, etc. It is not a parasite, adware or worm.
BearShare file sharing program was never installed to our test system. BearShare is not a malware. Free version of this popular application is ad-supported, but definitely cannot harm the system. Furthermore, even the registred version didn't provide detailed information on entries related with BearShare and their exact location in the registry.
Screenshot provided below shows that SpyFerret detects harmless programs as malware. SpyFerret uses false positives.
The developer of reputable Spybot – Search & Destroy antispyware claims that SpyFerret is a knockoff of his product. For more information please visit these links:
http://www.safer-networking.org/en/news/2003-07-01.html
http://www.safer-networking.org/en/compatibility/spyferret.html
The vendors of SpyFerret contacted us. They assert that SpyFerret doesn't use false positives. However, they admit that previous versions of SpyFerret used the same spyware definitions database as Spybot – Search & Destroy:
"As for SpyBot, we have all the respect for this free product and yes indeed we did at first use their DB unknowingly simply because we purchased what was supposed to be a clean DB while it was not. We have since moved to another provider and re-built SpyFerret from scratch in order to ensure that that we are not using anybody else's products."
Domains associated with SpyFerret are spyferret.com, spyferret.net and onlinepcfix.com.
We DO NOT recommend this product.
SpyFerret download:
not recommended
SpyFerret was carefully tested by 2-spyware.com research center. The review is the result of our test. If you know additional information about SpyFerret please
send us the note
Advice:
If your computer seems sluggish, or you are suffering from unwanted advertisements and redirects to unknown websites, we highly recommend you to scan it with reputable anti-spyware program. Do some FREE scan tests and check the system for unwanted applications that might be responsible for these problems.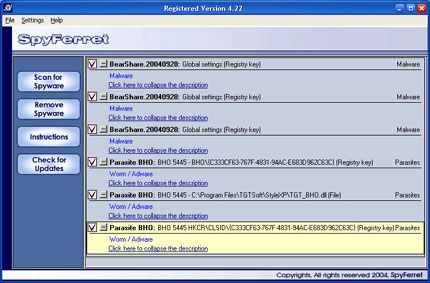 About the author