Spyware and Adware Removal
Spyware & Adware Removal pretends to be an anti-spyware program with advanced pop-up blocking features and integrated real-time monitoring. However, it is actually nothing more than a simple tool designed to block pop-ups, detect and remove a small number of malicious Internet Explorer plug-ins and some related threats.
The program does not check running processes, any files and folders. It only searches the Windows registry for known parasite-related entries. The real-time monitor is also not effective. It doesn not detect most spyware and adware parasites and attempts to install them to the system. All this makes Spyware & Adware Removal a very limited product that cannot offer a reliable protection against dangerous security and privacy threats.
The free version does not provide any update functions.
The official web site is www.synergeticsoft.com.
We DO NOT recommend purchasing this poor performance product.
Spyware and Adware Removal download:
not recommended
Spyware and Adware Removal was carefully tested by 2-spyware.com research center. The review is the result of our test. If you know additional information about Spyware and Adware Removal please
send us the note
Advice:
If your computer seems sluggish, or you are suffering from unwanted advertisements and redirects to unknown websites, we highly recommend you to scan it with reputable anti-spyware program. Do some FREE scan tests and check the system for unwanted applications that might be responsible for these problems.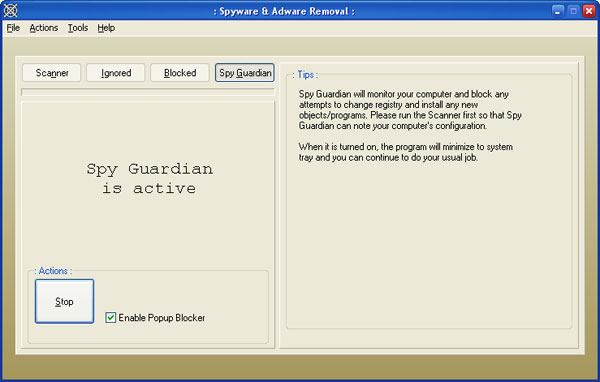 About the author