Spyware Defense uses ridiculous false positives. We have tested the program on absolutely clean computer. Spyware Defense detected 3 malicious files related to an adware parasite, trojan and backdoor. The analysis showed that found files actually have nothing in common with dangerous pests, as all of them belong to safe and fully legitimate software. The xlog.exe file detected as a backdoor is a standard system component, floppy.exe is not the Floppy Madness trojan, but a harmless part of the well-known PowerQuest Partition Magic program. Finally, support.dll is associated with Google Earth beta application that definitely is not a malicious adware parasite. See a screenshot below.
Full system scan involving the check of all hard disks containing hundreds of gigabytes of files doesn't take more than a minute. Spyware Defense doesn't thoroughly examine file content.
Free version is a very ineffective spyware remover. It refuses to remove any threats it found and asks to purchase full product. Furthermore, it doesn't scan the Windows registry and therefore is unable to detect most parasites.
The official web site is www.spywaredefense.com.
We DO NOT recommend purchasing and using this product.
Spyware Defense download:
not recommended
Spyware Defense was carefully tested by 2-spyware.com research center. The review is the result of our test. If you know additional information about Spyware Defense please
send us the note
Advice:
If your computer seems sluggish, or you are suffering from unwanted advertisements and redirects to unknown websites, we highly recommend you to scan it with reputable anti-spyware program. Do some FREE scan tests and check the system for unwanted applications that might be responsible for these problems.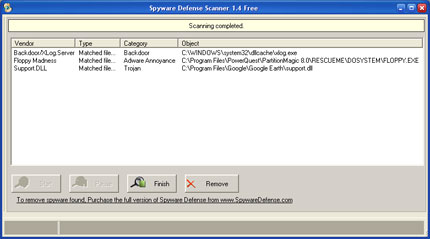 About the author