Spyware Strike is a corrupt anti-spyware program illegally installed to user computers by dangerous trojans, through malicious pop-ups and deceptive advertisements. This application is not only useless poor performance product, but also a clone of the infamous SpyAxe.
We have carefully tested Spyware Strike on several computers including absolutely clean machines and PCs infected with spyware and adware parasites. The results revealed that although the application does not produce false positives, it cannot detect most malicious objects and definitely is unable to protect user privacy and system security. Full System Scan performed on a modern computer containing hundreds of gigabytes of various data doesn't take more than one minute. Quick Scan takes even less – only 3 seconds! As you know, currently there are no such spyware remover capable to thoroughly check the system so quickly. This means that results of Spyware Strike scans cannot be trusted.
The program is illegally distributed with the help of dangerous trojans and aggressive advertisement campaigns. We are sure that the Spyware Strike vendor and its affiliates are responsible for such issues. We received numerous user reports and complaints stating that their computers are infected with the Spyware Strike trojan that displays fake warning messages, downloads the corrupt spyware remover and hijacks the web browser.
Spyware Strike is a clone of SpyAxe. It has a resembling interface and consists of terribly similar components. Furthermore, its web site is hosted on the same server as SpyAxe.
The official web site is www.spywarestrike.com.
DO NOT buy this product! AVOID Spyware Strike at all costs!
SpywareStrike manual removal instructions

SpyFalcon (SpywareStrike's clone) manual removal instructions
Spyware Strike download:
not recommended
Spyware Strike was carefully tested by 2-spyware.com research center. The review is the result of our test. If you know additional information about Spyware Strike please
send us the note
Advice:
If your computer seems sluggish, or you are suffering from unwanted advertisements and redirects to unknown websites, we highly recommend you to scan it with reputable anti-spyware program. Do some FREE scan tests and check the system for unwanted applications that might be responsible for these problems.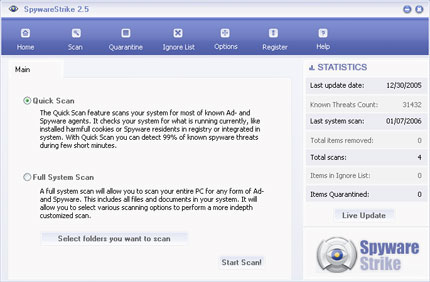 About the author