SpywareBomber appears to be a corrupt spyware remover. We could not test the application, because its official web site www.spywarebomber.com does not provide any free or trial version. However, 2-spyware.com users sent us numerous reports stating that SpywareBomber produces false positives detecting harmless files and registry entries as malicious objects related to dangerous parasites.
Furthermore, according to reputable spyware expert Eric L. Howes and his colleagues, SpywareBomber's vendor is connected to a known spyware distributor. The program's official web site is hosted on web servers of Enternet Media company, which likely is responsible for distributing a variant of the infamous EliteBar trojan.
Although we do not have any incontrovertible evidence of SpywareBomber corruptness, we suggest to AVOID purchasing and using this questionable product.
SpywareBomber download:
not recommended
SpywareBomber was carefully tested by 2-spyware.com research center. The review is the result of our test. If you know additional information about SpywareBomber please
send us the note
Advice:
If your computer seems sluggish, or you are suffering from unwanted advertisements and redirects to unknown websites, we highly recommend you to scan it with reputable anti-spyware program. Do some FREE scan tests and check the system for unwanted applications that might be responsible for these problems.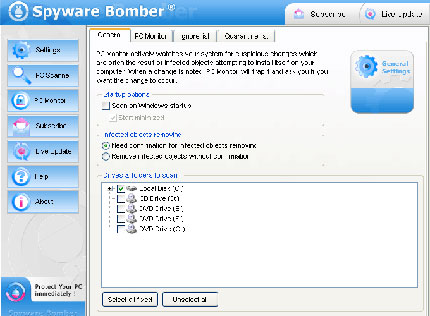 About the author