SystemStable does not produce false positives, provides updates and really finds some spyware-related objects. Nevertheless, we DO NOT recommend purchasing and using this corrupt product.
The program uses ineffective malware detection engine. Although it actually checks some running processes, system services and registry entries, it bypasses all the files, folders and other parasite-specific malicious objects, which exact locations and names are not specified in certain registry keys. In other words, SystemStable can detect only some known parasite components, but not their variants or the most recent threats. A system scan performed on a regular modern computer with hundreds of gigabytes of data did not take more than 15 seconds. As you know, there are no such spyware remover capable to thoroughly check the system so quickly. Furthermore, the program tries to deceive the user by displaying the infection warning even then when no critical objects were actually detected. During our tests SystemStable found 15 unidentified objects actually, which were related to installed legitimate programs such as Oracle database software and Spyware Terminator anti-spyware. The application didn't target found items as parasites, but still produced a warning. See a screenshot below.
The applications' free version refuses to remove any parasites it finds. It asks to register and purchase the full product.
The program is a clone of The Spy Guard and Adware Punisher. It has a resembling interface and consists of terribly similar components.
The official web site is www.systemstable.com.
Avoid this program!
SystemStable download:
not recommended
SystemStable was carefully tested by 2-spyware.com research center. The review is the result of our test. If you know additional information about SystemStable please
send us the note
Advice:
If your computer seems sluggish, or you are suffering from unwanted advertisements and redirects to unknown websites, we highly recommend you to scan it with reputable anti-spyware program. Do some FREE scan tests and check the system for unwanted applications that might be responsible for these problems.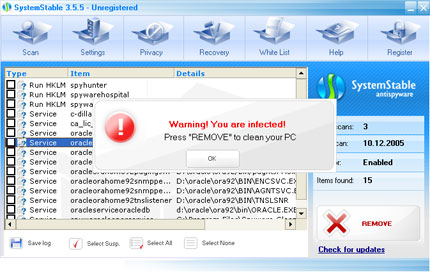 About the author