We have tested free version of Ultimate Cleaner on clean computer. The application has found one file related to certain trojan, probably Zins. However, detected executable aux.exe didn't exist in the reported location C:\Windows\System32. Moreover, the application detects the same file on each system scan. Our test computer was never infected by any trojans or backdoors. Ultimate Cleaner uses false positives. See screenshot below.
Ultimate Cleaner is unstable and can crash the system. After each scan it displays a window with scan report, which negatively affects the system. The application can corrupt the whole graphical user interface, decrease computer's performance and disable essential system components, such as the Clipboard. Apparently Ultimate Cleaner is either incompatible with common software (our test PC is running Microsoft Windows XP operating system) or works improperly.
The official domain is ultimatecleaner.com.
We DO NOT recommend this product.
Ultimate Cleaner download:
not recommended
Ultimate Cleaner was carefully tested by 2-spyware.com research center. The review is the result of our test. If you know additional information about Ultimate Cleaner please
send us the note
Advice:
If your computer seems sluggish, or you are suffering from unwanted advertisements and redirects to unknown websites, we highly recommend you to scan it with reputable anti-spyware program. Do some FREE scan tests and check the system for unwanted applications that might be responsible for these problems.
Alternate Software
We have tested Plumbytes Anti-Malware's efficiency in removing Ultimate Cleaner (2006-10-03)
We have tested Malwarebytes's efficiency in removing Ultimate Cleaner (2006-10-03)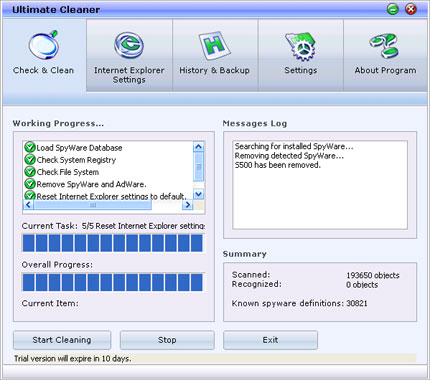 About the author