VundoFix V6 review, free download
VundoFix V6 is a small parasite removal tool, which is often called irreplaceable when speaking about effective removal of Vundo and VirtuMundo infections. This utility targets latest Vundo trojans and virtually all variants of the VirtuMundo parasite.
VundoFix V6 consists of only one executable file. Once the user launches it, the tool starts searching for malicious files. Then it automatically deletes them requiring no user interaction.
The tool introduces a quite simple, but yet convenient graphical interface.
VundoFix V6 is absolutely free.
The official web site is www.atribune.org.
Please note that VundoFix V6 is not a full-scale spyware remover. It is a stand-alone tool that removes only several known parasites, and therefore cannot replace a powerful anti-spyware product.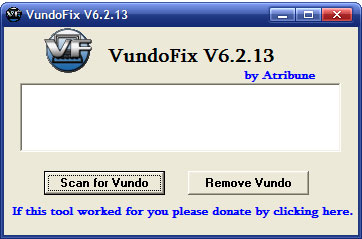 About the author