WareOut Spyware Remover review
WareOut Spyware Remover uses false positives. Free version was tested on clean system. The application has detected 5 critical objects related to spyware. However, all these objects actually were related to fully legitimate and safe software and couldn't compromise the system or violate user's privacy. For instance, the registry entry C333CF63-767F-4831-94AC-E683D962C63C and the corresponding file C:\Program Files\TGTSoft\StyleXP\TGT_BHO.dll actually are related to TGTSoft StyleXP application, which customizes and enhances the graphical user interface of Windows XP operating system. Executable dumprep.exe is an essential component of Windows OS. Adobe Gamma Loader is associated with installed Adobe Photoshop program and is required to apply the default monitor gamma on every system startup. Microsoft Internet Explorer, installed on our test system, is configured to accept resources that belong to Microsoft Corporation (windows.com and windowsupdate.com) as trusted sites. WareOut Spyware Remover showed that such configuration is somehow related to spyware. See screenshot below.
On the first run WareOut Spyware Remover adds false entries to the Windows registry. These entries point to certain unexisting files, which have the same names as the ones related to spyware programs. The application uses this technique to detect spyware objects even on absolutely clean PCs.
Free unregistred version refuses to remove any malware it found. It asks to register and purchase full product.
The official site is wareout.com.
We DO NOT recommend purchasing and using WareOut Spyware Remover. DO NOT install this program!
WareOut Spyware Remover download:
not recommended
WareOut Spyware Remover was carefully tested by 2-spyware.com research center. The review is the result of our test. If you know additional information about WareOut Spyware Remover please
send us the note
Advice:
If your computer seems sluggish, or you are suffering from unwanted advertisements and redirects to unknown websites, we highly recommend you to scan it with reputable anti-spyware program. Do some FREE scan tests and check the system for unwanted applications that might be responsible for these problems.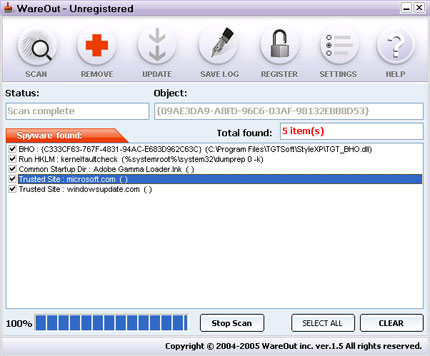 About the author