WebSafe Spyware Secure review
We have tested free version of WebSafe Spyware Secure on clean computer. All hard disks, the Windows registry, memory and cookies were scanned. Report contained one registry entry associated with BearShare adware. Analysis showed that found registry entry HKEY_LOCAL_MACHINE\Software\Classes\ed2k belongs to harmless eMule peer-to-peer program. It is required to support ed2k protocol and special links on certain web sites. BearShare file sharing application was never installed to our test system. Apparently WebSafe Spyware Secure uses false positives. See screenshot below.
Free version refuses to remove any objects it found and asks to register and purchase full product. Updates are also disabled.
WebSafe Spyware Secure is a clone of other corrupt antispyware programs, such as The Spyware Detective or AGuardDog Suite. It uses the same spyware definitions database, has almost identical interface and produce similar scan results.
The official site websafesecure.com doesn't contain privacy policy.
We DO NOT recommend this product.
WebSafe Spyware Secure download:
not recommended
WebSafe Spyware Secure was carefully tested by 2-spyware.com research center. The review is the result of our test. If you know additional information about WebSafe Spyware Secure please
send us the note
Advice:
If your computer seems sluggish, or you are suffering from unwanted advertisements and redirects to unknown websites, we highly recommend you to scan it with reputable anti-spyware program. Do some FREE scan tests and check the system for unwanted applications that might be responsible for these problems.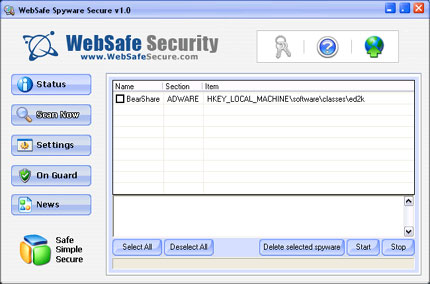 About the author