Free version of xSpyware was tested on clean computer. The application doesn't use false positives. However, we still DO NOT recommend it.
It is a knockoff of reputable Ad-Aware antispyware. It also is a variant of other similar products, such as Spyware Stormer or Spyware Slayer. xSpyware uses slightly modified spyware definitions database, has the same look and functionality.
xSpyware uses outdated reference database, released in September, 2004. Although update function is available, it cannot update the application. xSpyware reports that that "Updates currently not available, your version of xSpyware is up to date". Note that we have tested the program in April, 2005.
The official site is xspyware.net. It misses detailed information about the product and its vendors. Terms and Conditions provided there look very suspicious. Privacy Policy is questionable. For more information please visit these pages:
http://xspyware.net/legal.php
http://xspyware.net/privacy.php
xSpyware download:
not recommended
xSpyware was carefully tested by 2-spyware.com research center. The review is the result of our test. If you know additional information about xSpyware please
send us the note
Advice:
If your computer seems sluggish, or you are suffering from unwanted advertisements and redirects to unknown websites, we highly recommend you to scan it with reputable anti-spyware program. Do some FREE scan tests and check the system for unwanted applications that might be responsible for these problems.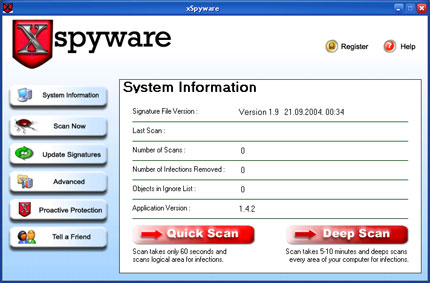 About the author