Rogue security applications impersonate leading anti-virus manufacturers
It has become usual thing that rogue security applications impersonate reputable and legitimate anti-virus programs. Most of the time, cyber-thieves and developers of rogue anti-virus programs use well known logos, images, color combinations and graphical elements to make their bogus applications look more professional and reliable. If you take a look at rogue anti-spyware programs PC Antispyware 2010 or Personal Antivirus which appeared in March, you will quickly notice that both programs use Microsoft icons, colors and graphical elements including legitimately looking alerts and notifications.
Lately, the rogue anti-spyware application called WiniFighter was using a fake online anti-malware scanner which is an exact copy of Kaspersky Online Scanner 7.
WiniFighter Online Scanner snapshot: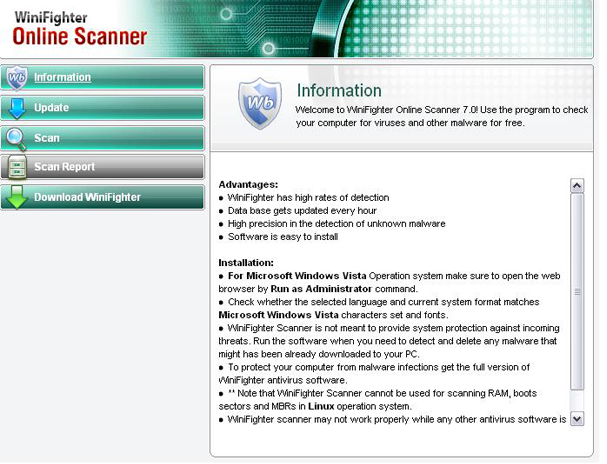 As you know fake online scanners are used to promote rogue applications and other malware. That's why you should always use only well known and trusted online scanners, such as:
Windows Live OneCare safety scanner

August 8th, 2009 at 2:02 am

To the authorized person at 2-spyware.com.

I went through the article about "Quick Heal AntiVirus Removal instructions". This araticle lists/indicates Quick Heal as a Rougeware.

My self Sanjay Katkar – Chief Technical Officer at Quick Heal Technologies (P) Ltd.

This article is in bad taste and does false claims against our software "Quick Heal AntiVirus 2009".

This misbranding of Quick Heal Technologies is totally false and misleading. This is to inform you that Quick Heal Technologies is in existence since 1993 and doing research in AntiVrius and computer security field. Quick Heal is right now No.1 consumer anti-virus software in India. Our product has been certified by industry standard certification bodies like CheckMark and Virus Bulletin. You can find more information about our products certification at their respective websites of http://www.check-mark.com & http://www.virusbtn.com. More information about our company and its products can be found at http://www.quickheal.com which is in existence even before 2-spwyare.com was started.

We have been advised that your website that is listing our product Quick Heal as a rogue application gives rise to serious legal issues of commercial defamation, tortious interference and contractual relationships, and other improper trade practices. In addition, and as you are probably aware, the use in commerce of any false or misleading description or representation of fact which misrepresents the nature, characteristics or qualities of another person's goods, services or commercial activities constitutes false advertising under the Lanham Act (15U.S.C. 1125(a)). Your false claims in the misleading article about Quick Heal AntiVirus product also violates other United States federal and state laws against unfair competition, trade libel, tortious interference and unlawful business practices.

These wrongful acts by you have caused and continue to cause Quick Heal Technologies irreparable and ongoing harm by not only interfering with and causing a diminishment and obstacle to the growth of our company.

The intent of this message is to place 2-spyware.com on formal notice of its wrongful actions and legal liability with respect to Quick Heal Technologies. Without waiving or prejudice to any rights that we have may have against you, we hereby demand that you immediately remove the webpage indicating Quick Heal as Rougeware.

Please understand that you and Quick Heal Technologies have a shared interest, not only in serving our common customers but also in keeping malware and spyware off our customers' computers. The misbranding of our software by you not only damages us, but also violates your contract with your users who are relying on your software application. I expect that you implement the above suggestions immediately.

We do, however, reserve our rights to protect our legal rights if such a resolution is not timely achieved, including, without limitation, pursuing our rights with the enforcement arm of the Office of the United States Trade Representative.

Accordingly, I would ask that you please contact me directly and promptly to confirm that the above remedial actions have been taken. I can be reached via email at sanjay@quickheal.com

Your sincerely,
Sanjay Katkar
For Quick Heal Technologies (P) Ltd. India.


October 8th, 2009 at 12:48 am

ir spyextractor irgi klaidingas yra. !!!!


December 3rd, 2009 at 10:45 pm

Hi Sanjay Katkar,

I went through the article "Remove QuickHealCleaner" and I also went through your company's website I checked your product listing and there is no product under the name "QuickHealCleaner" and as you stated above that the article is stating Qucik Heal as a Rougeware is incorrect it regards "QuickHealCleaner" as a Rougeware.

Dear 2-spyware.com,

As I have mentioned above that I've read your review – you failed to mention that "QuickHealCleaner" is a Rougeware but the applications by the company called Quick Heal are not Rougeware's, I think that you should mention that in the start of your removal instructions. Please do research before you make any kind of review or removal steps.

I'm open to further discussions about this topic and anymore regarding security issues you can surely mail me – gauravkale at in dot com.

Regards,

Gaurav Kale


September 5th, 2010 at 7:11 am

informative stuff, thanks


February 8th, 2012 at 5:59 am

Application security encompasses measures taken throughout the application's life-cycle to prevent exceptions in the security policy of an application or the underlying system (vulnerabilities) through flaws in the design, development, deployment, upgrade, or maintenance of the application.

Applications only control the use of resources granted to them, and not which resources are granted to them. They, in turn, determine the use of these resources by users of the application through application security.

Open Web Application Security Project (OWASP) and Web Application Security Consortium (WASC) updates on the latest threats which impair web based applications. This aids developers, security testers and architects to focus on better design and mitigation strategy. OWASP Top 10 has become an industrial norm in assessing Web Applications.