Rogue security applications impersonate leading anti-virus manufacturers
It has become usual thing that rogue security applications impersonate reputable and legitimate anti-virus programs. Most of the time, cyber-thieves and developers of rogue anti-virus programs use well known logos, images, color combinations and graphical elements to make their bogus applications look more professional and reliable. If you take a look at rogue anti-spyware programs PC Antispyware 2010 or Personal Antivirus which appeared in March, you will quickly notice that both programs use Microsoft icons, colors and graphical elements including legitimately looking alerts and notifications.
Lately, the rogue anti-spyware application called WiniFighter was using a fake online anti-malware scanner which is an exact copy of Kaspersky Online Scanner 7.
WiniFighter Online Scanner snapshot: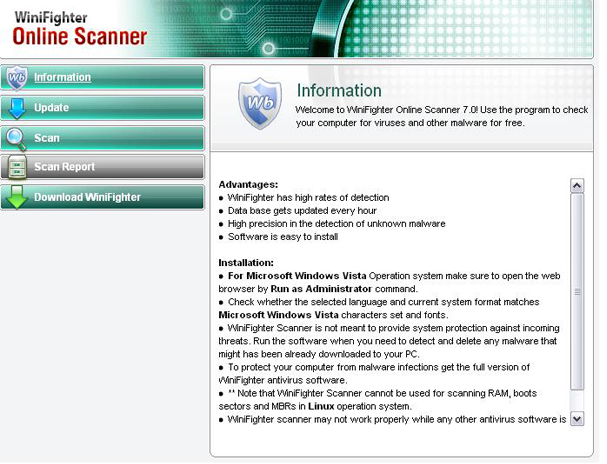 As you know fake online scanners are used to promote rogue applications and other malware. That's why you should always use only well known and trusted online scanners, such as:
Windows Live OneCare safety scanner