SpyAxe – another illegally distributed spyware remover
During last few months a lot of corrupt anti-spyware vendors and their numerous affiliates began to use an illegal technique to promote and distribute rogue products. They started to spread specific parasites like trojans, adware, browser and desktop hijackers that display pop-ups, advertisements, notifications and messages alerting victims about spyware infection and encouraging to downloading and installing a particular corrupt anti-spyware including the infamous SpySheriff, PSGuard, WorldAntiSpy and RazeSpyware. Messages and windows that pests show look like common system alerts generated by the Microsoft Windows operating system. Although this technique is quite simple and relatively old, it is still very effective, because it is targeted to inexperienced and novice users, who are in the majority.
Yet another corrupt anti-spyware program recently started being distributed that way. It is SpyAxe, initially classified by 2-Spyware.com research center as a reliable application. The program appeared somewhere about the end of October. We have tested the application and it passed all our tests and produced sufficiently good results. But after few weeks, starting from November 8, the SpyAxe vendor and/or its affiliates began to use deceptive and aggressive advertising methods implemented in certain trojans. We received numerous user reports and complaints stating that they are continuously receiving the following warning message: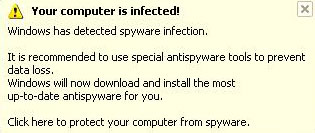 The text in a message may vary, but its purpose is always the same. It works as a link leading to www.spyaxe.com, which is the official web site of SpyAxe. Messages are displayed by the taskbar program that apparently is a variant of the TopAV trojan or similar pest. The parasite looks like a standard Windows update icon. Its main file is svchosts.dll located in the Windows directory, which typically is C:\Windows or C:\Winnt.
The SpyAxe vendor denies all illegal distribution charges and even provides the uninstall tool. However, we do not recommend using it. SpyAxe victims should rely on recommended anti-spyware tools or try to manually get rid of the parasite.