Stay away from Facebook scam that promises to show your friends naked!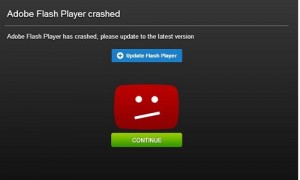 We have already warned our users about misleading ads that ask people to update Adobe Flash Player or other programs, and trick them into installing malicious files on the system. This strategy has been widely used for spreading programs that belong to adware category. However, it seems that scammers have started applying the same strategy for the distribution of more serious cyber infections. According to the latest reports, more than 1,000 people have already been tricked by this trickery and installed the malicious FlashPlayer.exe file on their computers. The most affected countries are Romania, the UK, Italy, France and Germany.
This particular scam relies on misleading Facebook message, which is titled "XXX private video" or "XXX naked video". It spreads at enormous speed because, as you may have already understood, it promises to show a video, which allegedly involves naked victim's friends. As soon as victim clicks on the "video", he/she automatically tags his/hers friends and continues distribution of this scam messages. Besides, he/she is also redirected to a fake Youtube site, which says "Adobe Flash Player has crashed, please update to the latest version". Once you click on it, computer is infected by trojan horse, which is detected by several security vendors as Trojan.FakeFlash.A or Trojan.GenericKD.1571215. According to them, people may be tricked into downloading several versions of this cyber infection if they click on the fake Flash Player update for several times.
If you want to avoid downloading malicious files on the system, you should never believe such and similar ads that are actively spread on the Internet these days. Instead of clicking on them, you should use only official websites for downloading updates on your computer. If you have already been tricked by this fake notification, we highly recommend scanning computer with reputable anti-spyware.
Source: hotforsecurity.com