The best anti-malware software of 2018
Choosing the best anti-malware software for 2018 is a must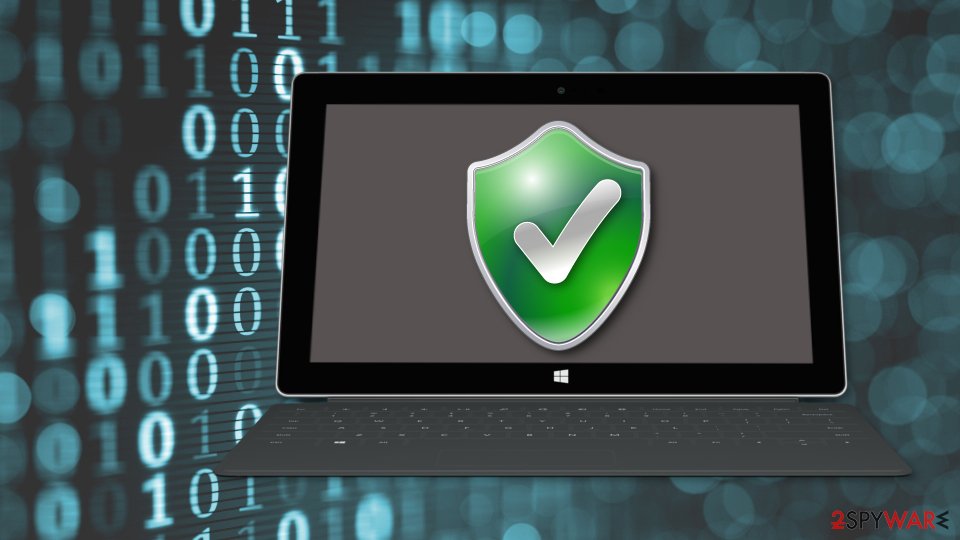 Destructive cyber attacks have been causing numerous problems for computer users, companies and cities. Unfortunately, security specialists predict that the situation can become even worse next year as they have already noticed an increase in cryptocurrency miners and other dangerous viruses.
We should also don't forget that developers of ransomware, trojans and other malware have also been improving their threats – the latest ransomware can not only encrypt your sensitive data, these viruses can also drop a cryptocurrency miner on your computer. Their infiltration methods are considered to cause damage to as many netizens as possible. Thus, everyone who has an internet connection needs to think of the anti-malware software to protect their data from criminals in 2018.
In order to help you to choose, the best anti-malware software of 2018, we reviewed many security tools in the market. Today we can share with you 5 tools that you should obtain for your computer's protection.
Malwarebytes Premium offers fast system scans and anti-ransomware protection
Malwarebytes 3.0 is an anti-malware software that offers protection for Windows, Android and Mac computers. Developers are giving 14-day free trial to test program's capabilities and features. Once this term is finished, user is left with anti-malware and anti-rootkit functions. The licensed version of this best anti-malware software gives you an ability to use these functions:
real-time protection that blocks malware attempts to infiltrate the system;
a full protection against system or software vulnerabilities so that they wouldn't be exploited by malicious programs;
anti-ransomware function;
system repairs function after malware, spyware or rootkit attacks;
the protection against malicious websites.
Malwarebytes 3.0 Premium edition has a super fast system scan. According to some tests, it might finish a scan in 2.5 minutes. Compared to other programs, the average scan time is 45 minutes. However, there's a downside of a fast scan. It might slowdowns computer's performance. However, it takes only a couple of minutes, and it's not a huge disadvantage.
The anti-malware was included in the CRNT Security 100 list which informs the best tools for cyber security protection. Malwarebytes was nominated as 11th of 20 Coolest Endpoint Security Vendors.[1] 
Latest Windows version: 3.3.1
Size: 18.9 MB
Price: $59.99
| Pros | Cons | Conclusion |
| --- | --- | --- |
| Protects from exploit and ransomware protection | System scans might slow down the system | Malwarebytes Premium offers great anti-virus protection and can be used together with other antivirus software to ensure maximum computer's protection      |
| Uses behavior-based detection |   |   |
| Works together with antivirus programs |   |   |
| High-detection rate |   |   |
| Provides a real-time protection |   |   |
| Protects from zero-day malware |   |   |
Webroot SecureAnywhere AntiVirus provides the fastest system scan results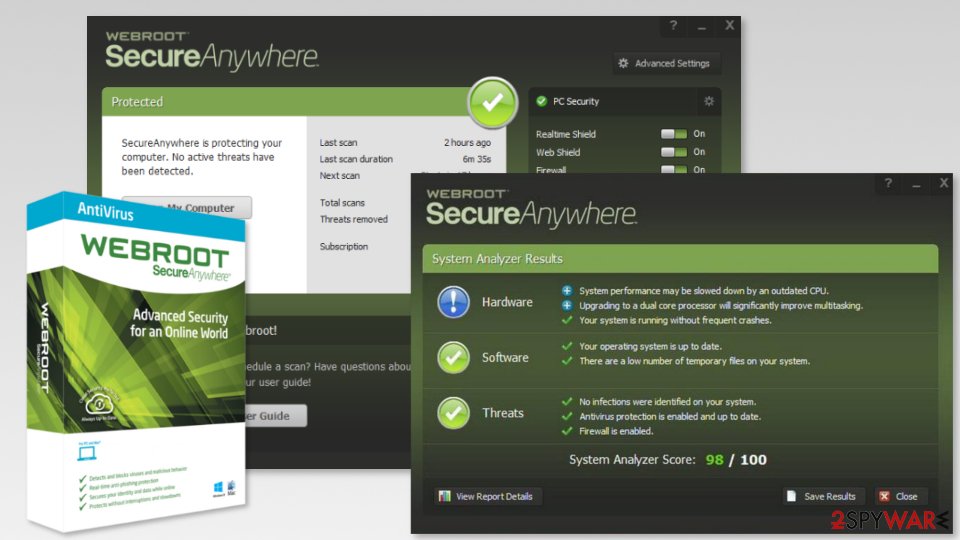 Webroot SecureAnywhere AntiVirus is one of the fastest and best anti-malware software that is available on the market. The program needs only 20 seconds to scan the computer and detect malicious components. Meanwhile, Malwarebytes requires about 2.5 minutes, Norton 23 min, Kaspersky 33 min, and McAfee even 46 minutes.2] However, full system scan might take a little bit more time.
Quick system scans might negatively impact computer's performance. It might use about 30% of computer's CPU during the scan.[2]  However, it requires less than 1% of CPU in the idle state.
The program also takes only 15 MB of the space. However, the small anti-malware offers a bunch of great features, such as identity theft protection, secure browsing and phishing protection, webcam protection and, of course, malware protection and removal.
It uses metadata, behavior patterns, cloud database, and heuristic detection system to detect malicious components on the system. Compared to other software tests results, Webroot ranks average or higher. 
Latest Windows version: 9.0.18.44
Size: 15 MB
Price: $29.99
| Pros | Cons | Conclusion |
| --- | --- | --- |
| High malware detection scores | Does not have independent lab results | The fast and small anti-malware program that offers protection from recent cyber threats |
| Fast system scans | Might cause system slowdowns during the scan |   |
| Does not require lots of space |   |   |
| Ransomware protection |   |   |
| Detects malicious domains perfectly |   |   |
Zemana AntiMalware provides real-time and zero-day protection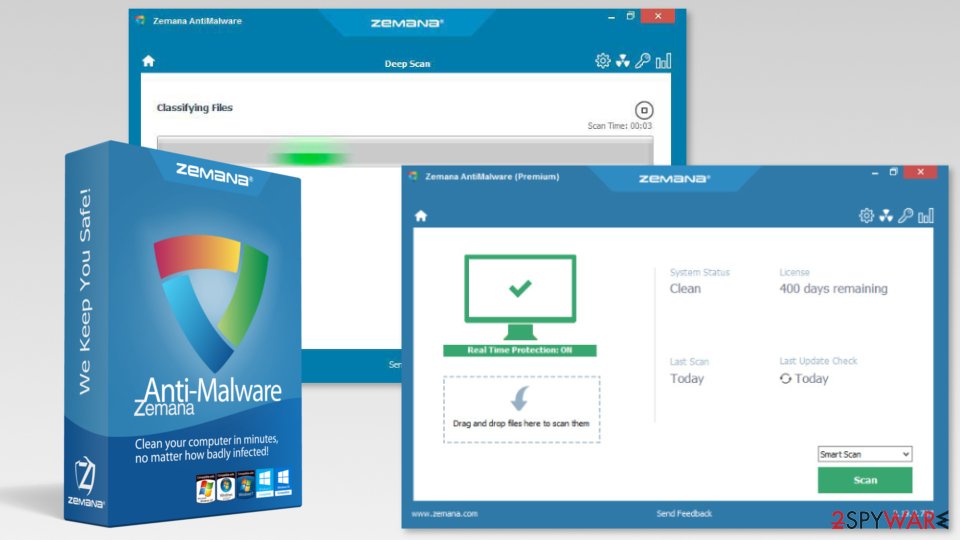 Zemana AntiMalware offers a real-time computer protection for Windows computers only. It can detect, block and remove browser hijackers, adware, potentially unwanted programs, ransomware, bootkits, rootkits and other malware. The software has OPSWAT Certification which ensures that anti-malware tool is reliable and effective.
One of the best anti-malware software variants has free and premium versions. While the free version works as a scanner and protects from major cyber threats; premium version provides real-time monitoring and protection from advanced threats, such as ransomware, zero-day malware or rootkits.
According to some test results, malware removal software might take up to 90 minutes to complete a system scan.[3] Compared to other programs, it's twice longer than average antivirus scan time. However, the program requires less space than Webroot. It takes only 6 MB.
Latest Windows version: 2.74.2.150
Size: 6 MB
Price: 24.95 €
| Pros | Cons | Conclusion |
| --- | --- | --- |
| Zero-day protection | Slow system scans compared to other antivirus in the market | A small security software that offers a high level of security to protect from advanced cyber threats. However, a very slow system scans might be bothersome and might disturb work with a computer. |
| Protection from potentially unwanted programs |   |   |
| Rootkit an bootkit removal |   |   |
| Real-time protection |   |   |
Bitdefender Total Security 2018 shows excellent independent testing labs results
Bitdefender Total Security 2018 offers a multiple computer, mobile and online protection once you obtain the license. This program deserves to be on the list of the best anti-malware software of 2018 because it provides plenty of security options, such as:
Complete data protection;
Advanced threat defense;
Webcam protection;
Multi-layer ransomware protection;
Anti-phishing;
Anti-fraud;
Anti-Theft;
Secure browsing;
Safe files feature to protect the most important files from modifications;
Malware detection and removal.
As you can see, anti-malware offers all needed security features that you might need to protect your computer, data, sensitive information and identity from cyber criminals. Additionally, software has advanced features, such as social network protection, parental advisor or Battery Mode to save your laptop's or smartphone's battery life. Developers offer 30-day free trial to test all these features yourself before buying the license.
Antivirus software is also nominated as PC Mag Editors' Choice in 2016:[4][5]
If what you want is every possible security component in one integrated package, Bitdefender Total Security is exactly what you need. It's an Editors' Choice for security mega-suite. Neil J. Rubenking[6]
According to August 2017 – October 2017 AV-TEST results, Bitdefender Total Security 2018 collected 5.94 from 6 points in highest Protection Against Infections category. The same test results also proved that it has the lowest impact on computer's performance. Anti-malware received 5.76 out of 6 points. In both categories, anti-malware bypassed antivirus programs like Kaspersky, Symantec, and McAfee.
Minimal system requirements
Operating system: Microsoft Windows XP/Vista/7/8/8.1/10
Dual Core 1.6 GHz processor, Memory (RAM): 1 GB
Available free hard disk space: 1.5 GB
Price: € 43.99
| Pros | Cons | Conclusion |
| --- | --- | --- |
| Multi-layer ransomware protection | Average hands-on test results | Bitdefender offers maximum computer, privacy and identity protection for all your devices and gives additional features for a better experience. |
| Additional PC cleanup tools |   |   |
| Antivirus protection |   |   |
| Great independent testing labs results |   |   |
| Anti-phishing protection |   |   |
| Webcam protection |   |   |
| Low impact on computer's performance |   |   |
Emsisoft Anti-Malware provides great real-time protection from malware and ransomware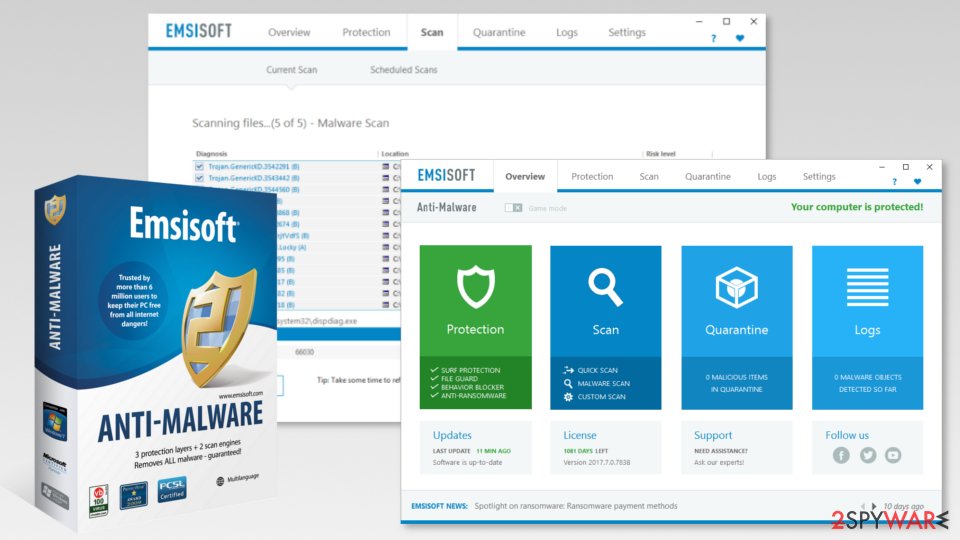 Emsisoft Anti-Malware protects from ransomware, banking trojans, bots, backdoor threats, and potentially unwanted programs (PUPs). Thus, it ensures that Windows computers are protected from all recent cyber threats that might provide bigger or smaller damage to the system.
In the AV-Comparatives' real-world protection test, Emsisoft Anti-Malware blocked 98.8% of the threats.[7] According to Malware protection test March 2017 data, anti-malware blocked 99.68% of threats.
To achieve great malware detection results and be included in the best anti-malware software of 2018 list, it uses 4-layer protection and dual-engine malware scanner. Emsisoft Anti-Malware scanner combines antivirus and anti-malware technologies. Thus, it explains high detection rates. It also has a custom-built "ransomware detector" that keeps your files safe and sound from file-encrypting viruses.
Another advantage is that it can complete scan within one minute. Compared to other antivirus, this one operates effectively.
Latest Windows version: 2017.11.0.8247
Size: 267.75 MB
Price: € 19.98
| Pros | Cons | Conclusion |
| --- | --- | --- |
| Behavior-based malware and ransomware detection | Does not show the best results in anti-phishing detection | The program offers great results in malware detection and protection. Thus, it keeps the system protected by providing continuous real-time scans |
| High malware detection scores |   |   |
| Excellent malicious domain blocking results |   |   |
| Quick system scans |   |   |
| Provides news and alerts about malware |   |   |
| Real-time protection |   |   |
Bonus: Reimage – a multifunctional application to keep the system secure and optimized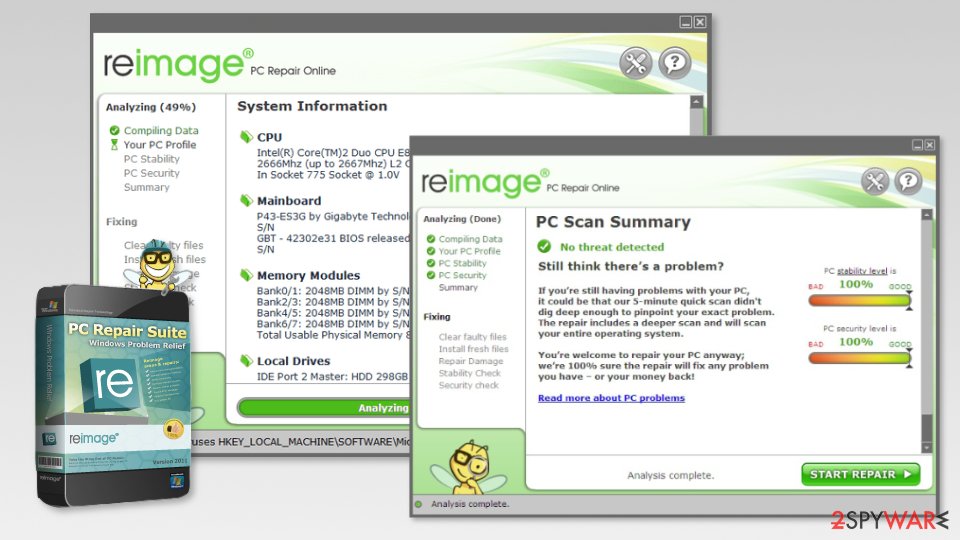 Reimage is an extraordinary tool that we would like to introduce at the end of the best anti-malware software of 2018 review as the bonus software. This program has two different capabilities:
computer repair function;
virus protection and removal.
This double functionality can greatly improve your computer's state because you cannot only remove malware from the system but can also repair its negative impact.
During the system scan, Reimage Repair looks up for viruses, malware or corrupted files. For that, it uses Avira AntiVir engine. After it removes malware, it also fixes all errors in PC OS. Typically, they include these computer-related issues:
Windows errors;
Blue screen of death;
Damaged dlls;
Freezing computer;
Virus damage;
Provides OS recovery.
Reimage database includes 25,000,000 essential system components that are used to reverse the damage caused by malware. Thus, the program is capable of returning the affected computer to its previous state. This tool is extremely useful after the ransomware attack because this type of cyber threat can alter Windows Registry. 
Reimage is an amazing software program for what it does. Bill Gordon, WeHateMalware.com[8]
The program has three major versions: Windows, Mac and mobile. The last one is compatible with Android operating system and can be acquired for free.
| Pros | Cons | Conclusions |
| --- | --- | --- |
| Fixes corrupted system files or registry entries | Does not provide real-time protection | Reimage can be used as a malware removal tool and a repair software |
| Repairs major system errors | Does not fix problems with third-party software | It is an exceptional tool that can reverse virus damage without a need to reboot computer  |
| Eliminates Blue screen of death | Cannot eliminate hardware problems |   |
| Increases computer's speed |   |   |
| Detects and deletes malware |   |   |
| Improves system stability |   |   |
| Has frequently updated database |   |   |
About the author
References
Read in other languages