What is Trojan.LockScreen?
Trojan.LockScreen is an especially dangerous cyber threat that belongs to trojan horse category. However, it can also be categorised as ransomware because it acts as the optional component of these cyber threats. Mostly, this infection comes inside its target PC system undetected. Once inside and active, this trojan horse starts playing one of the most important roles in the functionality of Ukash and Police virus. In addition, it is known that it has also been involved to the propagation of Cryptolocker, CTB Locker, Cryptowall and similar crypto-ransomwares that have already been announced on our site. Please, stay away from these threats as far as you can because they are capable of blocking important files and then asking to pay a ransom in exchange for unblocking them. Typically, such viruses are interested in people's videos, important documents, photos, music files and similar files that are used by them each day. Unfortunately, but it is very hard to unblock encrypted files without a code, which is held by cyber criminals. If you are in such situation right now, you should waste no time and disconnect your PC from the Internet. In addition, make sure you scan your computer with updated anti-spyware to remove infected files from it. Finally, you should try these tools for decrypting your encrypted files: R-Studio, Photorec or Kaspesky Ransomware Decryptor.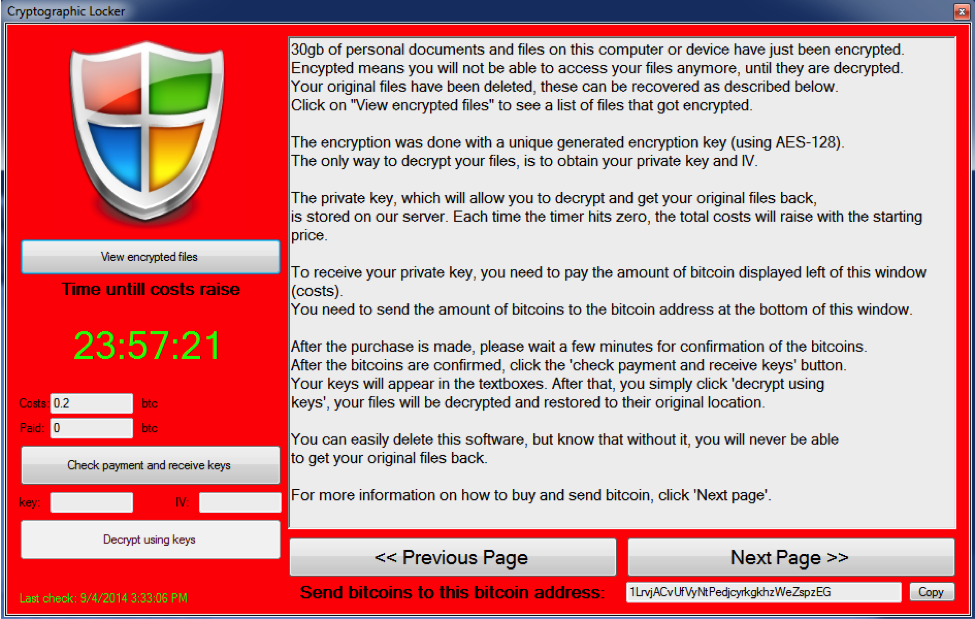 How can I get infected with Trojan.LockScreen?
While there is still unknown the exact scheme of Trojan.LockScreen propagation, security experts guess that this trojan infection relies on spam and infected email attachments. That's why you should stay away from suspicious emails that were sent to you by a person that you don't know. Also, make sure that you monitor installation of free software because you can never know how harmless or harmful it may be. If Trojan.LockScreen infects computer, it scans it and starts looking for predetermined files. After finding them, a virus encrypts them and starts showing the huge alert message belonging to Ukash virus or one of crypto-ransomwares. Note that this trojan can also be used to take over your browser, modify Windows Registry, remove or download certain files on your computer. As you can see, you must remove Trojan.LockScreen as soon as possible.
As we hve already mentioned, Trojan.LockScreen gets inside the system with a help of various means of distribution, like freeware, shareware and similar. Once it gets inside, it downloads ransomware on the PC and causes other unwanted changes. Typically, with a help of Trojan.LockScreen you can get infected with FBI Moneypak, FBI Green Dot Moneypak virus, IPA virus and similar infections. They all act almost identically: they display a huge alert that looks like it was sent by governmental authorities and says for the user that he has been doing illegal activities on his computer. That includes spreading copyrighted content, watching pornographic videos or even spreading malware. Additionally, they require to pay the fine for all these activities.
HOW CAN I REMOVE Trojan.LockScreen?
As you can see, Trojan.LockScreen is a deceptive Trojan horse that must be eliminated as soon as possible. To remove Trojan.LockScreen and ransomware, which is related to it, please follow these steps:
It might be that we are affiliated with any of our recommended products. Full disclosure can be found in our Agreement of Use.
By downloading any of provided Anti-spyware software to remove Trojan.LockScreen you agree with our
Privacy Policy
and
Agreement of Use
.