What is Isearch.claro-search.com?
The appearance of Isearch.claro-search.com on each of your web browsers means nothing else but the fact that your computer was hijacked by a potentially unwanted program. No matter how harmless and even useful this search site looks, it may start causing continuous redirects, pop-up ads, slow downs and similar issues during your browsing on the Internet. We don't recommend you ignore these issues becauseIsearch.claro-search.com redirects may result in visiting suspicious websites and downloading malware to the system. Typically, the developers of such programs promote unknown unwanted websites that you would never think to visit yourself.
Isearch.claro-search.com has received various names, such as iSearch, Claro malware, or the iSearch redirection virus. That's because of a very simple thing - its distribution method that has been making PC users to believe that this program can easily infiltrate the system behind user's back, thru the backdoors of their computer. Nevertheless, this program is not a virus. No matter how you name it, it's clear that it belongs to the category of browser hijackers. It can easily hijack each of your web browsers (Internet Explorer, Google Chrome, Mozilla Firefox and others) in a bundle with freeware and shareware. As soon as it does that, it starts promoting its affiliate sites. Though each of these activities are legitimate, the reality is quite different and we would like to recommend you to avoid this search engine. It's always better to use well known search sites, such as Google or Yahoo, and be sure that each of search results is trustworthy. If you have been suffering from Isearch.claro-search.com redirects, you should waste no time and scan your computer with the reputable anti-spyware. You can easily remove Isearch.claro-search.com from the system with a help of SpyHunter or other well known security software. Of course, you can also follow a detailed removal guide down below and fix your PC manually.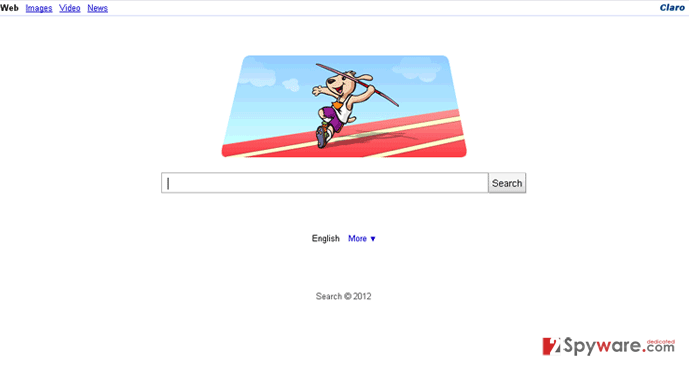 HOW CAN Isearch.claro-search.com hijack my computer?
Just like all other browser hijacker, Isearch.claro-search.com may try to infiltrate your computer during installation of the freeware. That's why you should always double check free programs before downloading them from the Internet. For getting ability to see all potential intruders, you should select Custom or Advanced installation of the freeware. Also, make sure that you uncheck all pre-checked check marks that claim that you want to change your start page or the default search engine. Otherwise, Isearch.claro-search.com may try to cause its own modifications on the system and may also try to collect data that is related to his/hers search sessions. If you want to avoid that, you should carefully follow a detailed guide that is given down below.
HOW CAN I REMOVE Isearch.claro-search.com virus?
If you have been looking for the effective and safe way to get rid off Isearch.claro-search.com hijacker or other browser hijacker, you should think about automatic removal of this program. It's the best way to delete Isearch.claro-search and other potentially unwanted programs. If you still want to use manual removal method, beware that you should carefully follow each of removal steps below to avoid system damage after removing wrong files.
You can remove Isearch.claro-search.com automatically with a help of one of these programs: SpyHunter, STOPzilla, Malwarebytes Anti Malware. We recommend these applications because they can easily delete potentially unwanted programs and viruses with all their files and registry entries that are related to them.
It might be that we are affiliated with any of our recommended products. Full disclosure can be found in our Agreement of Use.
By downloading any of provided Anti-spyware software to remove Isearch.claro-search.com virus you agree with our
Privacy Policy
and
Agreement of Use
.