Fortect review, free download
Fortect – a comprehensive system repair utility that leaves computer troubles behind
Fortect is a powerful Windows repair tool capable of diagnosing and fixing a wide array of software issues on your device. Utilizing innovative technology not only pinpoints problems with exceptional accuracy but also suggests optimal solutions. It can handle everything from simple tune-ups to complex system recovery, making it a go-to tool for tech novices and experts alike.
There are several benefits of using the product, some of which include:
Quick and effective system scans & full diagnosis;
Registry key optimization – removal of corrupted or damaged keys that might result in errors;
Malware detection and removal;
Windows recovery after BSODs, malware infections, or other unfortunate events;
Easy removal of online trackers and junk files.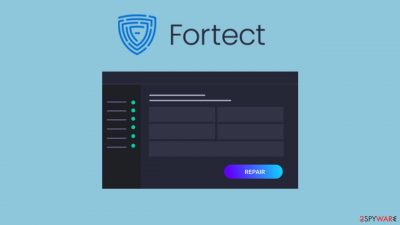 In this Fortect review, we will dive into the intricacies of its functionality, evaluating the effectiveness of its features, the user experiences it offers, and how it stands against the competition. Additionally, we'll address its limitations to help readers make an informed decision about whether Fortect is the right tool for their specific needs. Lastly, we will highlight its pricing structure and customer support options, two crucial factors for any software application in today's market.
Name
Fortect
Type
System repair and optimization software
Pros

Comprehensive system repair capabilities
Efficient detection of damaged or missing files
Enhancement of overall system performance
Ability to repair virus-induced damages
Detailed and user-friendly system scanning and repairing process

Cons
No real-time protection from malware, limited third-party program support
Pricing
Unlimited use for a year for 1 PC – $33.95, unlimited use for 3 PCs – $41.95, unlimited use for 5 PCs – $58.95
A quick solution for all your PC problems
PC problems are a common occurrence and can be incredibly frustrating. They often appear at the most inconvenient times and can disrupt daily tasks, work commitments, or even much-needed leisure activities. Be it a sudden crash, an unresponsive program, or the dreaded Blue Screen of Death, the interruptions they cause can make us all wish for a handy, reliable, and efficient tool to resolve these issues quickly.
Enter Fortect, a comprehensive repair application designed to counter a wide range of system problems. The software is uniquely engineered to identify when Windows isn't operating correctly and rectify the underlying issue at its core.
By replacing any damaged or missing files with original copies and optimizing your system, Fortect promises to deliver a smoother, more stable user experience. It's a tool designed to tackle unexpected crashes, issue messages, and general performance hiccups, helping to minimize the disruption caused by system problems.
Fortect functionality and repair process
The functionality of Fortect and the repair process has been crafted with user ease in mind. It starts with a system-wide scan, analyzing performance metrics, the Windows registry, DLLs, and other vital system files. It then cross-references this information with a database of healthy files to quickly and accurately identify potential problems.
Once the issues are identified, Fortect applies clean files and settings to the system, all without deleting any user data – it is all done with just one click of a button. This twofold approach of scanning and repairing ensures a thorough cleanup and repair of your system, getting your PC back to running smoothly in no time. Below you will find information about each of the steps performed by the product during the scan and repair process.
Creating PC profile
The scan process begins with Fortect gathering crucial system information to create a profile of your PC. This includes details about your operating system, hardware specifications, installed applications, and system settings. This profile provides the necessary context for the app's subsequent scan stages, helping it to tailor its diagnostics and repair strategy to your specific system setup.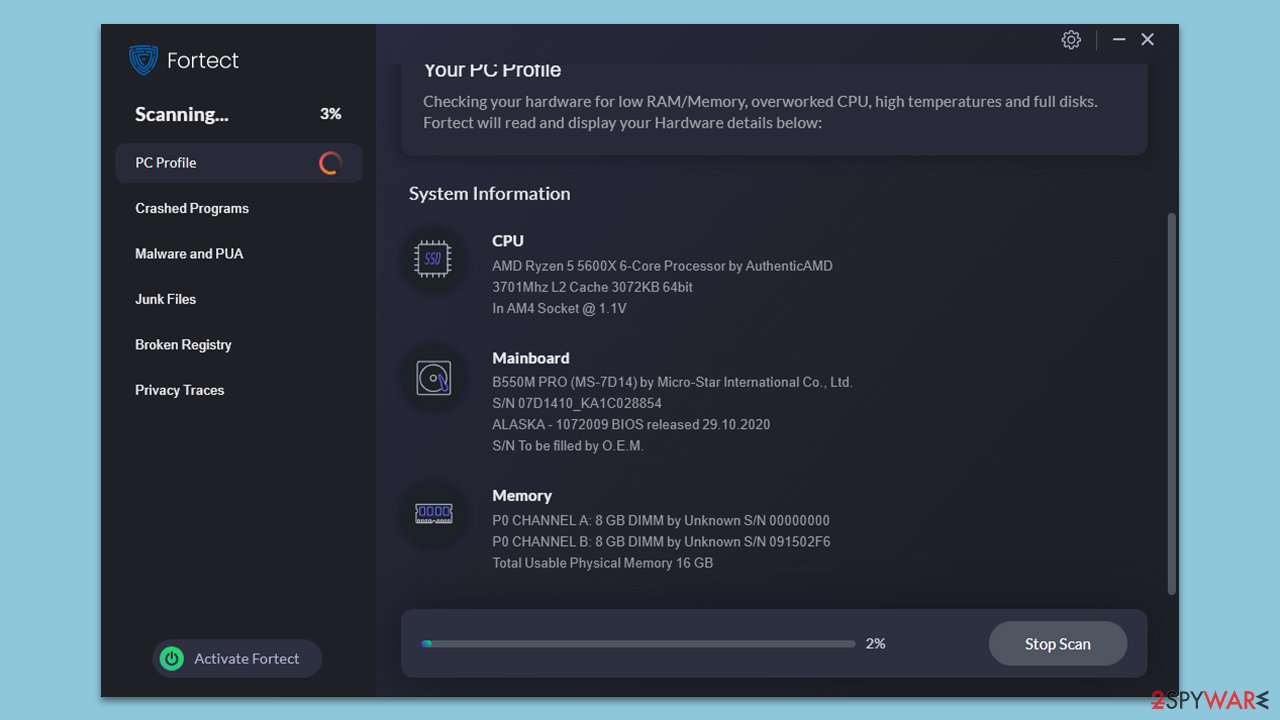 Program failures and third-party application issues
In this stage, the app scans for anomalies and issues related to program failures, specifically focusing on Windows system files that may be causing problems. It also looks for potential issues with third-party applications that could affect overall system stability. However, it's worth noting that it cannot repair or replace files that belong to these third-party applications.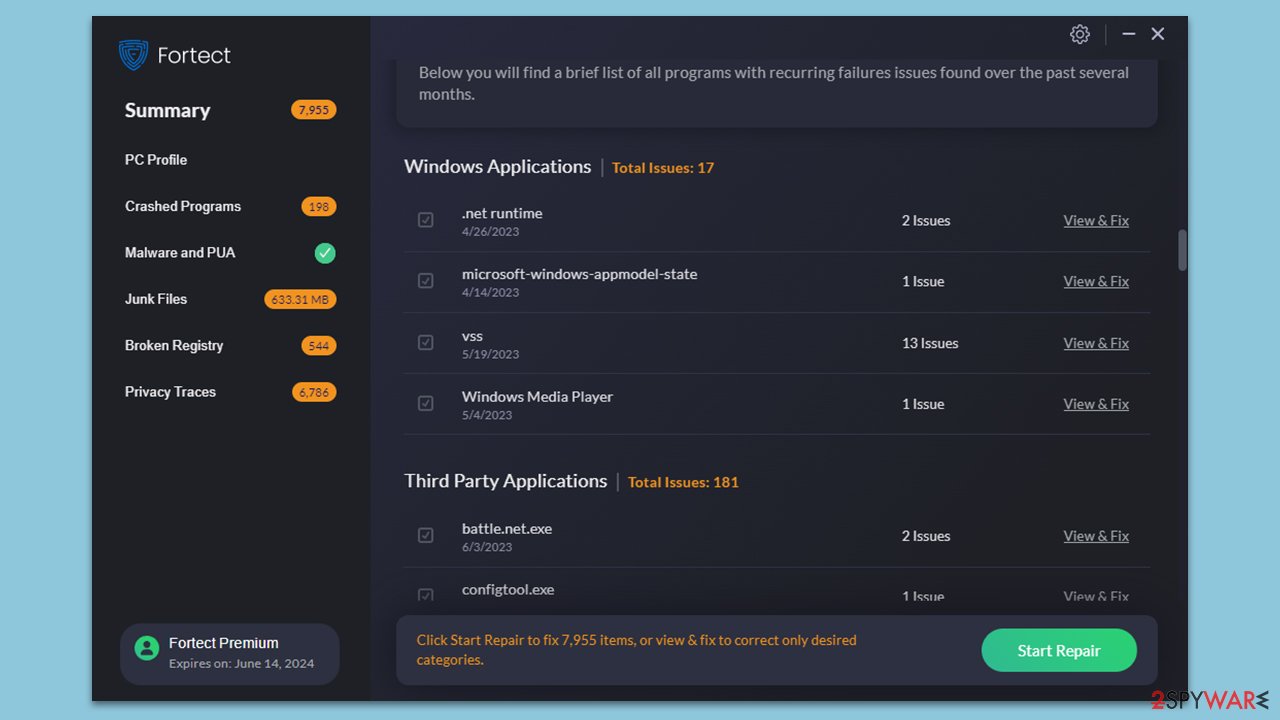 Malware and PUA scan
During the malware and potentially unwanted applications scanning stage, Fortect focuses on identifying the residual damage that viruses and malware can leave behind, even after an antivirus program has addressed the threat. It hunts for changes in the system instigated by malicious software, which can include corrupted or missing system files, and works to restore these files, effectively reverting your system to its pre-infected state.
Additionally, Fortect scans for potentially unwanted programs, encompassing problematic software, spyware, or programs with the potential to alter Windows. It doesn't immediately delete detected PUPs due to the possibility of them having legitimate uses.
Although the product doesn't offer real-time protection or conduct in-depth malware scans like dedicated antivirus software, it acts as an excellent complementary tool, helping to clean and restore the system following a malware incident.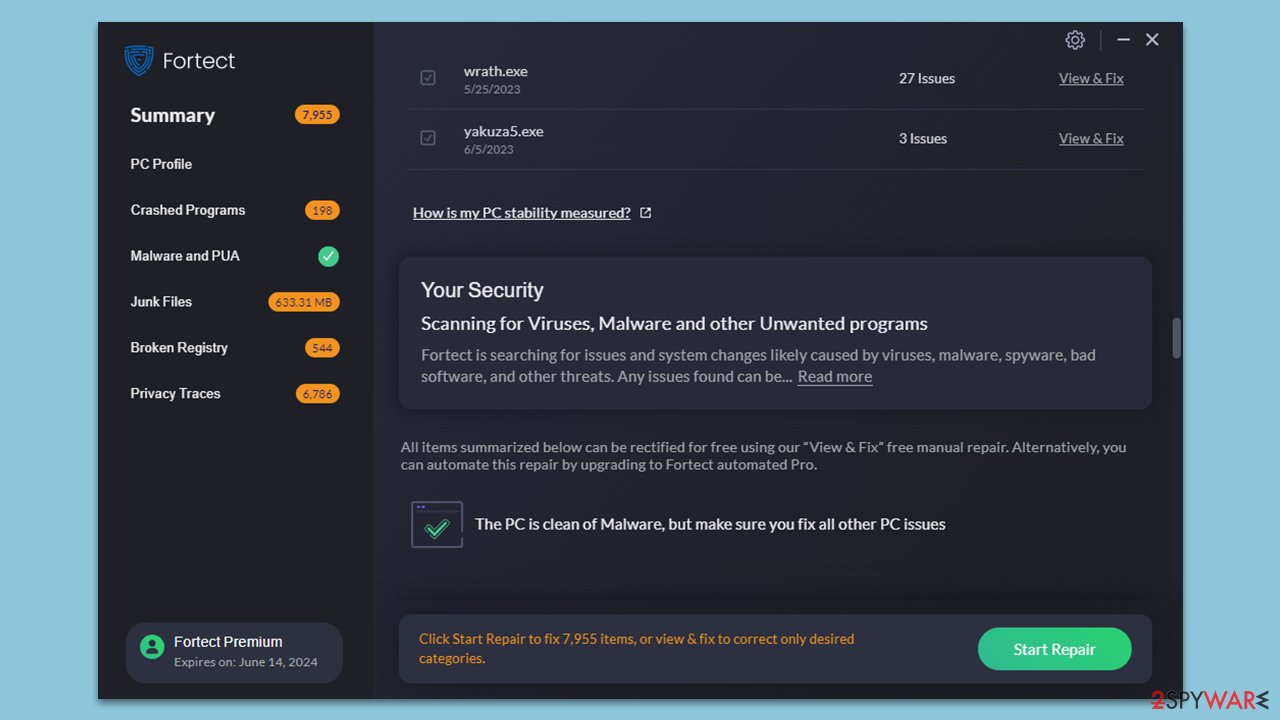 Junk files
In this stage, it examines your system for unnecessary junk files that can take up precious storage space and slow down your computer. These files could include temporary files, cache files, old backups, and other redundant data. Identifying and eliminating these files can significantly improve your system's performance.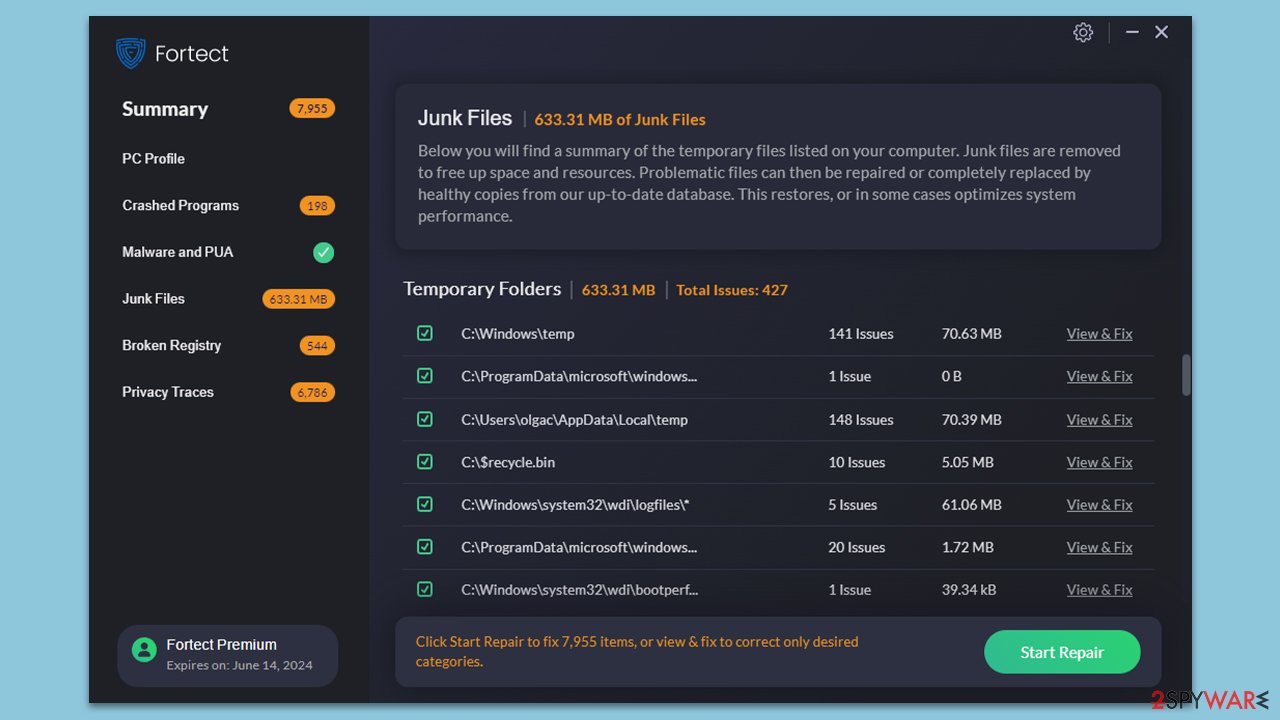 Broken registry
Next, Fortect focuses on the Windows registry, a crucial component that can cause major issues if it contains errors or broken entries. It scans the registry for any such irregularities, preparing them for subsequent repair to ensure smoother operation of the system.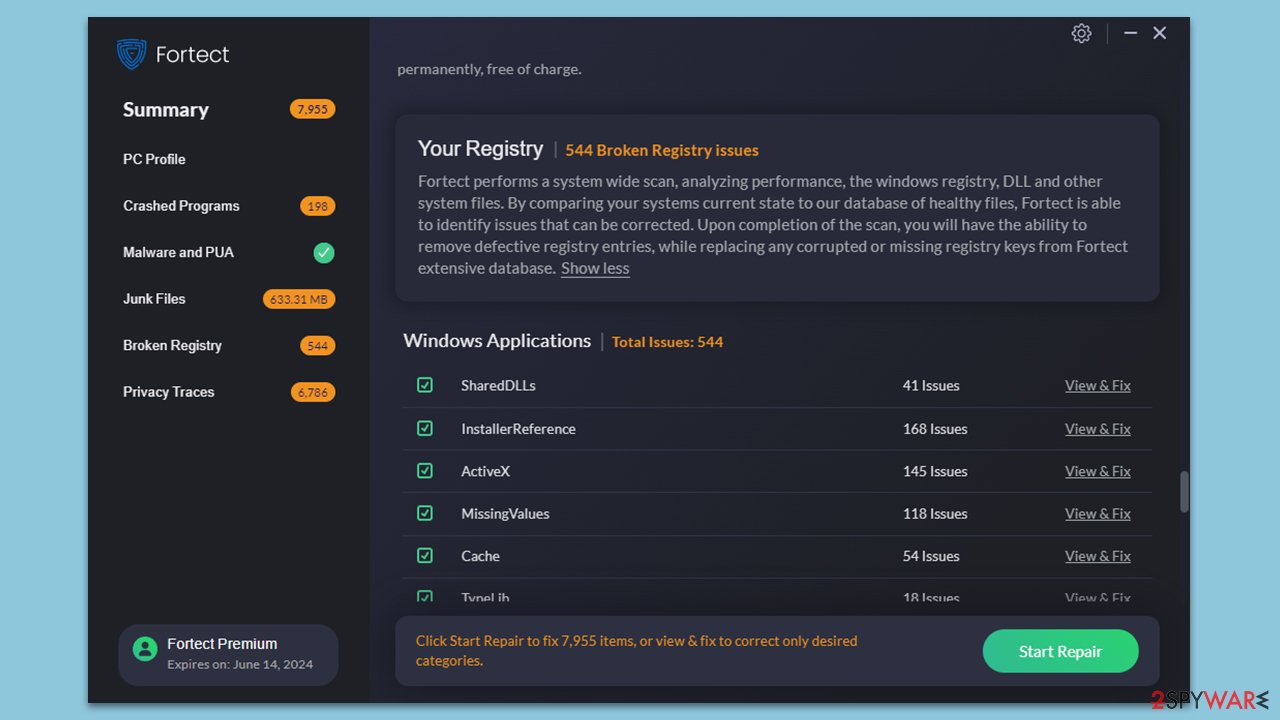 Privacy traces
In the final stage of the scan, Fortect looks for privacy traces – pieces of information that applications or websites may have left behind that could potentially be used to track your online activities or personal information. It identifies these traces, ready to remove them to help protect your privacy and maintain your digital security.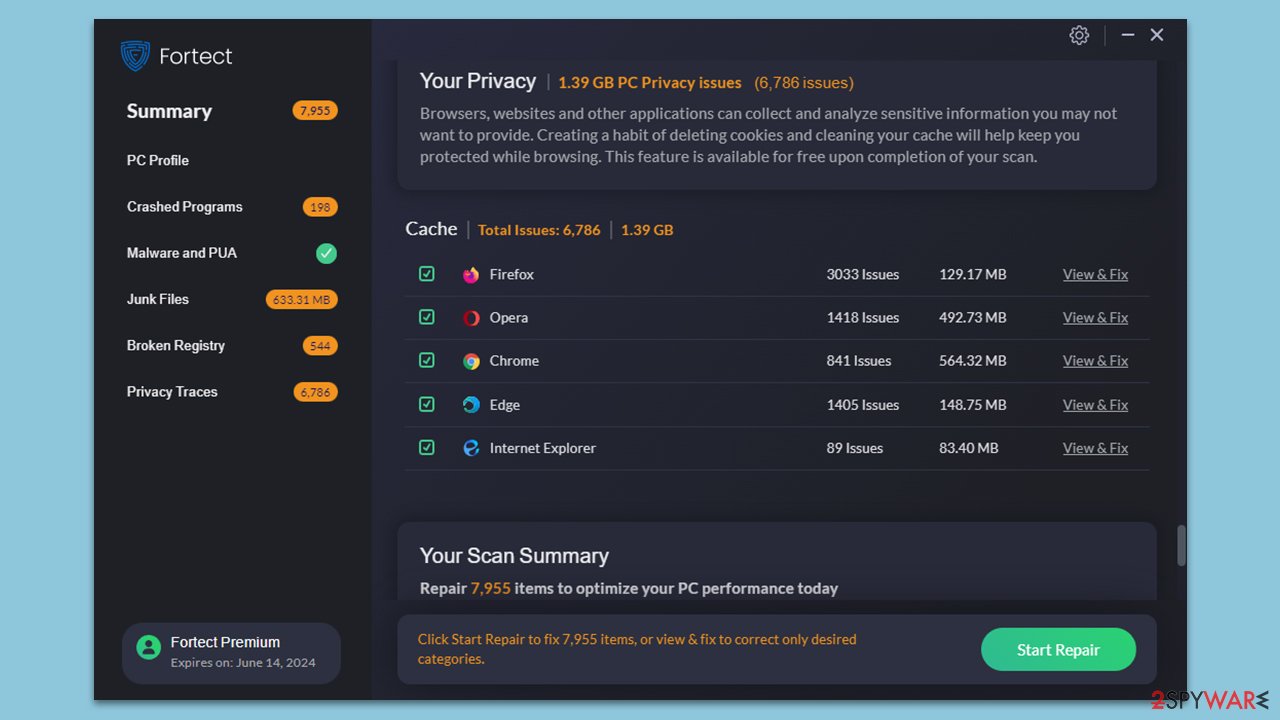 Once the scan is finished, you can delve into it and analyze everything – from broken registries, corrupt DLL files, junk, privacy traces, and other issues, and fix them individually. A more effective approach is to click the "Start Repair" button at the bottom, which will automatically fix all the issues found for you.
Pricing
Fortect's pricing structure varies depending on several factors, such as the user's region and any ongoing promotional discounts. These variations take into account exchange rates, regional market conditions, and special offers that may be in place at the time of purchase, offering potential savings to the users.
Each plan, irrespective of its coverage, provides the same comprehensive suite of system repair and optimization services. This ensures that every user, regardless of the plan they select, receives the full functionality and benefit of the Fortect application:
Basic Plan ($33.95/year):

Provides unlimited yearly use for 1 PC.
Ideal for individuals or users with a single primary device.
Full access to all system repair and optimization services.

Multi-Device Plan ($41.95/year):

Offers unlimited yearly use for up to 3 PCs.
Suitable for households or small offices with multiple devices.
Includes complete access to all features.

Ultimate Plan ($58.95/year):

Covers unlimited yearly use for up to 5 PCs.
Best suited for larger setups or families with multiple users.
Provides full access to the comprehensive suite of services.
Fortect also instills confidence in its users with a 60-day money-back guarantee. This allows new users to try out the software, and if unsatisfied with the service, they can request a full refund within the first 60 days of their subscription, providing a risk-free trial period for the software's capabilities.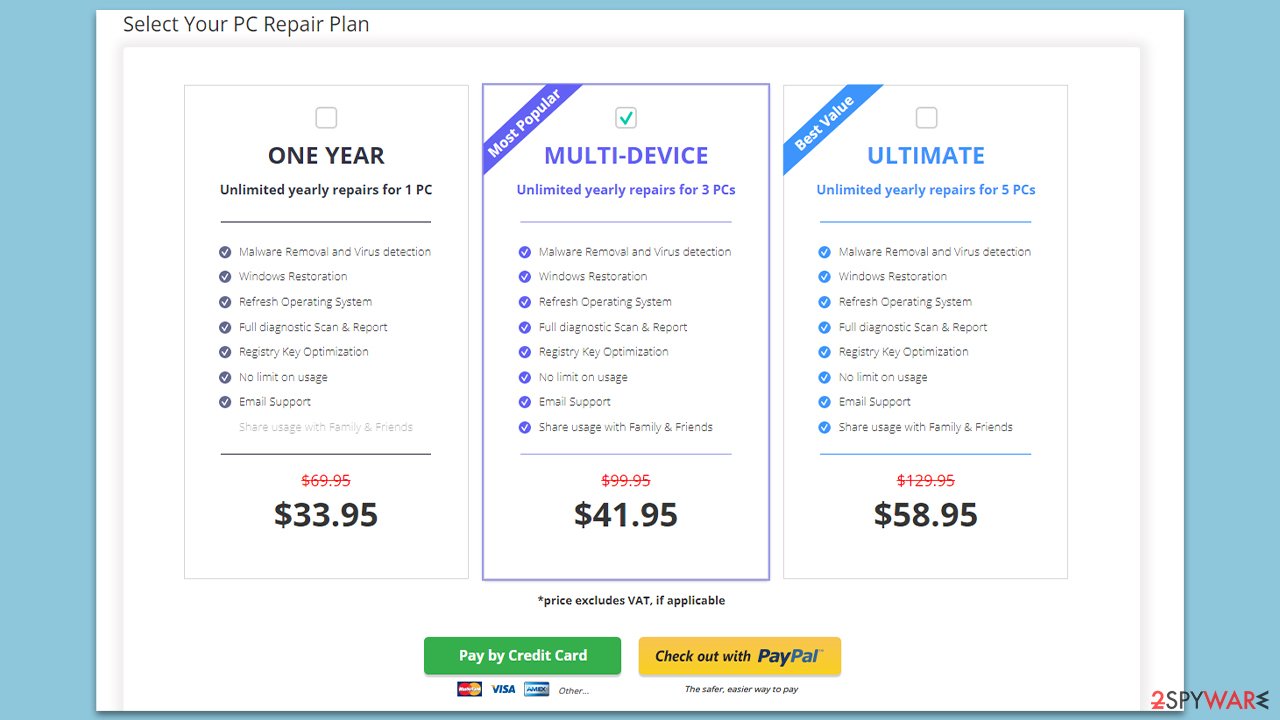 Is Fortect safe to use?
With numerous system optimizers in the market, some display questionable attributes that can raise safety concerns. Unfair marketing practices, such as fear-based tactics proclaiming that a PC is infected and urgently needs remediation, or misleading functionality, where the software falsely identifies non-existent threats or issues, can be commonplace. These dubious practices have led some security vendors to classify such applications as potentially unwanted.
But where does Fortect stand amidst this? Is it legit and safe to use? According to an analysis conducted by Virus Total, a well-known and reputable platform for malware detection, Fortect was found to be free from any malicious or suspicious traits. This finding indicates that the product maintains a clean slate, unassociated with the questionable practices of some competitors.
Furthermore, its transparent approach to its services, from the clear description of its functionalities to its straightforward pricing structure, underscores its legitimacy. Coupled with the ability to restore system files without deleting user data, Fortect displays a commitment to user safety and data integrity, bolstering its standing as a reliable system optimization tool.
Conclusion
Fortect presents itself as a comprehensive, user-friendly system repair application that stands tall in a market populated by numerous optimization tools. Its strength lies in its ability to rectify a broad spectrum of system problems at their root, from identifying and replacing damaged or missing system files to optimizing and securing your PC based on the latest knowledge. This makes it a highly valuable tool in maintaining the health of your computer system.
Pros:
Comprehensive system repair capabilities
Efficient detection of damaged or missing files
Enhancement of overall system performance
Ability to repair virus-induced damages
Detailed and user-friendly system scanning and repairing process
Cons:
Cannot fix issues related to third-party programs
Doesn't provide real-time virus protection
Can't resolve hardware issues
However, Fortect is not a one-stop solution for all PC problems. It doesn't fix third-party program issues, it isn't a real-time virus protection tool, and it doesn't address hardware issues. These aspects need to be considered while selecting an optimization tool. Nonetheless, for users seeking a reliable application to fix common Windows-related issues and enhance their PC's performance, Fortect is certainly a worthy contender.
About the author