Personal Defender 2009. How to Remove? (Uninstall Guide)
PersonalDefender2009 is not able to infect computers on its own; instead, it tricks people into downloading the program voluntarily. PersonalDefender 2009 is delivered by trojan mupd1_2_1711951.exe. The trojan mimics Windows Firewall notifications and asks if user wants to enable protection. By clicking "Enable Protection" people actually allow the trojan to install Personal Defender 2009.
Once Personal Defender 2009 gets on a computer, it starts offering paid version of the software. It might appear to be legitimate anti-spyware, but it is nonfunctional. Do not pay for the full version, unless you want to support malware creators. PersonalDefender 2009 imitates system scan and reports large numbers of infections found on board. Every message generated by PersonalDefender2009 can be ignored because they are all falsified.
Not only Personal Defender 2009 is useless as antispyware, but it is also malicious. It slows down system performance and limits internet connection. It displays many pop-ups that make using a computer an impossible task. PersonalDefender 2009 is also capable of hijacking web browser and redirecting it to personaldefender2009.com or defender-review.com. Related files:
sdcfg.dat
Personal Defender 2009 properties
:
• Changes browser settings
• Shows commercial adverts
• Connects itself to the internet
• Stays resident in background
It might be that we are affiliated with any of our recommended products. Full disclosure can be found in our Agreement of Use. By downloading any of provided Anti-spyware software you agree with our
Privacy Policy
and
Agreement of Use
.
Alternate Software
Alternate Software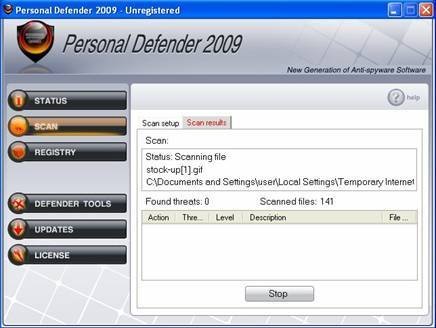 Personal Defender 2009 manual removal
Kill processes
:
pdefendr.exe
ikbmqvex.exe
Delete registry values:
HKEY_CURRENT_USER\Software\Microsoft\Windows\CurrentVersion\Run "asus32"
HKEY_LOCAL_MACHINE\SOFTWARE\Microsoft\PDefender
HKEY_LOCAL_MACHINE\SOFTWARE\Microsoft\Windows\CurrentVersion\Run "Personal Defender 2009"
Unregister DLLs:
sccmsk.dll
SDBHO.dll
Delete files:
c:\\Program Files\\Personal Defender 2009\\dbbase.div
c:\\Program Files\\Personal Defender 2009\\pdefendr.exe
UserProfile%\\Desktop\\sccmsk.dll
UserProfile%\\Local Settings\\Temp\\ikbmqvex.exe
UserProfile%\\My Documents\\PersonalDefender2009\\SDBHO.dll
UserProfile%\\My Documents\\PersonalDefender2009\\sdcfg.dat
Delete directories:
c:\Program Files\Personal Defender 2009
c:\Documents and Settings\Bleeping\Start Menu\Programs\Personal Defender 2009
---
Comments on Personal Defender 2009
Post a comment
Attention: Use this form only if you have additional information about a parasite, its removal instructions, additional resources or behavior. By clicking "post comment" button you agree not to post any copyrighted, unlawful, harmful, threatening, abusive, harassing, defamatory, vulgar, obscene, profane, hateful, racially, ethnically or otherwise objectionable material of any kind.