Maastricht University gets almost all of its Windows systems encrypted by ransomware
Netherlands Maastricht University becomes a victim of ransomware just before Christmas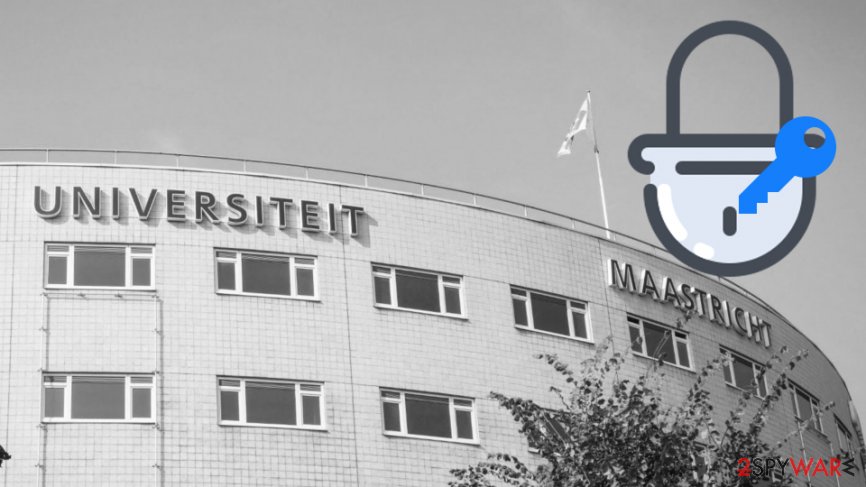 On December 24, Maastricht University, also dubbed as UM, released an official report about a ransomware attack that managed to encrypt almost all of its Windows systems. The attack against the University was performed on December 23 and complicated the use of email-related services:[1]
Maastricht University (UM) has been hit by a serious cyber attack. Almost all Windows systems have been affected and it is particularly difficult to use e-mail services.
There are no particular details on what type of ransomware virus attacked the institution and also no data whether the criminals managed to steal any private data before locking it with the encryption key or not. However, UM is trying to find out if there was any information accessed.
Maastricht University is a successful educational institution located in the Netherlands, having 18,000 students, even a greater number of alumni – 70,000 and 4,400 employees. Additionally, during the past two years, this institution has also been included in the top 500 universities.[2]
UM is looking forward to discovering protective measures to prevent future attempts effectively
Sadly, when everybody was celebrating Christmas Eve, Maastricht University had to deal with a ransom attack. The authorities have explained that they worked on the attack by putting all the systems down as a protective measure. It might take some time until they will be put up again. However, even it is still unknown when the systems will be available again due to the ongoing investigation process,[3] the doors of the UM buildings will be open from January 2 to all students again.
University's staff has also been working with law enforcement agencies while trying to investigate this attempt deeper. The institution is expecting to find out methods that would allow it to avoid similar attacks in the upcoming future and identify the current damage.[4]
Ransomware infections are getting delivered at a rapid speed 
The attack targeting Maastricht University is not the only one that has been reported during these days. The United States Coast Guard operation was also taken down due to a ransomware attack. This time, the malware that was spread via phishing email messages and included a malicious hyperlink that was the hidden ransomware payload was Ryuk ransomware.[5]
Ransomware viruses are one of the most dangerous threats that are lurking out in the cybersphere. Malicious actors manage to deliver these viruses through infected emails and attachments or hyperlinks, cracked software, malvertising, and other deceptive strategies. Afterward, the ransomware launches its encryption module and locks all data that is placed on the infected computer.
Then, this dangerous threat demands a particular ransom price via a ransom note. Even though the money amount for regular users can be only $50 or $200 in Bitcoin, the cybercriminals are very likely to demand a big sum from worldwide organizations, companies, and institutions that can come up to $1 million in BTC or another type of cryptocurrency.
About the author
References