RegTool is a potentially unwanted Windows registry cleaner and system optimization tool. It is advertised as award-winning advanced registry cleaner with more than 40 useful futures and tools, such as evidence and registry cleaner, Internet optimizer, junk file remover, smart disk defrag and many more. RegTool even claims that it has the ability to increase the speed of your PC by 70%. However, some of the risks detected by this program is very doubtful. For example, it finds many privacy issues where it shouldn't be. The program also suggests to disable certain updates and recommends to delete Adobe and Java updater startup entries. Related files:
regtool.exe
RegTool properties
:
• Changes browser settings
• Shows commercial adverts
• Stays resident in background
Automatic RegTool removal:
It might be that we are affiliated with any of our recommended products. Full disclosure can be found in our Agreement of Use.
By downloading any of provided Anti-spyware software to remove RegTool you agree with our
Privacy Policy
and
Agreement of Use
.
Alternate Software
Virus Removal Phone Support
RegTool screenshot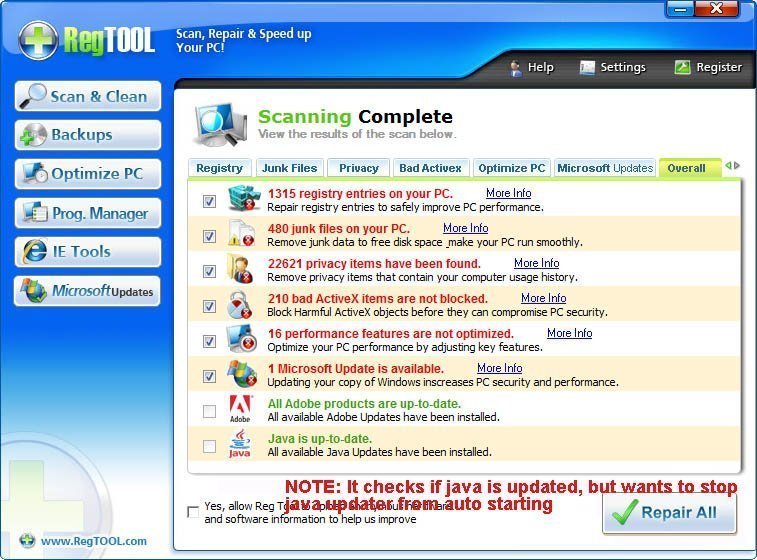 RegTool manual removal
Kill processes
:
regtool.exe
regtool5.dll
RegTool.lnk
Delete registry values:
HKEY_CURRENT_USER\Software\RegTool
HKEY_LOCAL_MACHINE\Software\Microsoft\Windows\CurrentVersion\Run ?€?RegTool?€?
Delete files:
regtool.exe
regtool5.dll
RegTool.lnk
Geolocation of RegTool
This map reveals the prevalence of RegTool. Countries and regions that have been affected the most are: United States.
QR code for RegTool removal instructions

QR is short for Quick Response. They can be read quickly by the mobile phones. QR codes can store more data than standard barcodes, including url links, geo coordinates, and text.
The reason we add QR code to the website is that parasites like RegTool are really hard to remove on infected computer. you can quicly scan the QR code with your mobile device and have manual removal instructions to uninstall RegTool right in your pocket.
Simply use the QR scanner and read removal instructions from mobile device.
Information added: 2009-04-24 06:24
Information updated: 2012-02-28 13:04

Additional resources
Attention:
If you know know a reputable website reated to security threats, please add a link here:
add url