System Security
is also known as
SystemSecurity
| Type:
Spyware
System Security is a fake spyware remover tool and a clone of
Winweb Security
. Application present it self as a reliable spyware remover, but in fact it is rogue application that may come to computer via fake video codec installation. System Security will start showing annoying pop-ups with false information about virus infections and serious system risks in order to sell itself. Showing these notifications application requests you to buy license to clean system but it doesn't clean it after that. What is more, this parasite will display legitimate and very important Windows files as infections. For example, C:\Windows\System32\svchost.exe will be reported as an infection, but actually this shouldn't be removed, otherwise your computer may not even start. System Security is a parasite that wants you to spend your money on it, don't get on this trick. It is very important to uninstall this parasite to prevent your own serenity. We recommend you to scan your system with reliable anti-spyware to prevent problems that it may bring.
System Security properties
:
• Changes browser settings
• Shows commercial adverts
• Connects itself to the internet
• Hides from the user
• Stays resident in background
Automatic System Security removal:
It might be that we are affiliated with any of our recommended products. Full disclosure can be found in our Agreement of Use.
By downloading any of provided Anti-spyware software to remove System Security you agree with our
Privacy Policy
and
Agreement of Use
.
Alternate Software
Virus Removal Phone Support
System Security screenshot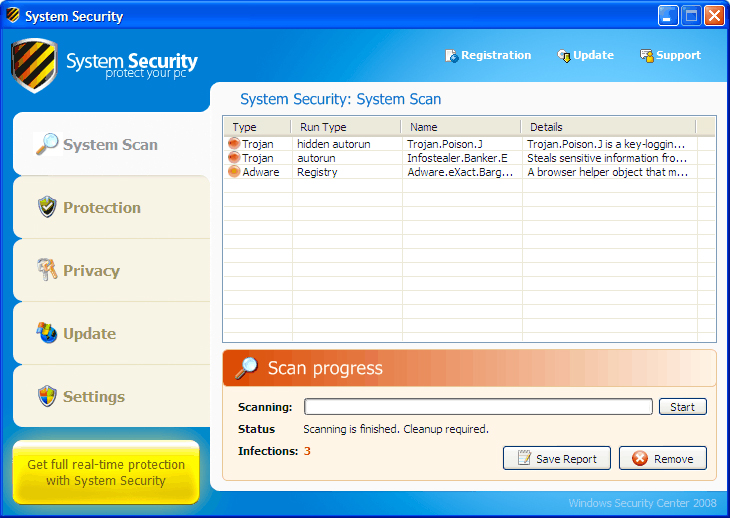 System Security manual removal
Kill processes
:
1632575944.exe
Delete registry values:
%UserProfile%HKEY_LOCAL_MACHINE\SOFTWARE\Microsoft\Windows\CurrentVersion\Run "1632575944"
Delete files:
1632575944.exe
config.udb
init.udb
English.lng
German.lng
Spanish.lng
System Security.lnk
Delete directories:
%UserProfile%c:\Documents and Settings\All Users\Application Data\538654387
%UserProfile%c:\Documents and Settings\All Users\Application Data\538654387\Languages
%UserProfile%%UserProfile%\Start Menu\Programs\System Security
Geolocation of System Security
This map reveals the prevalence of System Security. Countries and regions that have been affected the most are: Philippines, Uganda, Kenya, Ethiopia and Trinidad and Tobago.
QR code for System Security removal instructions
QR is short for Quick Response. They can be read quickly by the mobile phones. QR codes can store more data than standard barcodes, including url links, geo coordinates, and text.
The reason we add QR code to the website is that parasites like System Security are really hard to remove on infected computer. you can quicly scan the QR code with your mobile device and have manual removal instructions to uninstall System Security right in your pocket.
Simply use the QR scanner and read removal instructions from mobile device.
Information added: 2008-12-23 02:13
Information updated: 2010-11-03 05:11

Additional resources
Attention:
If you know know a reputable website reated to security threats, please add a link here:
add url