Your Computer Was Automatically Blocked virus. How to Remove? (Uninstall Guide)
removal by Ugnius Kiguolis - -
Also known as
Your Computer Was Automatically Blocked ransomware
| Type:
Malware
What is Your Computer Was Automatically Blocked virus?
Your Computer Was Automatically Blocked virus (also known as VirLocker virus or National Security Bureau virus) is a dangerous ransomware, which may try to swindle your money. For that, it locks the entire PC system and then causes a huge notification on PC's desktop. Of course, just like any other threat that belongs to 'ransomware' category, this virus presents itself as a notification from the serious governmental authority and claims that it blocked computer due to the pirated software that was found on victim's PC. Please, do NOT fall for such tricks because such governmental authorities as National Security Bureau have never been using such techniques while trying to punish PC users. Believe us, they have better methods for that. In reality, people who are responsible for releasing this rogue anti-spyware into the wild are a serious group of hackers who are trying to increase their income by scaring people into paying $250 or bigger fines. In reality, you can never know whether this payment will help you to unlock your computer. Fortunately, you can unblock it not only by paying this fine. You can also fix it by running a full system scan with Reimage and eliminating malicious files that are hiding in your PC system. Please, do not hesitate and do this ASAP.
How can Your Computer Was Automatically Blocked infect my computer?
There are lots of methods used for spreading ransomwares. Some of them are very common and typical. For example: you may download this threat with a misleading email's attachment or after visiting an illegal website that are typically filled with malicious content. In addition, you should also know about the latest ransomwares' distribution method. It relies on fake alerts offering people to update their Flash Player, FLV Player, download manager or other programs that they use each day. Such ads look very convincing and we believe that they are capable of affecting even the most suspicious PC user because they are filled with various logos and other tricky details. In order to avoid installation of Your Computer Was Automatically Blocked ransomware or other virus, you should be very careful when seeing such ads during your browsing. Please, do NOT click them! Instead of that, go to the official website of the program and download what you really need. Once this threat manages to infiltrate its target PC system, it blocks it and starts showing such fake notification:
Your computer was automatically blocked. Reason: Pirated software

Your computer is now blocked. XXX files have been temporarily blocked on your computer.
To regain computer access and restore files you are required to pay a 250 USD.
Blocked files will be permanently removed from your computer if the fine is not paid.

The NSB has two ways to pay a fine:

1. You can pay your fine online through BitCoin. BitCoin is available nationwide. Click the tabs below to find the nearest vendor. You computer will be unblocked after you make your payment.
2. You can come to your provincial courthouse and pay the fine at the 'Cashiers' window.
Your computer will be unlocked within 4-5 days.

To regain access transfer bitcoins to the following address (click to copy):

XXXXX

After the payment is finalized enter Transfer ID below.

[.....]
Please, do NOT fall for this fake alert because it will leave you with nothing! For eliminating this ransomware, you should follow a guide below.
How to remove Your Computer Was Automatically Blocked virus?
If you are looking at Your Computer Was Automatically Blocked. Reason: Pirated software warning message, you should waste no time andrun a full system scan your PC with updated anti-spyware. We recommend using Reimage, PlumbytesWebroot SecureAnywhere AntiVirus or Malwarebytes Anti Malware. If you can't launch any of these programs, follow steps that are given below:
Manual Your Computer Was Automatically Blocked virus removal:
Reboot you infected PC to 'Safe mode with command prompt' to disable virus (this should be working with all versions of this threat)
Run Regedit
Search for WinLogon Entries and write down all the files that are not explorer.exe or blank. Replace them with explorer.exe.
Search the registry for these files you have written down and delete the registry keys referencing the files.
Reboot and run a full system scan with updated Reimage to remove leftovers of this virus.
* Flash drive method:
Take another machine and use it to download Reimage or other reputable anti-malware program.
Update the program and put into the USB drive or simple CD.
In the meanwhile, reboot your infected machine to Safe Mode with command prompt and stick USB drive in it.
Reboot computer infected with Your Computer Was Automatically Blocked virus once more and run a full system scan.
* Users infected with Your Computer Was Automatically Blocked virus are allowed to access other accounts on their Windows systems. If one of such accounts has administrator rights, you should be capable to launch anti-malware program.
* Try to deny the Flash to make your ransomware stop function as intended. In order to disable the Flash, go to Macromedia support and select 'Deny': http://www.macromedia.com/support/documentation/en/flashplayer/help/help09.html. After doing that, run a full system scan with anti-malware program.
If This computer was automatically blocked virus infected your Android-based mobile device, run BullGuard Mobile Security or follow these steps:
1. Reboot your Android device into Safe Mode:
Find the power button and press it for a couple of seconds until you see a menu. Tap the Power off.
Once you see a dialog window that offers you to reboot your Android to Safe Mode, select this option and OK.
If this failed to work for you, just turn off your device and then turn it on. Once it becomes active, try pressing and holding Menu, Volume Down, Volume Up or Volume Down and Volume Up together to see Safe Mode.
2. Uninstall malicious app (this virus may hide under BaDoink, Video Player, Network Driver System, Video Render, ScarePakage and other suspicious names):
When in Safe Mode, go to Settings. Once there, click on Apps or Application manager (this may differ depending on your device).
Here, look for previously mentioned malicious app(s) and uninstall all of them.
If this failed, enter a random, 15 digit length, code of imaginary MoneyPak xpress Packed voucher that is asked by This computer was automatically blocked virus or follow these steps:
Go to Settings -> Security. Here, select Device administrators.
Here, look for previously mentioned malicious app(s) and uncheck it
In order to finish the removal of Your Computer Was Automatically Blocked virus, select Deactivate and OK.
It might be that we are affiliated with any of our recommended products. Full disclosure can be found in our Agreement of Use. By downloading any of provided Anti-spyware software you agree with our
Privacy Policy
and
Agreement of Use
.
Alternate Software
Alternate Software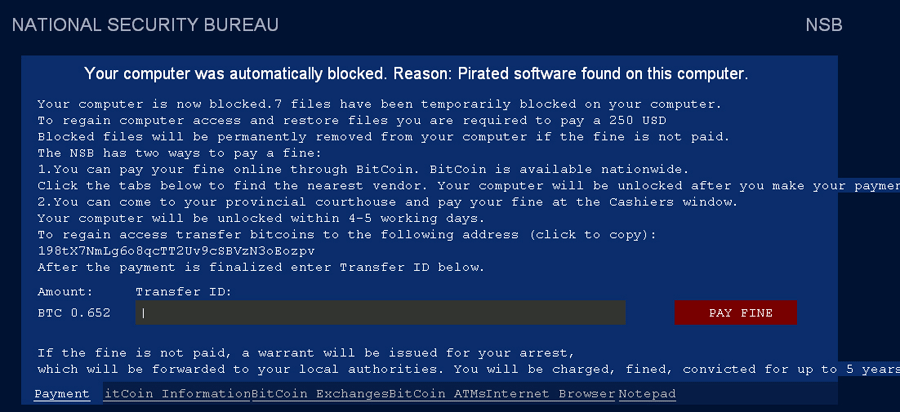 ---
Comments on Your Computer Was Automatically Blocked virus
Post a comment
Attention: Use this form only if you have additional information about a parasite, its removal instructions, additional resources or behavior. By clicking "post comment" button you agree not to post any copyrighted, unlawful, harmful, threatening, abusive, harassing, defamatory, vulgar, obscene, profane, hateful, racially, ethnically or otherwise objectionable material of any kind.