Editor's offer: Download Reimage and repair your PC
Download Reimage
Repair virus damage and replace corrupted files
Step 1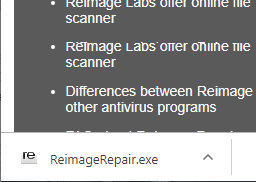 Open the Installer
Locate the installer file and double click to open.
Step 2
Click 'Yes' or 'Run'
Authorize the installer using the security dialog.
Step 3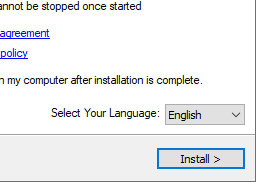 Follow Installer Instructions
Read the instructions to setup your software.

Windows error repair
Fixing Windows errors might be difficult, especially when they occur seemingly out of nowhere. Reimage detects the root cause of the problem automatically and replaces malfunctioning, corrupted, or missing Windows software files.
Blue Screen of Death fix
The stop errors screen, also known as Blue Screen of Death, is caused by fatal system crashes. While some of them recuperate the PC after the restart, others might be persistent or even prevent normal operation. Thus, scanning device with Reimage can fix the underlying problem and fix the issue with the help of 25,000 Windows file repository.
Windows OS recovery
Reimage is a unique tool that can detect damaged, corrupted, or virus affected system files and replace them with the up-to-date functioning ones. Therefore, the program can save users from having to reinstall Windows OS if the issue is serious enough.

Malware detection and removal
Most of the security applications detect and eliminate the infection once a full scan is performed. Then again, malware can prevent the operation of the most popular security tools. Reimage is a great tool that can not only remove adware, spyware, rootkits, worms, and other computer viruses but also remediate the system after the infeciton, fixing Windows registry and other system parts that were corrupted by malware.

Stability issues
While Reimage cannot fix problems that users encounter on third-party software, it can point to which applications are problematic, showing crash frequency and stability. Additionally, users can also compare the scan results to the worldwide average, giving them a perspective on how their devices perform.

Hardware issues
Whether the slow system is a result of high CPU usage, low memory, or too high system resource usage, Reimage can pinpoint the underlying problem to fix these issues in one click.
Thank you for downloading Reimage PC Repair tool! It is a powerful optimization tool designed to improve the computer's functionality in many ways. Reimage fixes Windows errors, eliminates computer viruses, and improves PC's stability. Its unique repair technology relies on 25.000.000 essential components used to fix Windows operating system by replacing damaged or missing files with new ones. Because of Avira AntiVir engine, Reimage removes all possible viruses, including malware, adware, trojan horses, worms, spyware, and rootkits. A full Reimage review can be found here.
IMPORTANT!
Sometimes you cannot remove every virus with only one security tool. Different anti-spyware programs have different virus signature databases, so there is always a possibility that you will need to try several scanners to equip yourself with the most suitable one. After trying Reimage, you should also run a free SpyHunter scanner that allows you to double-check your computer at no fee. We also recommend purchasing its licensed version if this anti-spyware informs you about malicious files residing on your computer. SpyHunter is a widely-approved anti-spyware which has received great marks after successfully removing browser hijackers, adware, ransomware, and other viruses. Still, have questions? Let us know about them. You can reach us with the help of Ask Us page.