Computer Viruses and Malware
Computer viruses (aka malware) are malicious programs created for initiating unauthorized activity on the affected PC system. They can lead the computer to serious issues, so users should avoid installing viruses on their computers. In most of the cases, computer viruses are created for generating the money, so they can start tracking the victim and collecting the personally identifiable or non-identifiable information. Besides, they can cause redirects, slow downs or similar issues. Adware, Browser hijacker, Ransomware, Trojan horse and Spyware are the most popular categories among malware.
Malware infects the system without user's approval and knowledge. You can download such malicious software to your computer in a bundle with unlicensed software, such as illegal games, anti-spyware/anti-virus cracks, and similar downloads. Users should also be very careful with email messages because they can be filled with malicious links or infected attachments. Finally, security researchers warn about illegal websites, and misleading pop-up advertisements have also been actively exploited in the distribution of malware. If an ad looks too good to be true, you should ignore it. Almost each of these programs can be stopped with the help of reliable anti-malware. However, sometimes even the most powerful security software fails to protect computer as all computer viruses are constantly updated, and it takes the time to develop new updates for anti-malware.
The functionality of computer viruses depends on their type, but the money loss and the data loss are the most common problems caused by malicious software. Victims can also run into such issues as browser-related problems (changes of the start page/homepage/new tab page, the appearance of advertising content, redirects to malicious websites, etc.) and PC-related problems (system slowdowns, problems when starting legitimate software, the appearance of fake system scanners, etc.) Malware can also infect the system with additional viruses or even try to connect the affected computer into the botnet and then use it for the distribution of spam. The most of threats, which belong to malware category, run silently in system's background and users have no idea that it is infected. Nevertheless, suspicious processes in Task Manager, the appearance of strange toolbars in your web browser, unknown changes in your system settings and system slow downs should warn you about your PC's security.
If you have already noticed one of these issues, your computer might be infected. To know what you are dealing with and what removal method, you need to use, you need to identify the threat at first. You can do that by visiting the database of computer viruses or by running a full system scan with one of our recommended anti-malware programs. If you already know the name of your malware, you can also fix your computer by following our detailed removal guides or by running a full system scan with the same anti-spyware software. To choose a right program, please check our Software section. We highly recommend using recommended tools for fixing your computer.
Latest Viruses Added to the Database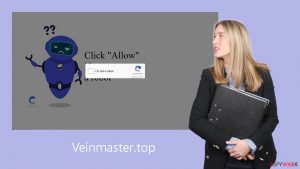 Veinmaster.top is a dubious site that causes push notification spam on users' browsers.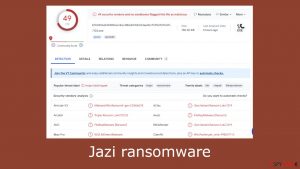 Jazi ransomware can encrypt users' personal files and leave a damaged operating system.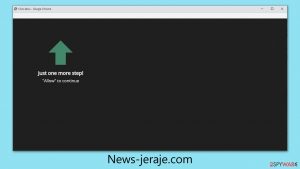 News-jeraje.com might start showing intrusive ads and other deceptive content even when your browser is closed.
Information updated: 2017-05-10