Reimage review, free download
Reimage Repair is a legitimate and recommended software for users in 2018
Reimage Repair is excellent software which is designed to help people protect and clean their systems. It has multiple versions for the different OS to make sure that all users can fix various system issues and remove malware damage with just a few clicks. For years, Softpedia,[1] PCMag[2], and similarly respectable software reviewers have been recommending this software for PC users from all over the world.
A feature that distinguishes Reimage from others the most is its capability to fix the system by reinstalling files that are missing, deleted, or corrupted.[3] These files are removed from the program's database and can be installed without a need to reboot the system. 
The strongest side of the software is Windows Repair. The program has already made a note as a unique maintenance service capable of identifying almost every issue on the system.
Of course, we should not forget security. Even if it is considered PC repair software, you can remove the virus damage with Reimage Repair – it uses the reputable built-in Avira AntiVir engine for that. Having in mind that Avira is an award-winning product that has hundreds of different rewards, there is no doubt that this app is worth to be your choice when dealing with malware. 
Reimage Repair is now compatible with the following operating systems:
Windows;
Mac OS;
Android.
So, if Windows is not the OS you use, you can select Reimage for Mac and Reimage Mobile Cleaner for Android, so you can enjoy the useful and almost irreplaceable functionality on all the operating systems. 
After the download and purchase, users receive a Reimage license key that is used to launch the full version of the program. However, for checking the system or just testing the software, you can use the FREE scan that will divide your PC-related problems into three categories – Hardware, Security, and Stability.
Questions about Reimage
The scan is typically finished after 5 minutes (although these times can vary based on your OS and its configuration), and you are presented with the scan report. If the software is not capable of fixing detected issues, the scan is free. Otherwise, you are prompted to buy its license, which is safe and approved by comprehensive reviewers.[4]
Pros
Cons
Conclusion
Fixes all types of Windows errors

Cannot fix hardware problems: some parts of the computer might need to be changed to improve its performance

Cannot stop malware from entering the computer

Reimage Repair is an excellent tool to maintain your computer's stability, although it does not provide real-time malware protection. Thus, it should be used as a complementary tool to an antivirus 
Cleans damaged DLLs
Detects hardware issues
Recovers the computer system after the malware attack
Reimage Repair review and download link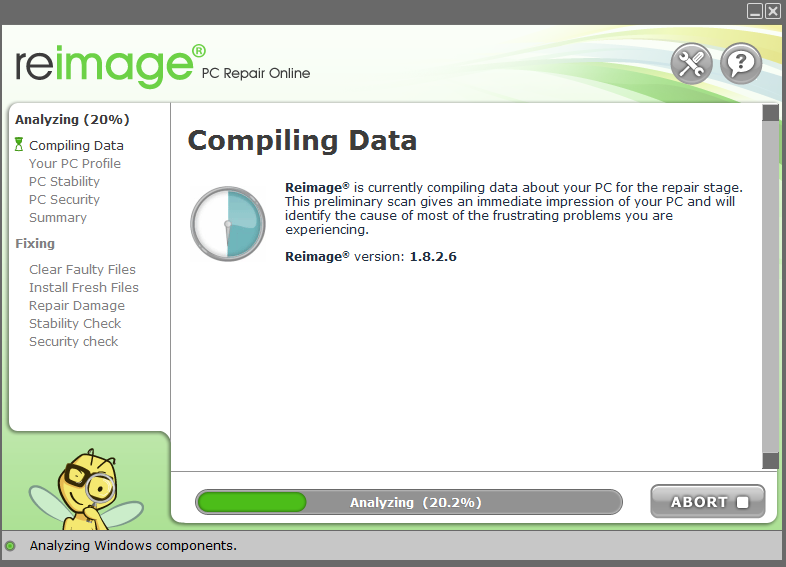 If you still in doubt, what is Reimage Repair, we can provide you with a quick guide through its main features and abilities. This software is designed to satisfy every need of the computer user that enjoys stability and a clean system.
First, the user must download Reimage PC Repair from the official website by clicking the link here. This way, the software will be 100% authentic and safe to use. Otherwise, people might be tricked to get a counterfeit program and infect their computers with the so-called virus. However, we can assure you that this can only happen if you use unreliable and shady sources for the download.
Currently, every user with the following operating system can get Reimage Plus:
Windows XP;
Windows Vista;
Windows 7;
Windows 8;
Windows 10;
Mac OS.
Unfortunately, every Reimage Repair review forgets to identify that this software is designed to complete a 3-stage scan to maintain computer stability. We consider this a critical factor as it clearly shows how sophisticated the software is.
After the install, the program goes through the following stages:
Hardware check;
Security check;
Stability check.
Once it finishes the Hardware evaluation, the program identifies the amount of your memory, the speed of the hard disk, CPU parameters, and similar information. Thus, why even ask, "is Reimage Repair safe"?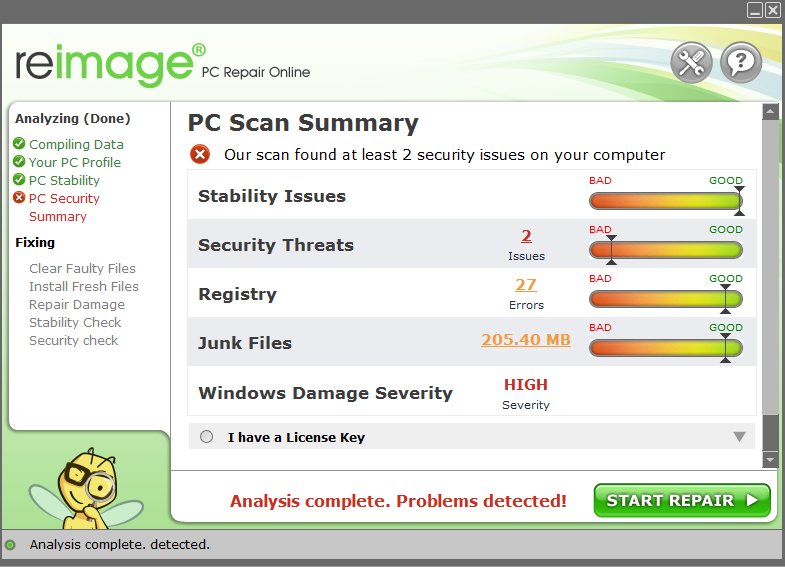 Windows errors, OS issues, blue screen of death (BSoD), corrupted DLLs, computer freezes, and virus damage can also be revealed and fixed with the help of the repair tool.
Secondly, the program initiates the security check. In this stage, the it can identify damage done by malicious applications, such as adware, trojans, spyware, worms, rootkits, and similar malware. Because of the Avira AntiVir engine, Reimage can quickly repair the damage done to system files and restore them to their original forms. Finally, it monitors system stability and specifies programs that crash the most.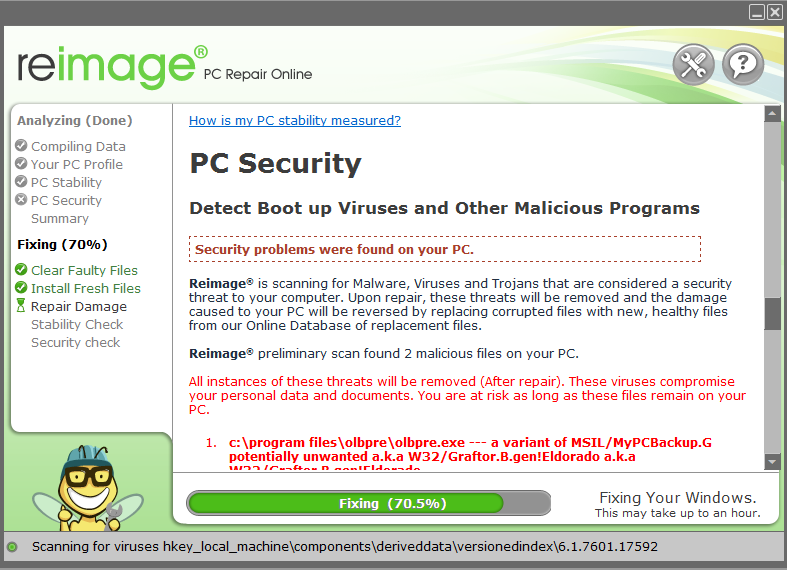 To fix each of these issues, you need to get the License Key, which you can buy for €69.95. If you are not satisfied with the service, you have 60 days to get your money back. If you can't fix a computer with Reimage, you can use its free support, which is available no matter the country you live in and the time zone you are in. Note that this program does not offer real-time protection.
Note: You can remove malware damage with Reimage but you can not protect your system from it, so you should not use this software as anti-virus or anti-spyware. To keep your computer protected, we recommend using it as a complementary solution to an anti-spyware or anti-virus software.
Review of the versions
You can find numerous Reimage reviews online. Despite the fact that all of them contains the opinion of different people, some of the articles are less than reliable. 
Unfortunately, while people are searching an answer to the question is Reimage safe, they can encounter deceptive query results created by the representatives of competitors. The competition is very intense, and sometimes companies take twisted and very inappropriate actions to bring their competitors down to stay popular.
As a result, fake reviews start showing up, derogating products of others and praising their own. This evil marketing strategy can distort the real image of a particular product and merely ruin the company's public face. Therefore, when reading up these reviews, you should look for unbiased and objective software descriptions.
Reviewing Reimage Express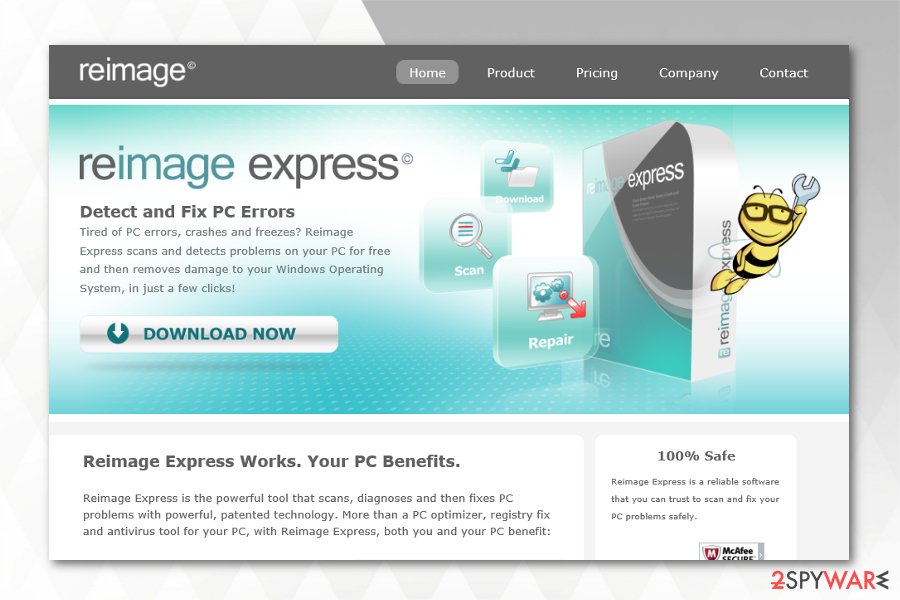 Reimage Express is a free tool from the developer. It aims to help people fix fundamental Windows OS problems that can be detected by performing a quick scan.
Pros
Cons
Conclusion
Provides Quick scan option which can be completed within several minutes
Does not fix virus damage, corrupted or missing files 
This version is suitable for fixing minor issues on Windows. Although, more complex problems should be treated with the full version 
Fixes Windows errors
After it scans the system, it diagnoses the main system issues and reveals them in Reimage scan report. It fixes them with the patented technology. However, the program does not offer a full repair service. To get an opportunity to fix virus damage, replace missing files with the latest ones, you have to get a Reimage activation key.
This program is compatible with:
Windows XP;
Vista;
Windows 7;
Windows 8;
Windows 10.
Here is merely the summary of Reimage Express features. If you want to find more about this software, read a full Reimage Express review. 
Reimage Plus review
Reimage Plus is the official website which offers the company's products for computer users across the world. The site describes the features of the software and briefly explains the gains from it. 
As it is mentioned before, while reading reviews you can find negative ones. They usually claim that this page should not be trusted. However, we can assure you that it is entirely safe and offers authorized downloads.
If you come across a negative Reimage Plus review, it will probably mention ads that are supposedly coming from this website. Our experts recommend not falling for such false claims.
And in this case, you need to double check your computer for adware with anti-spyware/anti-virus instead. Although, make sure that you enter a valid Reimage Repair license key and download the software only from the legitimate website.
Remember that ads can be caused by ad-supported programs that spread in a bundle with freeware and shareware:
Browser add-ons;
Extensions;
Plugins;
Toolbars.
You need to make sure that your system is free of suspicious browser add-ons that are trying to earn money by showing third-party ads.
In most of the cases, resetting the browser helps to solve this issue. Although, if you continue encountering suspicious advertisements you can learn more about Reimage ad removal.
Reimage for Mac
Mac version is excellent software from the developer which was designed explicitly for macOS or Mac OS X. Users who want to get this program are advised to use only legitimate sources. You can install it by clicking this link.
Pros
Cons
Conclusion
Successfully clears cached space to help the computer run smoother
Does not protect against malware 
Reimage for Mac is one of the best options that Apple fans can use since it not only fixes errors but also helps to improve computer's performance. Although, experts advise using it as additional software to an antivirus 
Fixes Mac errors 
This program is designed to improve system performance by removing unwanted and malicious applications that were installed on your computer by accident. It is a great solution when dealing with potentially unwanted programs.
Also, Reimage for Mac offers cleaning browsing history, fixing errors and helping its users to get rid of cached space. It can be used for a daily examination of the hardware and storage because such supervision helps to keep the system fast and smooth.
Comparing this version with Reimage Windows 10 or another version, they provide similar features just for different operating systems. Thus, none of them offer the security service. To keep your Mac protected, you should think about anti-virus software as well.
Reimage for Android review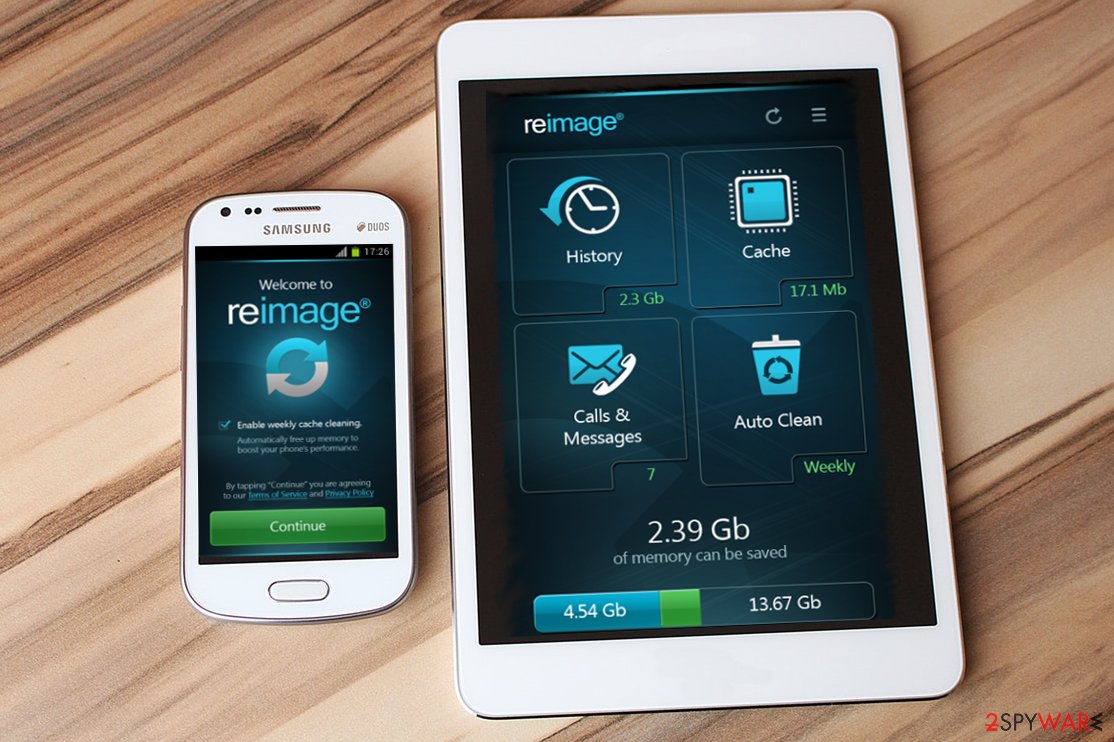 Reimage for Android is an application created to protect smartphones, tablets and other devices running on Android OS. This software has gained extreme attention as people highly search for security apps to protect not only the computer but their gadgets as well.
Pros
Cons
Conclusion
Identifies apps which are using excessive amounts of memory and helps improving device's performance
Cannot fix hardware problems 
Reimage for Android is an excellent choice to repair issues on various gadgets as it is free and easy-to-use 
Detects hazardous applications
Naturally, you cannot know which apps are the good ones and which ones should be avoided so that you can end up with the complete havoc on your device. As a result, your smartphone or tablet might start:
Crashing;
Loading programs for extended periods of time;
Freezing.
It seems that these worries are gone as Reimage for Android can quickly help you with this havoc. Once installed, the app soon scans the device and identifies problems. The app is aimed to find things that consume too much memory on phones and tablets, such as malicious apps, call/text history, cache memory, etc.
Luckily this app is free and does not require Reimage repair key, so you can fix your Android without a need to pay for this service. 
Credibility of Reimage
Answers to the questions "is Reimage Repair safe" and "should it be used as the primary security software" are common on many forums online. Naturally, users have mixed opinions. However, the only opinion you should take into consideration is the one provided by the professionals. 
Therefore, Reimage Repair virus posts by unreliable websites and other sources should not be taken into consideration. On the contrary, we have provided a balanced and trustworthy review of the software with all its advantages and disadvantages.
If you have doubts regarding the trustworthiness of your version, it might be that you have a Reimage Repair crack on your computer. Beware that it is illegal to use such versions, as it might result not only in malware infections but also punishments for copyright infringements.
Read more about Reimage credibility. You can find the Privacy Policy of the software here. Detailed Terms of use are presented in this page. Refund terms used by the developer are described in this link.
Reimage Labs offer online file scanner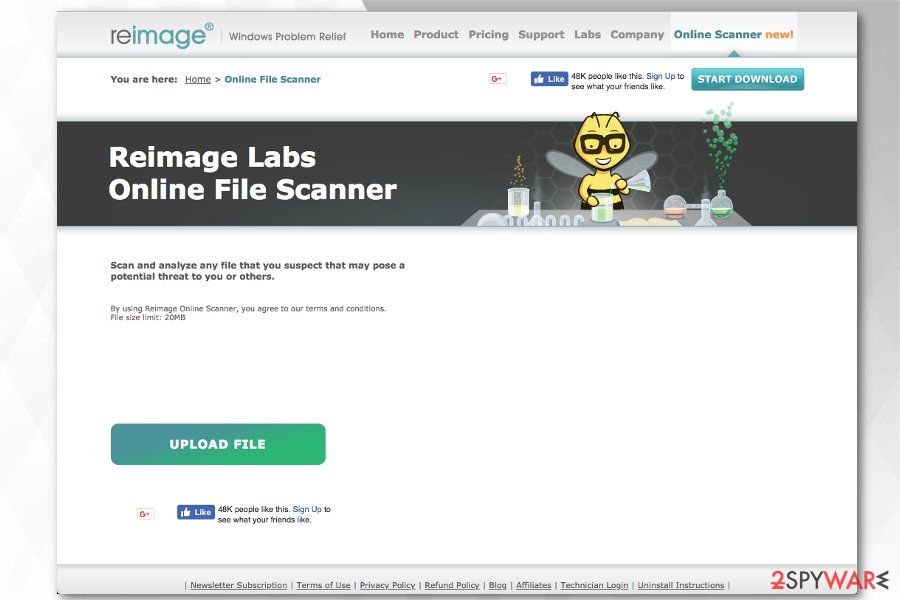 Reimage Plus has recently released a new feature — free online file scanner. It allows computer users to upload files up to 20 MB that might raise concerns. Once the document is submitted, it is scanned with certified repair technology, and the results are provided within several minutes. 
Scan and analyze any file that you suspect that may pose a potential threat to you or others. Source: Reimage Plus
This option is a great way to check files that have been sent to your email box by unknown people. Before opening, it is essential to make sure that the document is safe and won't carry the payload of the ransomware or other dangerous cyber threat. 
Also, keep in mind that this feature is entirely free to use. Thus, those who require small analysis and protection can enjoy this online file scanner at all times. Although, further protection of the computer requires you to download the software and activate it with Reimage License Key before usage.
FAQ about Reimage Repair
My old anti-spyware has recently expired, so I'm currently on the lookout for some new virus-fighting utilities. After a little browsing on the web, I managed to find Reimage Repair, so I was wondering if this software would be enough for the protection of my PC? I've read some very different reviews on this application, and I'm not sure which ones I should trust more.
Answer: There are multiple opinions on the web about nearly every product that exists; however, this does not mean that every view is worth taking for granted. While Reimage uses a trustworthy engine from Avira, there is no guarantee that malware removal and be performed successfully each time. The main functionality of the tool is to repair the damage done by a virus and fix computer issues that are unrelated to malware.
Therefore, you should never rely on Reimage Repair as an anti-virus, as it is simply not what it's main purpose it. For that reason, you should use the tool as a complementary software to anti-malware, which should always be kept up to date in order to prevent virus infections.
I'm planning on obtaining the program. However, I have noticed that there are a few versions of this software. What is the difference between Reimage Express and Reimage Repair? I need some advice on which one of these programs should I better choose.
Answer: If you are not a regular computer user, and perform some minor operations, Reimage Express should fully satisfy your needs. It will scan your system and report back the simple errors it detects in your system.
However, if you use email, browse the internet for information or download free software from the Internet, then you might need much more sophisticated protection. For that purpose, we recommend also installing a robust anti-malware tool.
Reimage Repair is a premium version which gives you much more features. It can fix the damage caused by viruses, replace the damaged files with new ones and, on top of that, you will be able to access tech support by phone or email 24/7.
Is the program safe to use? What is the privacy policy of this application? Will my personal info and my files be safe?
Answer: This question appears almost as often as the users ask "is MacKeeper app legit?". Fortunately, unlike the mentioned program, Reimage is absolutely safe to use. The only information that is collected on your PC is the technical data required for the repair of the virus damage.
You can be sure that none of your personal information, which you are required when purchasing this product, will be shared with the third parties.
Also, the app does not make copies of the files on your computer or stores them on some remote servers. You can safely download this program and be confident that your data is protected.
Is Reimage free to download?
Answer: The first system scan with Reimage Repair is free of charge. However, if the program finds issues that it is capable of fixing, it will ask you to pay for it. However, the full program's version is full of the essential features needed for maintaining your computer in the best shape and fixing various OS issues.
Once you download the software, you will be provided with the key, which is necessary to activate the software. If you encounter sites offering the software for free, there is a substantial risk that the software is counterfeit and potentially malicious. If you want an entirely free tool, you can download the Reimage Express, which scans the system and gives you a full report about its status. It can also fix fundamental errors and problems.
About the author
References
Reviews in other languages