FBI System Failure virus. How to remove? (Uninstall guide)
FBI System Failure virus is a dangerous cyber threat, which has nothing in common with the FBI or other governmental authority. In reality, it's a renewed FBI virus, which belongs to cyber criminals who seek to make PC users give their money for them. For that, they use quite tricky scheme, which is based on a misleading warning reporting about various law violations and then asking to pay a fine of $300 or other amount of money. Usually, when people see such words and phrases as "FBI", "law of The United States of America" or "specific reasons", they don't think clearly and can't even imagine that these words could belong to cyber criminals who want to rip them off. Please, be very careful with FBI System Failure virus and remove it as soon as you start seeing its fake warning.
HOW CAN I GET INFECTED WITH FBI System Failure virus?
FBI System Failure virus belongs to the category of ransomware, so as soon as it infiltrates computer, it locks it down. As a result, victim finds serious problems when trying to launch legitimate applications or connect to the Internet. Besides, virus also changes the desktop and starts showing its fake alert,which is filled with various tricky details, such as PC's location, Windows version, IP address and similar. Typically, it reports:
System Failure
Federal Bureau of Investigation
All Activities of this computer has been recorded. All your files are encrypted. Don't try to unlock your computer!
Your PC is blocked due to at least one of the reasons specified below.
Copyright and Related Rights law (Video, Music, Software) and illegally using and distributing copyrighted content, thus infringing Article I, Section B, Clause 8, also known as the Copyright of the Criminal Code of the United States of America.
Article 202 of the criminal provides for deprivation of liberty for two or twelve yours.
Illegal access has been initiated from your PC without your knowledge or consent, your PC may be infected by malware, thus you are violating the law On Neglectful Use of personal Computer. Article 210 of the Criminal Code provides for a fine of up to $100,000 and/or a deprivation of liberty for four to nine years.
Pursuant to the amendment to the Criminal of United States of America of May 28,2011, this law infringement (if it is not repeated – first time) may be considered as conditional in case you pay the fine to the state.
Fines may only be paid within 24 hours after the infringement. As soon as 24 hours elapse, the possibility to pay the fine expires, and a criminal case is initiated against you automatically within the next 24 hours!
To unlock the computer, you must pay the fine through REloadit Pack of $300.
To unlock your computer locked by the United States Cyber Security REloadit Pack fine Virus and to avoid other legal consequences, you are obligated to pay a release fee of $300. Payable through REloadit Pack via Walmart Card or Kmart Card etc.
After successful payment, your computer will automatically unlock.
In the end of the warning FBI System Failure virus asks for its victims to pay a fine of $300 and promises that this will unblock their computers. In reality, this never happens because scammers seek only to steal the money. If you are infected with FBI System Failure virus, follow a guide, which is given below, and remove this ransomware from your computer:
HOW TO REMOVE FBI System Failure virus?
First of all, when infected with FBI System Failure virus, you have to run a full system scan with anti-malware and remove malicious files. If you are blocked and can't launch any program, follow these steps and unlock your computer.
* Manual FBI System Failure virus removal:
Reboot you infected PC to 'Safe mode with command prompt' to disable virus (this should be working with all versions of this threat)
Run Regedit
Search for WinLogon Entries and write down all the files that are not explorer.exe or blank. Replace them with explorer.exe.
Search the registry for these files you have written down and delete the registry keys referencing the files.
Reboot and run a full system scan with updated Reimage to remove leftovers of this virus. You can also try Malwarebytes or Plumbytes Anti-MalwareNorton Internet Security.
* Flash drive method:
Take another machine and use it to download Reimage or other reputable anti-malware program.
Update the program and put into the USB drive or simple CD.
In the meanwhile, reboot your infected machine to Safe Mode with command prompt and stick USB drive in it.
Reboot computer infected with FBI System Failure virus once more and run a full system scan.
* Users infected with FBI System Failure virus are allowed to access other accounts on their Windows systems. If one of such accounts has administrator rights, you should be capable to launch anti-malware program.
* Try to deny the Flash to make your ransomware stop function as intended. In order to disable the Flash, go to Macromedia support and select 'Deny': http://www.macromedia.com/support/documentation/en/flashplayer/help/help09.html. After doing that, run a full system scan with anti-malware program.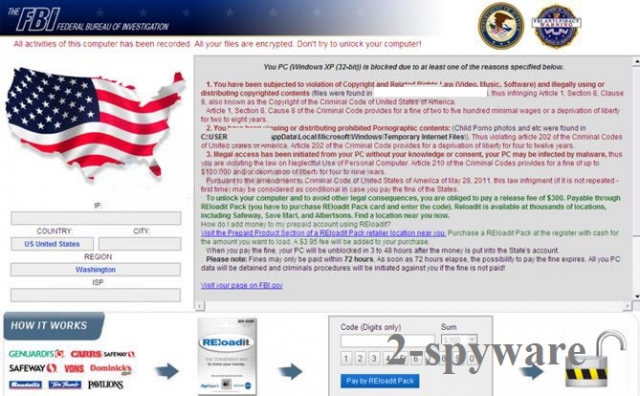 FBI System Failure virus manual removal:
Kill processes:
[random].exe
Delete files:
[random].exe
About the author
Removal guides in other languages