Remove Threat Finder virus
What is Threat Finder?
Threat Finder is a malicious ransomware, which can be compared to such computer threats as ZeroLocker, CTB-Locker, Coin Locker and so on. Such and similar programs infiltrate computers in a suspicious manner, e.g. Trojan horses, spam messages, fake update alerts, online scan pop-ups and other deceptive methods. If a ransomware infiltrates the machine, there is a little chance for you to access data that is stored on your hard disk anymore because they are capable of encrypting personal files, such as picture, documents, photos, music, videos and so on. Threat Finder ransomware is just like that. Once it corrupts all personally identifiable data on your computer, it starts asking people to pay the fine, which is $300. In most of the cases, people start to panick after receiving a message about the encrypted data. That's because the minority of them has backups. Consequently, most of the Threat Finder victims them immediately think about making a payment. However, we highly recommend you to think twice before doing that. Are you sure that after paying the fine your personal information will be restored? No. Keep in mind that transferring the money to cyber criminals may result in the loss of data, as well as money in the bank account. If you are dealing with Threat Finder ransomware or any of its clones, keep in mind that it's not possible to get rid of them manually, even though you pay the fine. Thus, do not waste your precious time and rush to eliminate this virus. For that, we recommend using either Reimage or SpyHunterCombo Cleaner. After that, try to restore your data using R-Studio or Photorec programs.
How can Threat Finder hijack my computer?
We are sure that you doesn't even imagine how Threat Finder ransomware infiltrated your computer.
However, we are more that sure that soon after its infiltration you were informed about a restricted access to your personal information. There are a lot of deceptive methods that cyber criminals use to spread such and similar programs. In most of the cases, Threat Finder virus is distributed via infected email attachments and via drive-by downloads from contaminated websites. In addition to that, cyber criminals may use links and fake pop-ups to spread this virus. For instance, you may click the link on Twitter, Facebook or any other popular website and enable Threat Finder virus if it exploits any loophole in the security of your PC. To prevent this virus from entering your machine, you should avoid visiting unfamiliar or illegal websites. Besides, you should install a reliable anti-spyware and always keep it up-to-date. As we known, this ransomware has been designed for all types of Windows OS (7, 8, Vista, XP). Once this threat decrypts the files, you may see such a notification:
Warning! Your personal files are encrypted!
Don't switch off your computer and/or internet, otherwise your key will be disabled
Your important files encryption produced on this computer: photos, videos, documents, etc. Here is a complete list of encrypted files, and you can personally verify this.

To obtain the private key for this computer, which will automatically decrypt files, you need to pay 300 USD / 300 EUR / similar amount in another currency.
How to remove Threat Finder virus?
If you have caught Threat Finder virus infection, which terminated your access to documents, photos, and other personal information until you pay the fine, you should NOT panic. If you react quickly, there is a chance to restore your files without risking to pay the ransom. First of all, you have to remove Threat Finder virus using a reputable anti-spyware. For that we recommend using Reimage or SpyHunterCombo Cleaner. If this ransomware blocks your attempts to run any of these programs, try to follow these steps:
Reboot you infected PC to 'Safe mode with command prompt' to disable virus (this should be working with all versions of this threat)
Run Regedit
Search for WinLogon Entries and write down all the files that are not explorer.exe or blank. Replace them with explorer.exe.
Search the registry for these files you have written down and delete the registry keys referencing the files.
Reboot and run a full system scan with updated anti-spyware.
Finally, try using R-Studio or Photorec programs to restore your data. Of course, no one can guarantee that your personal files with be decrypted. Therefore, we highly recommend you to take care of your personal information in advance by creating backups and continuously updating them.
Alternative Software
Different security software includes different virus database. If you didn't succeed in finding malware with Reimage, try running alternative scan with SpyHunter.
Alternative Software
Different security software includes different virus database. If you didn't succeed in finding malware with Reimage, try running alternative scan with Combo Cleaner.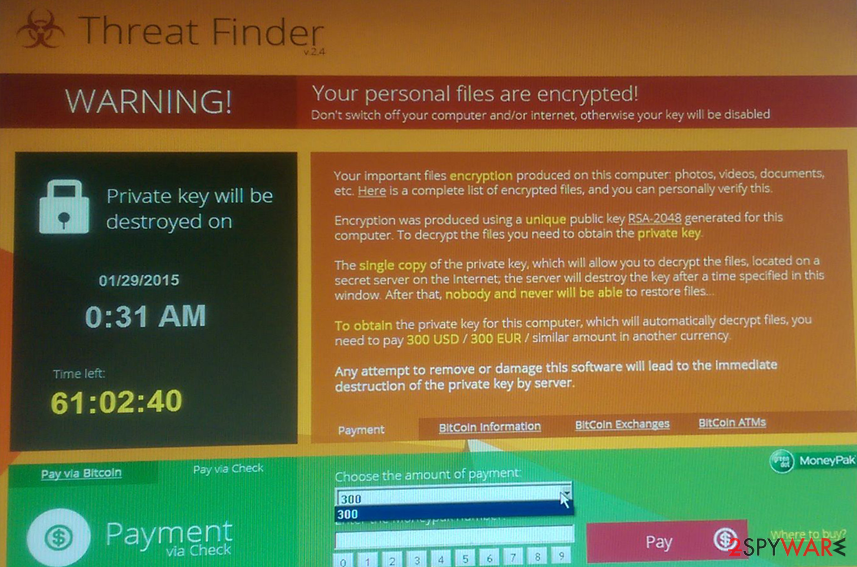 About the author