The Fappening 2018: 4 ways to protect your nude photos from hackers
The Fappening continues and doesn't seem to stop soon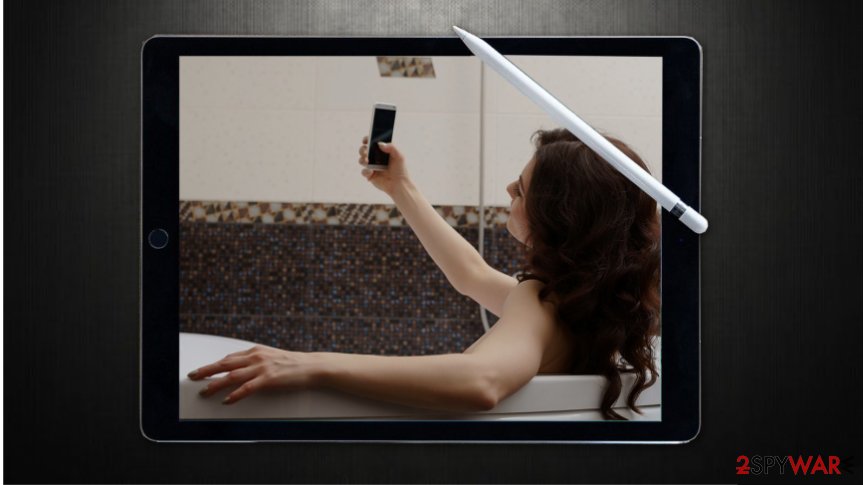 The Fappening is the biggest celebrities' photo leak of the time which has started as early as 2014. Unfortunately, it remains active in 2018 since people do not pay close attention during their browsing sessions and leave their data unsecured for the criminals.
According to the analysis, hackers of The Fappening obtained passwords from the cloud and other remote information storage accounts through Brute Force[1] attacks or simply phishing. Once they had the password, they logged into the accounts to steal personal photographs with erotic content and share it with the media.
While you can protect your account from Brute Force attacks if you choose a strong password, you as a human are vulnerable to phishing[2] which relies on credulous people and well-designed fake login sites. Thus, you will find four ways explaining how to protect your nude photos from hackers below.
Useful advice on how to protect your nudes from hackers
1. Never open suspicious email letters
Malicious spam emails[3] are not only highly beloved technique for ransomware distribution but also helps criminals redirect unsuspecting users to fake login websites which impersonate legitimate ones and lure people into submitting their credentials directly to hackers. Note, these malicious emails look exceptionally genuine!
Usually, the letter asks you to confirm some changes made to your account or log in to reset your password. Unfortunately, malicious emails either distribute malware or lead to fake sites in order to steal your credentials. Thus, if you receive such message, do NOT click on it and contact the company asking for confirmation of the letter.
2. Be aware of phishing scams
As we have mentioned, criminals employ deceptive techniques for their phishing attacks. Likewise, you can be redirected to a fake login site not only through spam emails but also malicious ads, including banners, pop-ups, and in-texts. Since they look almost exactly like the original website, people fall into the trap of phishing scams and give in their credentials without any suspicions.
Therefore, you should stay away from any type of advertising content online[4]. If you receive at first sight similar login window to iCloud, make sure to check the link in the address box attentively — fake pages have a similar but NOT exact link like the official site. 
3. Avoid uploading personal photos to the cloud 
Unfortunately, sometimes hackers use more sophisticated ways to breach into your iCloud account. Thus, the best option to protect your nude photos from the leak is to stop uploading them to cloud. If you keep it in the external storage device which is not accessible via the Internet, they will be better protected there.
Note that pictures taken with your iPhone are automatically uploaded to iCloud. However, you can disable this feature by following this path:
Settings > Accounts&Passwords > iCloud > Photos > iCloud Photo Library 
4. Always use two-factor authentication
Two-factor authentication[5] is a new feature which allows people to use an extra layer of protection when it comes to hacking. It requires not only the login and password but also an additional access code which is usually sent via SMS. Likewise, even if criminals managed to get your credentials, they won't be able to hack into the account without the access code.
Note that two-factor authentication feature can be enabled depending on your service provider. However, experts highly recommend using this feature to protect your data, including nudes.
About the author
References