PC Antispyware 2010. How to Remove? (Uninstall Guide)
removal by Jake Doe - -
Also known as
PC_Antispyware 2010, PCAntispyware2010, PC Antispyware 2010 version 3.7
| Type:
Rogue Antispyware
WinReanimator
,
PC Security 2009
and
Home Antivirus 2010
. The bogus application is promoted through the use of Trojan
Braviax
. This Trojan virus displays fake security alerts about possible or supposedly existing malware infections. The main goal of PCAntispyware 2010 is to coerce you into purchasing the program. You should uninstall PC Antispyware 2010 from your PC if it is already infected.
PC Antispyware 2010 can be also promoted on various misleading websites that provide fake online anti-malware scanners or it may be download and installed manually. Once active, it will be configured to scan your computer each time you log on into Windows. Of course, you can't change the way this program works. The scan results are false and are being shown only to convince you that your computer is seriously infected. To make things worse, PCAntispyware2010 will display alarmist alerts about computer threats. These alerts look like legitimate ones, so it might be difficult to envisage the difference between them. However, a reputable security application won't scan your computer without your permission.
What is more, PC_Antispyware 2010 will block antivirus programs to protect itself from being detected and removed. Likely, you won't be able to download and install other security programs as well. The rogue program will hijack Internet Explorer and Mozilla Firefox and redirect you to various misleading websites that promote malware.
All things considered, it should be obvious that this application is a scam which must be deleted as soon as possible. Please use the removal guide below to remove PC Antispyware 2010 from your computer manually for free. Related files:
Uninstall.exe
,
avengn.dll
,
htmlayout.dll
,
pthreadVC2.dll
,
daily.cvd
,
Microsoft.VC80.CRT
,
msvcm80.dll
,
msvcp80.dll
,
msvcr80.dll
,
uninstall.lnk
PC Antispyware 2010 properties
:
• Changes browser settings
• Shows commercial adverts
• Stays resident in background
It might be that we are affiliated with any of our recommended products. Full disclosure can be found in our Agreement of Use. By downloading any of provided Anti-spyware software you agree with our
Privacy Policy
and
Agreement of Use
.
Alternate Software
Alternate Software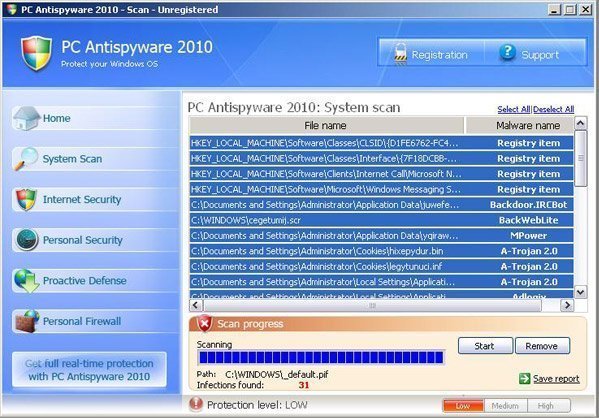 PC Antispyware 2010 manual removal
Kill processes
:
PC_Antispyware2010.exe
Uninstall.exe
jugifyryve.exe
Delete registry values:
HKEY_LOCAL_MACHINE\SOFTWARE\Microsoft\Windows\CurrentVersion\Uninstall\PC_Antispyware2010
HKEY_LOCAL_MACHINE\SOFTWARE\PC_Antispyware2010
HKEY_CURRENT_USER\Control Panel\don't load "scui.cpl"
HKEY_CURRENT_USER\Control Panel\don't load "wscui.cpl"
HKEY_LOCAL_MACHINE\SOFTWARE\Microsoft\Windows\CurrentVersion\Run "PC Antispyware 2010"
Unregister DLLs:
AVEngn.dll
htmlayout.dll
pthreadVC2.dll
msvcm80.dll
msvcp80.dll
msvcr80.dll
Delete files:
aqamodero.dat
hubeweqa.lib
jatikysup._dl
ofyxodaqa.dat
sahaso.bat
zotys.bin
AVEngn.dll
htmlayout.dll
PC_Antispyware2010.cfg
PC_Antispyware2010.exe
pthreadVC2.dll
Uninstall.exe
wscui.cpl
daily.cvd
Microsoft.VC80.CRT
Microsoft.VC80.CRT.manifest
msvcm80.dll
msvcp80.dll
msvcr80.dll
akudyta.lib
hoxigawax.inf
kyci.dl
nuxojih.scr
qynomikov.bin
seni.reg
yfoneby.db
_scui.cpl
cocefezyj.dl
qebykiti.dl
pybisezyr.db
ulycozoho._dl
ekenubes.com
icosagula.reg
jugifyryve.exe
PC_Antispyware2010.lnk
ajeby.reg
yqeqaranym.vbs
zebav.pif
_scui.cpl.txt
xoqupuwytu._dl
Uninstall.lnk
Delete directories:
c:\Program Files\PC_Antispyware2010
c:\Program Files\PC_Antispyware2010\data
%UserProfile%\Application Data\Microsoft\Internet Explorer\Quick Launch
%UserProfile%\Start Menu\Programs\PC_Antispyware2010
Geolocation of PC Antispyware 2010
Map reveals the prevalence of PC Antispyware 2010. Countries and regions that have been affected the most are: United States.
---
Comments on PC Antispyware 2010
Post a comment
Attention: Use this form only if you have additional information about a parasite, its removal instructions, additional resources or behavior. By clicking "post comment" button you agree not to post any copyrighted, unlawful, harmful, threatening, abusive, harassing, defamatory, vulgar, obscene, profane, hateful, racially, ethnically or otherwise objectionable material of any kind.