Home Antivirus 2010. How to remove? (Uninstall guide)
Home Antivirus 2010 is a misleading application that may give exaggerated scan results and fake security alerts in order to scare the user of the infected computer into purchasing it. This bogus program is a clone of WinReanimator – rogue anti-spyware application. You must uninstall Home Antivirus 2010 from your computer upon detection.
Home Antivirus 2010 is distributed through the use of Trojan viruses, mainly Trojan-Downloader.braviax. There are about 12 websites that promote this rogue application. Most of the time, those websites provide free online anti-spyware scanners or fake software reviews. Usually, these fake online scanners display bogus information about dangerous infections and redirect a user to the pay page of Home Antivirus 2010. Furthermore, this parasite may be downloaded and installed secretly without your knowledge and permission. It will then display legitimately looking but fake security notifications from Windows Task bar. Once your computer is infected, you will see the following security alert:
"WARNING! Home Antivirus 2010 has found 33 useless and UNWANTED files on your computer!
– 21 of those items are considered critical privacy compromising content
– 9 of those items are considered medium privacy threats
– 3 of those items are considered to be junk content of low privacy threats
Personal data at the reach of anyone's hand
Internet history records available
Compromising and adult material stored on your system
Chat sessions' logs and personal Emails easily reachable
You need to register Home Antivirus 2010 to clean the unwanted files found. Click "Register now" button below to obtain the license and remove useless and compromising material from your PC."
Almost identical security alert uses PC Security 2009.
"Your system was found to be infected with intercepting program. These can log your activity and damage your privacy. Click here for Home Antivirus 2010 spyware removal."
While running, HomeAntivirus 2010 will imitate your computer scan and display a list of infections that can't be removed unless you first purchase the program. These infections, though, are all false and can be safely ignored. The rogue program will slow down your computer and block antivirus software. Most of the well known security websites will be blocked too. Your Internet Explorer will be hijacked as well. To make things worse, HomeAntivirus2010 may disable Task manager, system restore and safe mode.
Home Antivirus 2010 is a scam, non-functional application. Do not purchase it! We highly recommend you to remove this infection from your computer using the manual removal guide below. This removal guide explains how to get rid of Home Antivirus 2010 fro free.
Alternate Software
We have tested Malwarebytes's efficiency in removing Home Antivirus 2010 (2012-01-31)
We have tested Malwarebytes's efficiency in removing Home Antivirus 2010 (2012-01-31)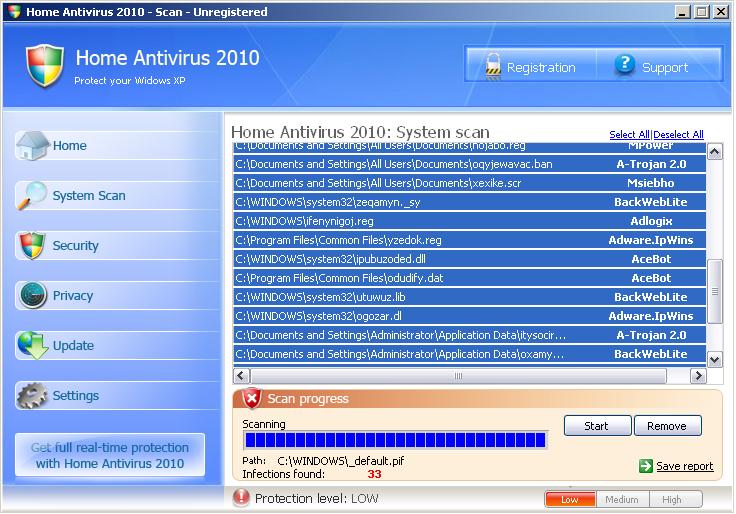 Home Antivirus 2010 manual removal:
Kill processes:
HomeAntivirus2010.exe
Uninstall.exe
rufa.exe
atowu.exe
Delete registry values:
HKEY_LOCAL_MACHINESOFTWAREHomeAntivirus2010
HKEY_LOCAL_MACHINESOFTWAREMicrosoftESENTProcessInstall
HKEY_LOCAL_MACHINESOFTWAREMicrosoftESENTProcessInstallDEBUG
HKEY_CURRENT_USERControl Paneldon't load "scui.cpl"
HKEY_CURRENT_USERControl Paneldon't load "wscui.cpl"
HKEY_LOCAL_MACHINESOFTWAREMicrosoftWindowsCurrentVersionRun "Home Antivirus 2010"
Unregister DLLs:
AVEngn.dll
htmlayout.dll
pthreadVC2.dll
msvcm80.dll
msvcp80.dll
msvcr80.dll
ciqudehyri.dll
vivifabyx.dll
akywiweni.dll
Delete files:
AVEngn.dll
HomeAntivirus2010.cfg
HomeAntivirus2010.exe
htmlayout.dll
pthreadVC2.dll
Uninstall.exe
wscui.cpl
daily.cvd
Microsoft.VC80.CRT
Microsoft.VC80.CRT.manifest
msvcm80.dll
msvcp80.dll
msvcr80.dll
HomeAntivirus2010.lnk
Uninstall.lnk
dicy.sys
oxysa.dl
vimufil.dat
_scui.cpl
boxica.reg
jimysa.sys
ylekoxipe.bin
ovysenuv.ban
ecanynedy.pif
iwexuhor.inf
omupaw.scr
xonocyd.sys
rufa.exe
xatem.vbs
akywiweni.dll
atowu.exe
ufig.reg
upagyxej.lib
uwud.ban
akufan.db
puqobu.bat
robomero.vbs
xojusiban.dat
otakyhegem.sys
rohysewys.lib
Delete directories:
C:Program FilesHomeAntivirus2010
c:Program FilesHomeAntivirus2010data
%UserProfile%Start MenuProgramsHomeAntivirus2010
About the author