La policia ESPAÑOLA virus. How to remove? (Uninstall guide)
La policia ESPAÑOLA virus is a cyber infection that belongs to ransomware category. This threat attacks only Spanish speaking PC users but that doesn't mean you can be calm if you live in other country. Earlier this week, many PC users have been infected by FBI Green Dot Moneypak Virus, while Europe users have been still complaining about Windows Anytime Upgrade virus and Polícia de Segurança Pública Portuguese virus. All these threats pretend to be real police departments that lock computers down with their trustworthy-looking alerts. These huge notifications claim that user has been lock for various law violations, like watching or spreading copyrighted or illegal content, distributing malware and doing other things that have violated Spanish laws. However, you must keep in mind that La policia ESPAÑOLA virus is used only for robbing PC users, forcing them to pay a certain fine in order to unlock their computers. This alert is completely forged and should never be trusted.
HOW VICTIMS GET INFECTED WITH La policia ESPAÑOLA virus?
La policia ESPAÑOLA has been researched to use typical ways of distribution: it relies on freeware, shareware, spam emails and their attachments, fake updates and codecs. As soon as it gets inside the PC, it completely locks the machine and disables system without any permission asked. Out of the blue, user is hit by this scary warning looking like it was sent by Spanish Police:
La policía ESPAÑOLA
Atención!!!
Ha sido detectada actividad ilegal! Su sistema operativo ha sido bloqueado debido a una infracción de la legislación alemana!
Han sido detectadas las siguientes infracciones: Su dirección IP ha sido registrada en las webs ilegales con contenido pornográfico orientadas a la difusión de la pornografía infantil, zoofilia e imágenes de violencia contra menores! En su ordenador han sido detectados los archivos de video de contenido pornográfico con elementos de violencia y pornografía infantil! Además, desde su ordenador se realiza un envió ilegal (SPAM) de orientación pro terrorista. El presente bloqueo ha sido realizado para prevenir la posibilidad de difusión de dichos materiales desde su ordenador en Internet.Para desbloquear su ordenador, usted ha de pagar una multa de 100 euros! La multa ha de ser pagada antes de 24 horas desde el momento del bloqueo de su ordenador! En el caso de impago, todos los datos de su ordenador serán eliminados!
Usted tiene dos formas de pagar la multa:
1) Usted puede adquirir un cupón Ukash por el importe de 100 euros. El número de ese cupón Ukash. usted ha de introducir en el campo del pago y apretar el botón "OK". Si el sistema no confirma el pago realizado con éxito, usted ha de enviar el número de su voucher por e-mail.
2) Usted puede pagar la multa mediante paysafecard. Usted ha de pagar paysafecard por el importe de 100 euros. Usted ha de introducir el código PIN del cheque en el campo del pago y apretar el botón "OK". Si el sistema no confirma el pago realizado con éxito, usted ha de enviar el código PIN por e-mail.Envié los datos por e-mail: info.lapoIiciaespa@Dolagyahoo.com
If you try to reboot your PC or reboot it to Safe Mode with Networking, this won't help you fix your computer. The only way to do that is to unlock your computer and remove La policia ESPAÑOLA virus.
HOW CAN I REMOVE La policia ESPAÑOLA virus?
In order to get your PC back to normal, you should firstly unlock your system. For that, follow these steps:
Take another computer and download Plumbytes Anti-MalwareWebroot SecureAnywhere AntiVirus, Reimage, Malwarebytes Anti Malware or other reputable anti-malware program with it.
Update the program and put it into your USB drive or simply burn a CD disk.
While the CD burns or USB drive get's the information, reboot your infected machine to Safe Mode with Command Prompt (by pressing F8 on boot) and then stick the prepared USB drive or put the CD disk in it.
Reboot the infected computer once more and run a full system scan with the program you downloaded.
However, note that you must run a full system scan with updated Reimage version to eliminate all infected files from your computer.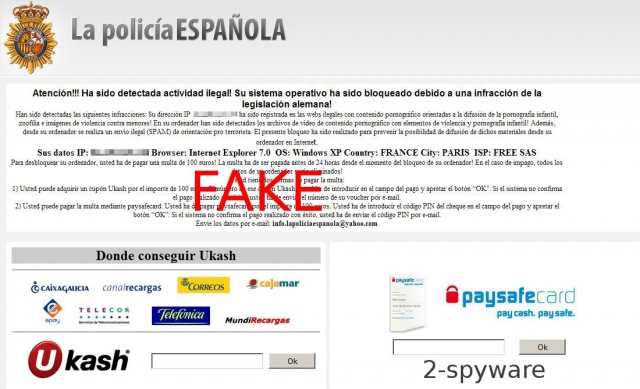 La policia ESPAÑOLA virus manual removal:
Kill processes:
[random].exe
Delete registry values:
HKEY_LOCAL_MACHINESOFTWAREMicrosoftWindows NTCurrentVersionWinlogon
About the author