---
Rating:
(80/100)
HijackThis review, free download
HijackThis review
HijackThis is a very effective and fast security tool initially designed to detect and eliminate browser hijackers. Latest versions of the application can also be successfully used to find and remove malicious browser plugins, unsolicited software, various viral parasites, most spyware and adware threats.

HijackThis is not a regular anti-spyware product. The program does not scan the file system and checks only the Windows registry, running processes and few system files. It even does not divide detected objects into malicious and legitimate ones, but lists all entries that can be potentially harmful or unwanted. Such detection technique is not a HijackThis drawback, as the application is targeted to mostly experienced and professional users who have necessary knowledge to determine which objects pose a threat and need to be fixed, i.e. removed from the system. The program does not have an updatable spyware definitions database. However, it simply does not need one, because its main concept is to find each suspicious registry entry in any known location. This allows HijackThis to easily detect the most recent parasites as well as already analysed pests.

The program includes additional security tools designed to delete specified files, Windows services and malicious software components hidden as metadata on files. These tools allow to get rid of certain objects that cannot be normally discovered and removed. For instance, some of such objects may run unkillable processes or may be locked by the operating system or installed software. Other useful HijackThis utilities are the hosts file editor, advanced process and uninstall managers.

The application's interface is clean and rigid, but definitely not very convenient or user-friendly.

HijackThis is a freeware tool. It consists only of one small (about 220KB in size) executable file that can work practically on every computer able to run Windows 95 operating system.

The official HijackThis web site is www.spywareinfo.com/~merijn.

Positive side:
quick performance
free to use
optimal (low) system requirements
lightweight
HijackThis spyware remover was carefully tested by 2-spyware.com research center. The review is the result of our test. If you know additional information about HijackThis please send us the note.


HijackThis screenshot :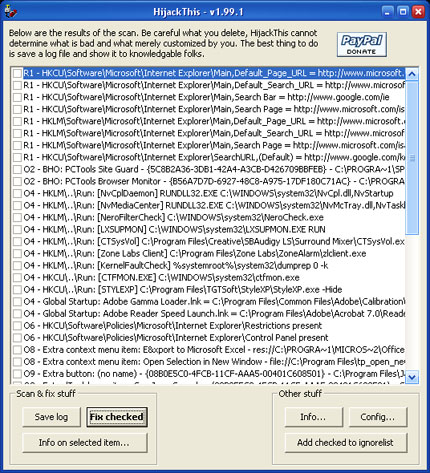 Miscellaneous tools
Information added: 2005-10-15 11:26:53
Information updated: 2006-11-15 08:11:27
Additional resources:
Attention:
If you know or you have a website or page about HijackThis, feel free to add a link to this list:
add url


more resources
Spreading the knowledge:
It is very hard to fight against computer parasites on the Internet alone. If you have a website, we would be more than happy if you would like to cooperate and help us spread the information about latest threats. Remember, knowledge is the most powerful weapon. Help your visitors protect their computers!
Like us on Facebook
Latest spyware news:
Subscribe to spyware news
Ask us