Malwarebytes Anti Malware review, free download
Malwarebytes anti-malware review: the powerful tool to detect, destroy and prevent malware
Malwarebytes anti-malware is a simple but impressive security solution that can be used for the protection of individual or corporate computers. This American antivirus brand has been around since 2006, and, over the years of continuous improvements and modifications, has gained customers' trust.
Malwarebytes has expanded rapidly, and the research team has proved that they are capable of finding effective solutions for ever-evolving viruses. In December 2016, the company released version 3.0 which included protection against several serious threats, such as ransomware, rootkits, exploits, and malicious websites. The newest program's version is 4.3 that is available for Windows, macOS, Andriod, and iOS, Chromium. 
The newest versions that come after the Malwarebytes 4 release are smarter, faster, and lighter than before. Threats can be found quicker and the program can tell about those threats it finds. It describes the behavior, type, and suggest smarter security decisions. 
The antivirus creators can be proud of its large virus database which enables this tool to detect and exterminate a variety of cyber infections, including zero-day viruses and updated variants of some older parasites. Malwarebytes' minimalist design makes the navigation within the application a lot simpler and faster. Due to the refurbished app design, it is now more user-friendly and decluttered from unnecessary buttons and details. 
The program's scanning capacities are quite impressive and allow this free tool to take quite a competitive stance among other industry-leading products. Malwarebytes anti-malware is a conveniently customizable tool that possesses some extra utilities for manual malware removal.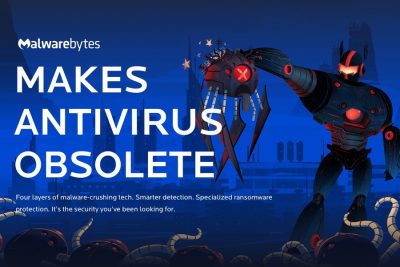 The program is available in as many as 30 languages and, due to its low CPU usage, does not seem to have problems running alongside other antivirus and anti-spyware programs. While developers were initially focused on Windows OS, currently the application supports macOS, iOS, and Android devices.
Being defined as a "next-gen security program," the software has already taken a step closer towards becoming a highly sophisticated and well-established virus-protection utility.
| | |
| --- | --- |
| Developer | Malwarebytes |
| Category | Security software |
| Subcategory | Anti-malware |
| OS supported | Windows XP/Vista/7/8/8.1/10, macOS, iOS, Android, Chrome OS, Android |
| File size | 76.32 MB |
| Language | 23 languages, including English, Danish, Japanese, Russian, Spanish, French, etc. |
| Free version | Available for 14 days |
| Paid version | $39.99 |
Free-to-try pricing model lets you check Malwarebytes capabilities for 14 days
Malwarebytes anti-malware can be downloaded as a Trial version that lasts 14 days. The installation of the program only takes a few minutes. As soon as the application is installed, a full system scan starts which identifies viruses and offers either quarantining them or removing them. The scan takes several minutes or longer, depending on your system configuration and its security status. 
Users of Malwarebytes anti-malware Free version are offered to fully check the system, remove detected malware, and use the full protection to prevent potential dangers in the future. They are provided with the following protection types:
web protection;
exploit protection;
malware protection;
ransomware protection.
Nevertheless, Malwarebytes bonus features, such as real-time protection, anti-ransomware, scheduled updates and scans, expire after 14 days, when the trial program's version ends. They are can be unlocked with only the Premium version which lasts one year. However, thanks to the latest updates, the free version comes together with a default Advanced Heuristic Engine (Shuriken) and automated update checks which were unavailable in the previous program's version.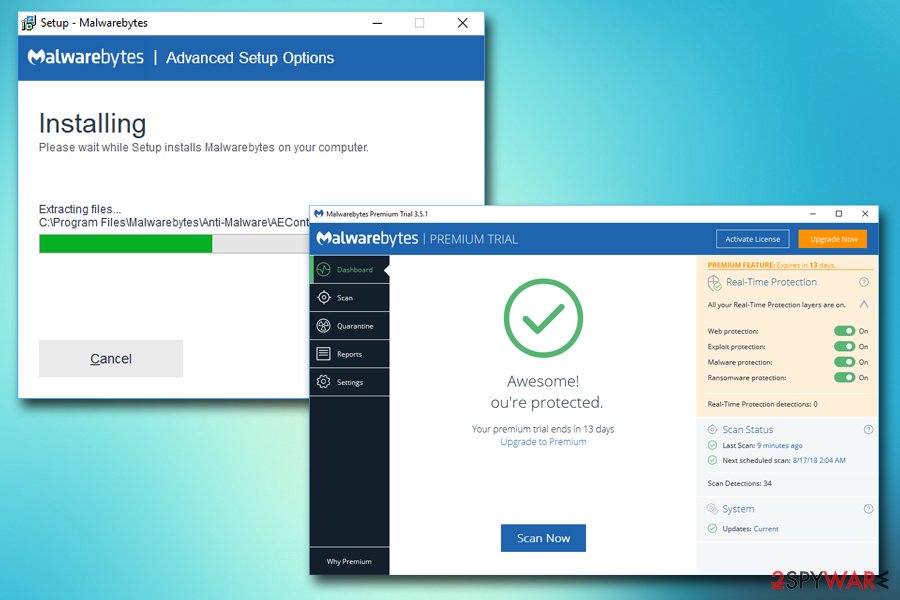 Features that you get after buying the Premium version
While Malwarebytes anti-malware Free is considered to be only a complementary tool to your anti-virus software, the Premium version can replace it entirely. Having in mind that the cost of this version is very decent, the program is lightweight and fast, it is a great deal. You can download the Premium directly from our site.
Malwarebytes anti-malware Premium for one device (personal use) costs $39.99 a year, while a subscription for up to 10 computers costs $59.99. Additionally, users who opt for a two-year subscription get the 25% discount. Considering the high value of real-time protection from malware, the price is extremely affordable. Besides, a 60-day money-back guarantee provides assurance. 
Malwarebytes 4.3 is the latest version of the software which stands out with significant performance and usability improvements. This version has also been equipped with more advanced system scanning capacities that allow checking the device up to 4 times faster.
With version 3.0, the program has been updated with anti-exploit, anti-malware, anti-ransomware, and website protection features that now come together with Malwarebytes Anti-Malware Premium version. So, right after buying the full version, users are provided with these premium features which ensure the highest protection level:
Protecting user's identity and privacy from cybercriminals;
Protecting documents, financial files from ransomware attacks;
Protecting the user from malicious and fraudulent websites;
Stopping malware that slows down the computer;
Crushing attacks that corrupt installed software.
Additionally, Premium users can schedule their scans and set them to be performed at 24-hour intervals. As soon as the scan is complete, you can quarantine and then delete detected threats.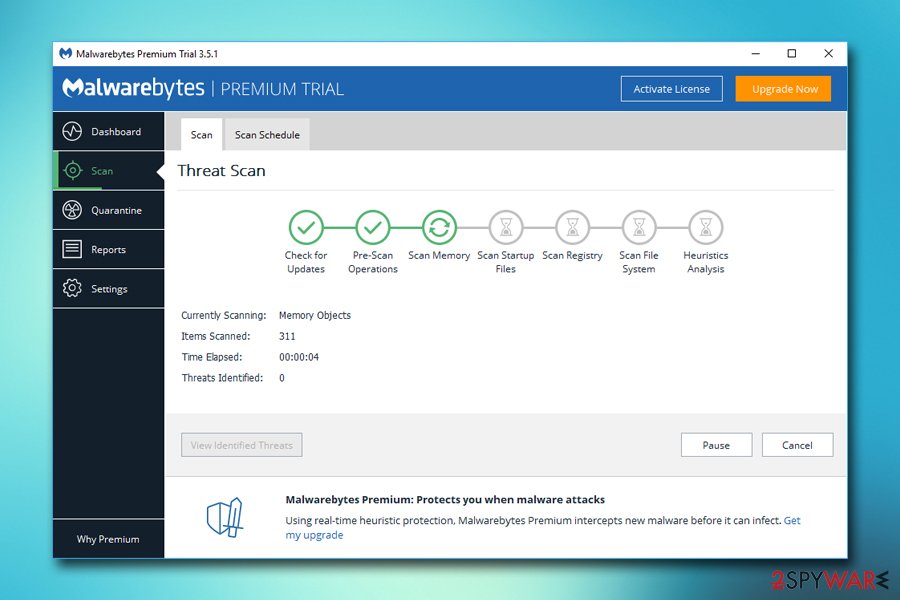 Malwarebytes anti-exploit – exceptional feature helping you to avoid browser attacks 
Software vulnerabilities are liable for millions of infections online, as vulnerabilities (bugs) allow bad actors to inject malicious payloads through. Once the vulnerability is detected, software authors quickly work on a fix and release the update as soon as they can. Unfortunately, there is a window where users remain unprotected, and that is where Malwarebytes anti-exploit can be trusted for protection.
Malwarebytes anti-exploit protects from zero-day exploits targeting software and browser vulnerabilities, including:
Protects most popular web browsers: Google Chrome, Internet Explorer, Mozilla Firefox, and Opera;
Defends built-in components such as Adobe, Java, and Flash;
Blocks several exploit kits, including RIG, Magnitude, Blackhole, etc.
Protects against drive-by downloads/installs;
Safeguards vulnerable programs like Adobe Reader, MS Office, etc.
Malwarebytes anti-exploit is now a part of the Premium version and is also available as a separate application in the Beta version.
Malwarebytes anti-ransomware stops cryptoviruses before they even start the encryption
Ransomware is an ever-expanding business model for cybercriminals, as much success was achieved with threats like NotPetya, WannCry, and others. Organizations, as well as regular users, suffer millions of dollars damage after the ransomware attack. Furthermore, valuable information can be lost forever, and restoring IT systems might take a prolonged amount of time, disrupting the operation of the company.
Therefore, protection against ransomware is a must at the current time. Malwarebytes anti-ransomware is a highly sophisticated feature that can detect, block, and eliminate such ransomware-type viruses like CryptoLocker, Tesla, CTB-Locker, and many more. To achieve that, it keeps monitoring the computer's activity in real-time and, once enough evidence of suspicious activity is gathered, Malwarebytes anti-ransomware stops the threat before it manages to encrypt any local files.
Malwarebytes anti-ransomware is included as a feature in the Premium version, although users can also make use of a separate application that is free and in the Beta stage.
The most exceptional feature, Machine Learning Technology, explained
Bad actors are continually working on new versions of malware that can surpass various anti-malware solutions and remain hidden. Fortunately, security researchers around the world on exactly the opposite – technologies that can stop such a threatening virus behavior.
Malwarebytes software employs an innovative feature – The Machine Learning Technology. The learning technology allows the application to identify families of malware based on behavioral tendencies. Therefore, if any abnormal changes were made, the software will detect it and prevent it. 
Due to such ground-breaking technology, Malwarebytes is capable of preventing even new infections from entering the machines. Besides, the more devices are using the program, the bigger the chance is that new threats will be detected early on. 
Besides Free and Premium, there are more versions offered by the developer
Cybercriminals constantly develop a new type of malware for it to be more persistent, sophisticated, and compatible with multiple operating systems and platforms. Therefore, the rise of constantly-changing malware prompts security researchers to develop anti-virus tools for Mac, iOS, and Android devices.
Malwarebytes for Mac
Despite the popular belief, Mac malware is very real, as proves such serious infections like KeRanger – it is a ransomware-type virus that locks users' confidential information and demands a ransom in Bitcoin for its release. Additionally, users are protected from pesky adware, bloatware, browser hijackers, and similar potentially unwanted applications that can clutter the device. The app is lightweight and scans are performed fast.
Malwarebytes for iOS
The innovative technology of Malwarebytes is one of a kind for iOS. Security software is capable not only of blocking the entry of dangerous viruses, but is also equipped with various features that protect users' privacy and online safety:
Blocks spam calls – use a predetermined list of phone numbers that are known for being used for scamming people;
Filters text messages that include dubious links and suspicious message content;
Works as ad-blocker – prevents annoying pop-ups and redirects;
Prevents users from accessing websites that host ransomware, phishing scams, and other threats on Safari.
Users can download the app from the App Store for iOS versions 11 and later, and use it on iPads and iPods. Additionally, the free download comes together with a 30-day trial version of Premium.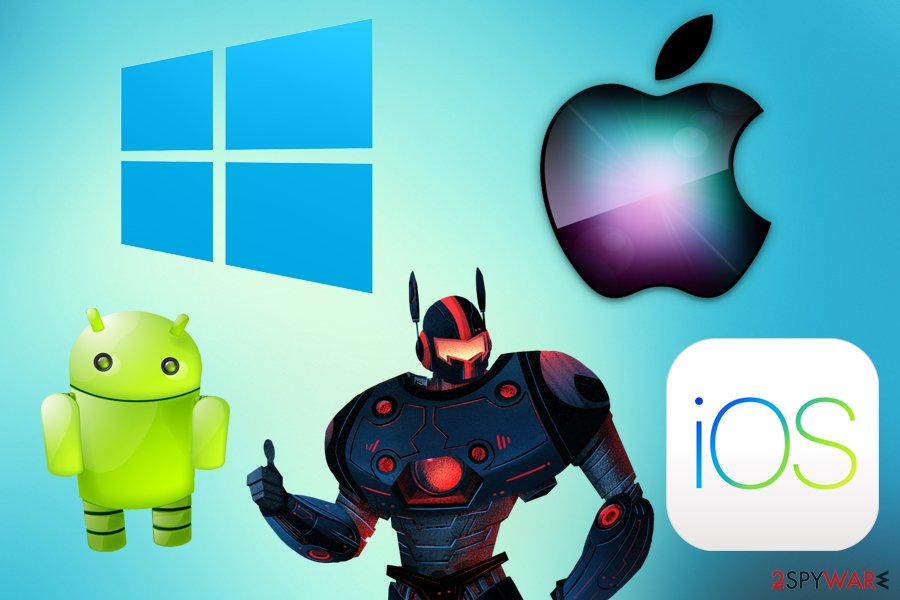 Malwarebytes for Android
Malwarebytes security software is excellent when it comes to blocking ransomware, malware, and potentially unwanted programs. The dynamic PUP detection capabilities will not let any adware to slip in. It is equipped with such useful features as:
Detects and removes malware, adware, ransomware, and other threats;
Prevents users from entering phishing websites on Chrome by scanning URLs;
Blocks call from scammers (only available in the US);
Conducts privacy audits on the device, allowing users to monitor applications' permissions
Malwarebytes for Android is available on Google Play and comes with a 30-day Premium trial. Additionally, the application supports 11 languages and on all Android 4.4+ devices.
Malwarebytes anti-rootkit
Rootkits are probably the most dangerous type of infections, as they are almost impossible to detect without scanning it with the appropriate software. The malicious code of the rootkit is obfuscated and helps other threats less-likely to be noticed by most security programs. Malwarebytes anti-rootkit is a specialized application, capable of detecting and eliminating rootkits.
The application is capable of protecting users from threats like MoastBoot, MaxSS, Necurs, ZeroAccess, TDL4, Cidox, and many others.
Malwarebytes anti-rootkit is free and is still in Beta. Beta versions are non-profit products that are not yet completely finished. Therefore, Malwarebytes does not take any responsibility for bugs, errors, or system disruption due to the operation of the program.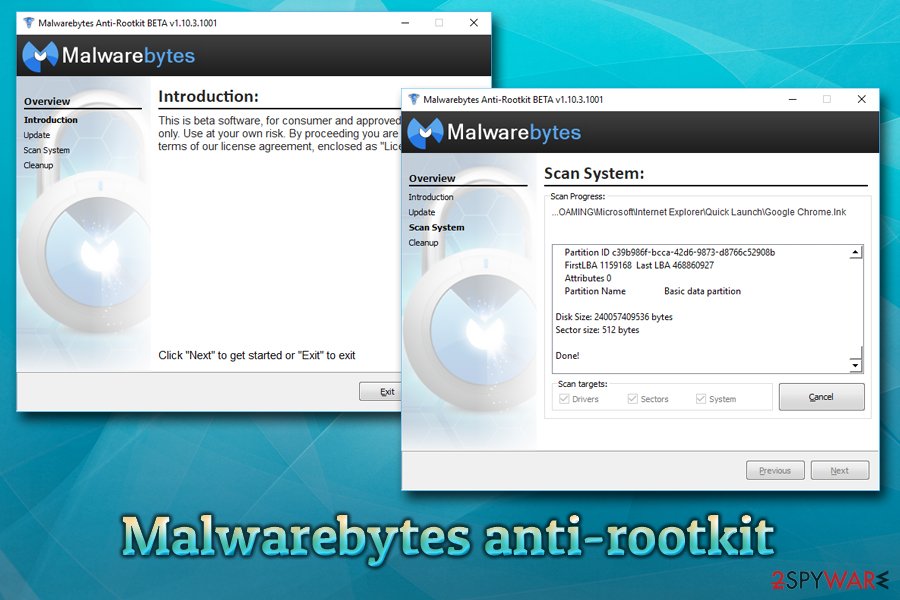 The pirated version of the program can still be found online. Steer clear of it!
We should warn against trying to update Malwarebytes anti-malware free version via illegal means, i.e., pirated patches or cracks. First of all, such actions are unlawful and, in most countries, punishable by law. Such copyright infringement may end up in massive fines and even imprisonment.
What is more, obtaining pirated software is dangerous not only because of the risk of getting caught red-handed. Malwarebytes crack may be infected with malware, Trojans and severely damage the system and containing files. Viruses as hazardous as ransomware are known to infiltrate computers in this particular way.
Therefore, purchase the full version of the program directly from the virus creators, making their hard work pay off and supporting the further improvement of the program.
Frequently asked questions:
Question: I am considering purchasing swapping my current anti-malware software for Malwarebytes. Are there any good deals I should know about that could help me get this software for cheaper?
Answer: Malwarebytes offers Premium for $59.99 for a 2-year subscription. In the meantime, if you would renew the subscription after it expires, you would have to pay $39.99 a year. Therefore, if you are happy with the software (you have a trial for the Premium version for 14 days), you should simply buy a 2-year subscription plan which would save you 25%.
Question: Can I use Malwarebytes 3.5 on my Mac?
Answer: Yes, Mac OS X and iOS versions are available. However, the free version is only supported on Windows. There are newer versions that are compatible with pretty much all the OSs, including macOS and iOS.
Question: I was wondering whether Malwarebytes will run smoothly with other antivirus programs that I already have installed on my computer?
Answer: Just like its previous versions, the newest one, Malwarebytes 3.5 is designed to work together with other virus-fighting utilities and in-built protection software such as Windows Defender or Microsoft Security Essentials. Besides, you may even consider replacing some of your security software with the newest Malwarebytes version since it now combines Anti-Ransomware, Anti-Malware, and Anti-Exploit solutions.
Question: Can I use Malwarebytes instead of my regular antivirus software?
Answer: Since Malwarebytes released version 3, the program is more than capable of stopping most of the parasites from entering the targeted computer. However, remember that the application is capable of working beside other anti-malware solutions without bugs. Therefore, for more protection, it is recommended to run additional software alongside. 
About the author
Reviews in other languages