Malwarebytes Anti Malware review, free download
Malwarebytes – a powerful tool to detect, destroy and prevent malware infections
Malwarebytes is a simple but good-quality security solution that can be used for the protection of individual or corporate computers. This American antivirus brand has been around since 2006, and, over the years of continuous improvements and modifications has gained customers' trust.
The antivirus creators can be proud of its large virus database which enables this tool to detect and exterminate a variety of cyber infections, including entirely new malware releases and updated variants of some older parasites. The program's minimalist design makes the navigation within the application a lot simpler and faster.
The program's scanning capacities are quite impressive and allow this free tool to take quite a competitive stance among other industry-leading products. Malwarebytes is a conveniently customizable tool which possesses some extra utilities for manual malware removal.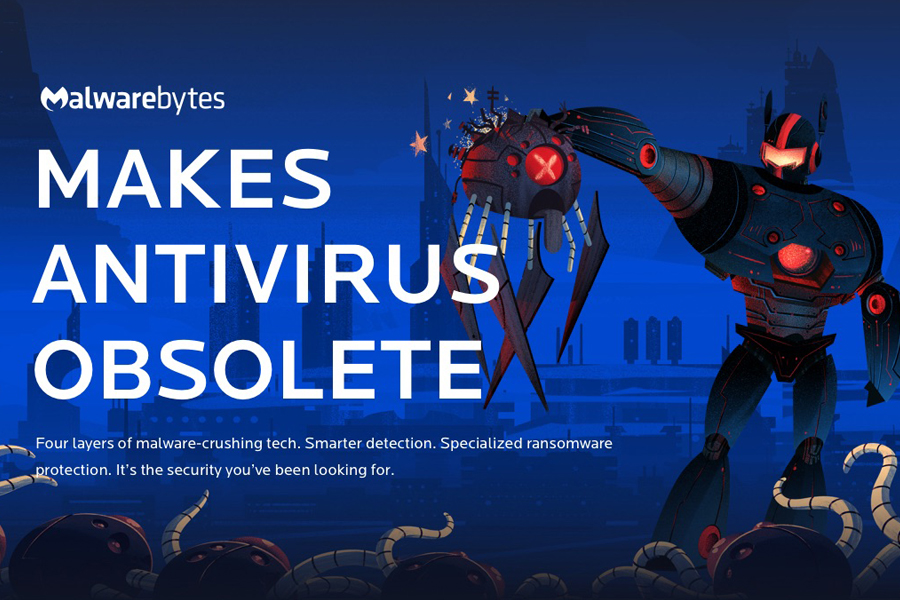 Malwarebytes is available in as many as 30 languages and due to its low CPU usage does not seem to have problems running alongside other antivirus and anti-spyware programs. While the developers were initially focused on Windows OS, currently the application supports macOS, iOS, and Android devices.
Malwarebytes versions
Malwarebytes has expanded rapidly, and the research team was able to find more solutions for ever-evolving viruses. In December 2016, the company released version 3.0 which included protection against several serious threats, such as ransomware, rootkits, exploits and malicious websites. At the time of the writing, the newest version is 3.5.
Malwarebytes can be downloaded as a Trial version that lasts 14 days. During that time, users gain the Premium capabilities of the software, meaning it is capable of:
Protecting the identity and privacy from hackers
Protecting documents, financial files from ransomware
Protecting prom malicious and fraudulent websites
Stopping malware that slows down the computer
Crushing attacks that corrupt installed software
Questions about Malwarebytes Anti Malware
As soon as the Trial is finished, users will lose the real-time protection, and will only be able to clean up the infections instead. While Malwarebytes Free is complementary to anti-virus software, Malwarebytes Premium can replace it entirely. Nevertheless, the application has no problems running together with other anti-malware solutions.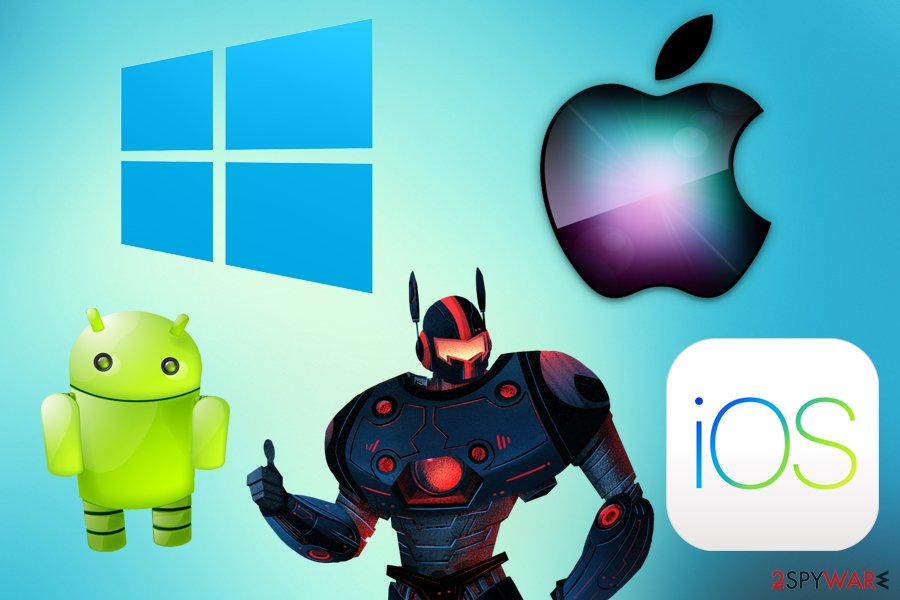 Malwarebytes – for a household and for business
More security-oriented users may not even bother downloading the free scanner and obtain the Malwarebytes Premium version right away. On the other hand, it would probably be naive to expect a high-value antivirus product free of charge. Besides, the cost of the Malwarebytes anti-virus Premium version is completely decent having in mind the lightweight and fast nature of this protection.
Malwarebytes Premium for one device (personal use) costs $39.99 a year, while a subscription for up to 10 computers costs $59.99. Additionally, users who will opt for two-year subscription will obtain the program with 25% discount. Considering the high value of real-time protection from malware, the price is extremely affordable. You can download the Premium from here.
Additionally, developers offer Malwarebytes for business. Organizations can choose from three different options:
Malwarebytes Endpoint Security
Malwarebytes Endpoint Protection
Malwarebytes Endpoint Protection and Response
These versions offer a different range of capabilities, on-site support, cloud-based management, server protection, and remote backups which could restore files locked by ransomware. You can read the entire Malwarebytes software License Agreement here, which also covers the company's Refund Policy. The Privacy Policy can be found by clicking this link. Finally, read more about the company's Terms of Service. 
Malwarebytes software functionality
Malwarebytes anti-malware is a trustworthy security tool which can be used for keeping your system secure. It provides live protection and full scans for all drives to give users the ability to fix their PC's without specialist assistance.
The database of this program can be updated as frequently as you want, and with the Premium version, these updates may even be scheduled to certain times. Nevertheless, as already pointed out previously, Malwarebytes bonus features such as live protection, come only with the Premium version, so you should purchase the activation key to unlock the program's full functionality.
The installation of Malwarebytes only takes a few minutes, and users should not have a problem with that. As soon as the application is installed, users can perform a full system scan, which will take several minutes (can be longer, depending on your system configuration and its security status). Additionally, Premium users can schedule their scans and set them to be performed in 24-hour intervals. As soon as the scan is complete, users can then quarantine and then delete the found threats.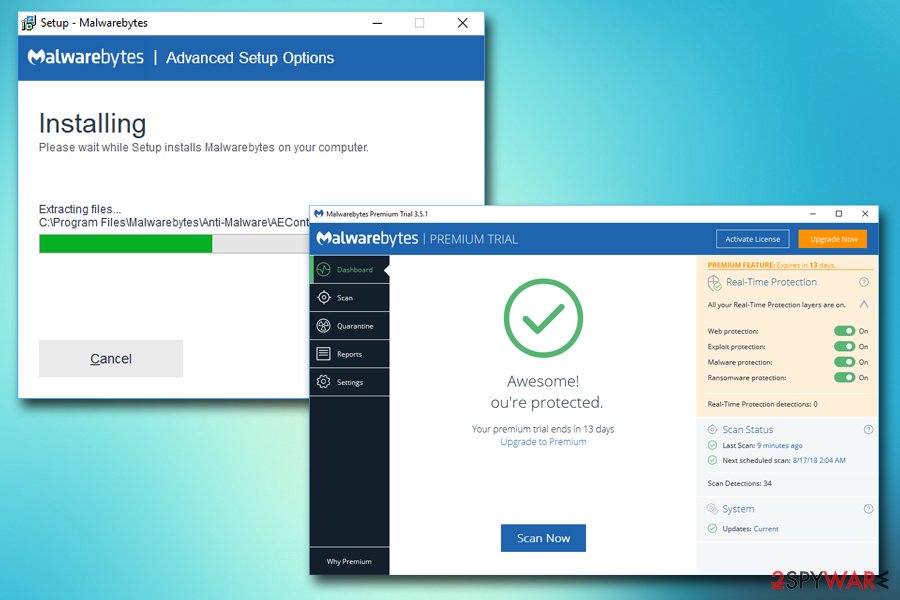 Machine Learning Technology
Bad actors are continually working on new versions of malware that can surpass various anti-malware solutions and remain hidden. Fortunately, security researchers around the world on exactly the opposite – technologies that can stop such a threatening virus behavior.
Malwarebytes software employs an innovative feature – The Machine Learning Technology. The learning technology allows the application to identify families of malware based on behavioral tendencies. Therefore, if any abnormal changes were made, the software will detect it and prevent it. 
Due to such ground-breaking technology, Malwarebytes is capable of preventing even new infections from entering the machines. Besides, the more devices are using the program, the bigger the chance is that new threats will be detected early on. 
Do not download the pirated version of the program
We should warn against trying to update Malwarebytes anti-malware free version via illegal means, i.e., pirated patches or cracks. First of all, such actions are unlawful and, in most countries, punishable by law. Such copyright infringement may end up in massive fines and even imprisonment.
What is more, obtaining pirated software is dangerous not only because the of the risk of getting caught red-handed. Malwarebytes crack may be infected with malware, Trojans and severely damage the system and containing files. Viruses as hazardous as ransomware are known to infiltrate computers in this particular way.
Therefore, purchase the full version of the program directly from the virus creators, making their hard work pay off and supporting the further improvement of the program.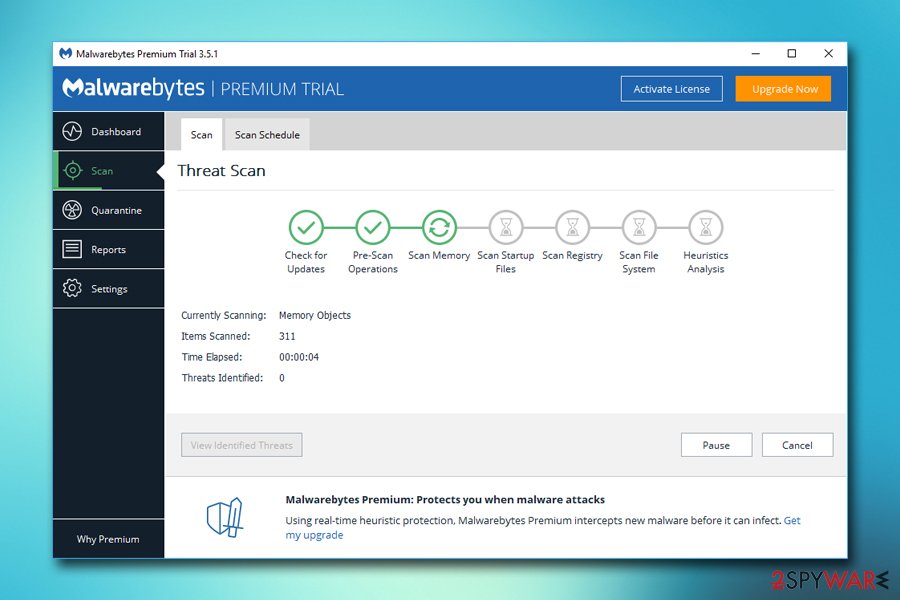 Malwarebytes version 3.0 and onward
With the version 3.0, the program has been updated with some anti-exploit, anti-malware, anti-ransomware and website protection features that now come in a single Malwarebytes Anti-Malware Premium version. In the meantime, free Malwarebytes users were also pleasantly surprised with a default Advanced Heuristic Engine (Shuriken) and automated update checks which the previous program version was lacking.
Malwarebytes 3.5 is the latest version of Malwarebytes anti-malware system which rewards the users with significant performance and usability improvements. This new version is available both in free and premium versions and has been equipped with more advanced system scanning capacities which allow checking the device up to 4 times faster.
Besides, due to the refurbished app design, it is now more user-friendly and decluttered from unnecessary buttons and details. The developers define it as a "next-gen security program," we say it is a major step allowing this software to step closer towards becoming a sophisticated and well-established virus-protection utility.
Malwarebytes Q&A:
Question: I am considering purchasing swapping my current anti-malware software for Malwarebytes. Are there any good deals I should know about that could help me get this software for cheaper?
Answer: Malwarebytes offers Malwarebytes Premium for $59.99 for a 2-year subscription. In the meantime, if you would renew the subscription after it expires, you would have to pay $39.99 a year. Therefore, if you are happy with the software (you have a trial for the Premium version for 14 days), you should simply buy a 2-year subscription plan which would save you 25%.
Question: Can I use Malwarebytes 3.5 on my Mac?
Answer: Yes, Mac OS X and iOS versions are available. However, free version is only supported on Windows.
Question: I was wondering whether Malwarebytes will run smoothly with other antivirus programs that I already have installed on my computer?
Answer: Just like its previous versions, the newest one, Malwarebytes 3.5 is designed to work together with other virus-fighting utilities and in-built protection software such as Windows Defender or Microsoft Security Essentials. Besides, you may even consider replacing some of your security software with the newest Malwarebytes version since it now combines Anti-Ransomware, Anti-Malware, and Anti-Exploit solutions.
Question: Can I use Malwarebytes instead of my regular antivirus software?
Answer: Since Malwarebytes released version 3, the program is more than capable of stopping most of the parasites from entering the targeted computer. However, remember that the application is capable of working beside other anti-malware solutions without bugs. Therefore, for more protection, it is recommended to run additional software alongside. 
About the author
Reviews in other languages