How good is SpyHunter at malware removal? 2021 review
SpyHunter – a highly potent anti-malware, capable of removing viruses, ransomware, trojans, and other threats
SpyHunter is an effective malware remover with an easy-to-use interface developed by EnigmaSoft Limited. This program is an excellent tool for both, home PC users and experienced security experts. It can be used for removing regular spyware and ransomware, rootkits, adware, browser hijackers, and similar unwanted programs. The newest version of this anti-malware tool is SpyHunter 5.
In fact, it is so good at what it does that AVTest, and independent security software testing lab tested its functionality and determined that the software scored an excellent 100% detection rate in September 2018.[1] It is not surprising, however, because the developers are always quick to update their database with the newest threats, drastically improving the detection rate of malware.
There is no doubt there are plenty of security applications available on the market currently, and each of them has its cons and pros. Nevertheless, some anti-malware tools perform just a little bit better than others, as well as offers relatively low prices. We believe that SpyHunter is one of the best solutions for comprehensive computer security from various parasites.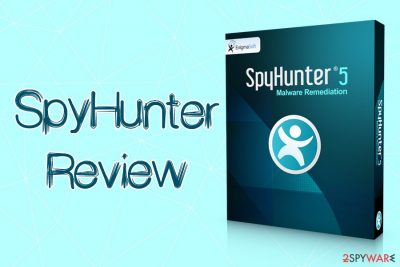 Full version unlocks comprehensive security along with unlimited tech support and other features
There are two different versions of SpyHunter available on the market today: Free and Registered version. The trial version can be activated 48 hours after the installation of the product and will allow users to remove malware, viruses, spyware, threats, trojans, potentially unwanted programs, and other elements found within the last performed scan.
To unlock the full functionality of SpyHunter, users are advised to purchase a full version of the application, which guarantees the unlimited usage of it for the period paid. Those who are not satisfied with the product can quickly redeem the money within 30 days of the purchase.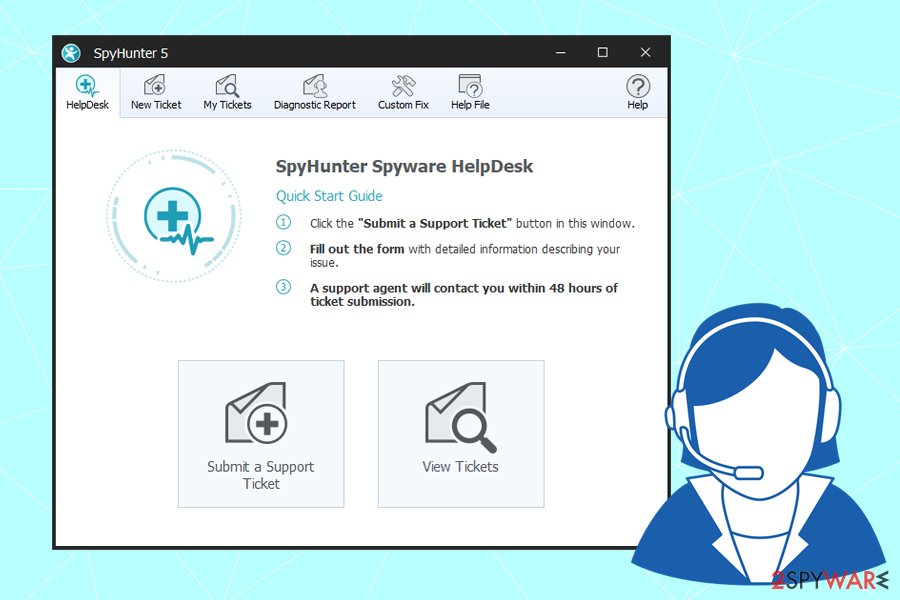 The full version of SpyHunter not only guarantees a high level of protection against various malware but also provides unlimited technical support service via Ticket system (Spyware HelpDesk) or the phone, available 24/7. This way, paid users can always rely on specialists that can help with any issues that they have. 
Here's the full list of the app's capabilities:[2]
Regular malware database updates
Compact OS feature for stubborn malware removal, such as rootkits
One-on-one technical support service SpyWare HelpDesk
Cloud-based threat analysis system
Exclusions list
Rollback feature
Scan Scheduler
Custom Scan
DNS[3] protection feature
Cookie detection
User-friendly UI[4]
If you are still bothered by the question "Can SpyHunter be trusted?", note that the software is accredited in the Checkmark Certification System of West Coast Labs, which is considered a leader in custom testing.[5]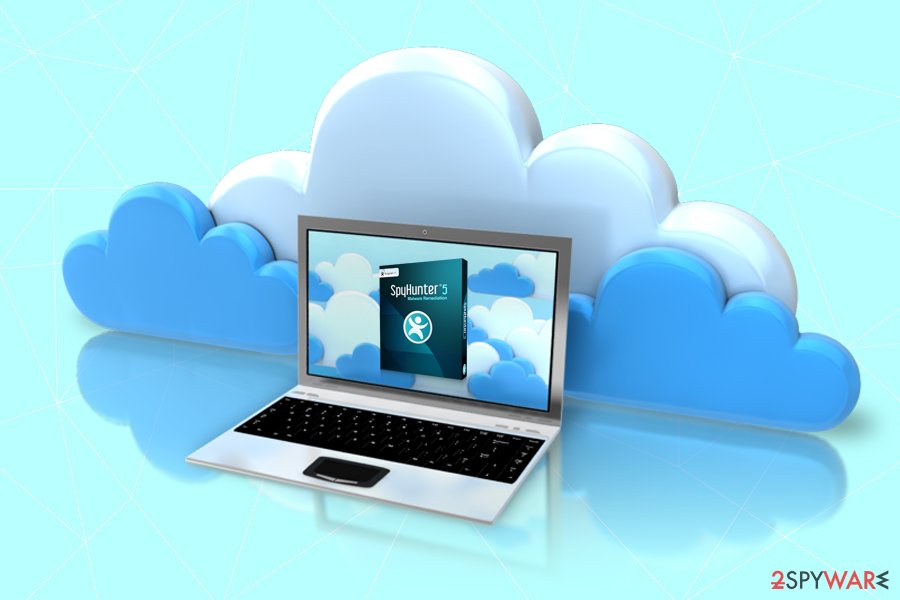 Download official SpyHunter version to prevent malware hidden in fake versions
SpyHunter for Mac was released in April 2020, and users were mislead by fake versions of software prior to that date. In other cases, some were confused about the Spy Hunter for Mac, which is not related to this anti-spyware tool and its developer Enigma Software. It's a paid game owned by Aspyr Media and spread through various download websites.
If you want to download the app on your computer, you should keep in mind that only the official partners of Enigma Software, which is the developer of this software, can provide you with the legitimate registration code, also known as the SpyHunter key. 2spyware is one of the oldest partners of this company, which has been trusted when looking for the activation code.
If you are interested in program cracks[6] and, in this case, SpyHunter crack, the first thing that you should know is that it is illegal. People who use such files can be punished by police or other governmental authorities for the use of unlicensed software. Also, such a version of the program's serial can be found and blocked by the developer of the software.
Finally, it can be infected with spyware and similar viruses that can lead you to additional problems. Equal recommendations can be given when discussing SpyHunter torrent files.[7] Please, stay away from them.
SpyHunter for Mac – a best way to protect your macOS from unauthorized access and malicious software
SpyHunter for Mac was a highly anticipated product, as there were many happy customers on Windows systems. In April 23, 2020, the day has finally come, as EnigmaSoft released the new version of the security software compatible with macOS computers. The app is user-friendly and is capable of detecting, stopping, and removing trojans, adware, ransomware, cryptominers, and another type of malware using its high-end engine.
Malware on Macs has been debated over the years, as thousands of power users claimed that this OS can not get infected and that all that users have to do is be careful when downloading apps or browsing the web.
While it is true that Macs utilize built-in defenses such as Gatekeeper and XProtect for enhanced security, that does not mean that these implementations are fail-proof. Cybercriminals became increasingly interested in Macs, as the operating system has become much more prevalent around the world.
As a result, Mac malware has become much more complex, and more macOS users are getting infected with various threats every day. According to research, the pace at which Mac malware is developed surpassed that of Windows one[8] – the first time in history. It was also uncovered that the treacherous Shlayer Trojan is present in 10% of Macs.[9] Therefore, users should keep in mind that built-in defenses are no longer enough, and SpyHunter for Mac is one of the best choices they can make when choosing between a wide variety of solutions available on the market.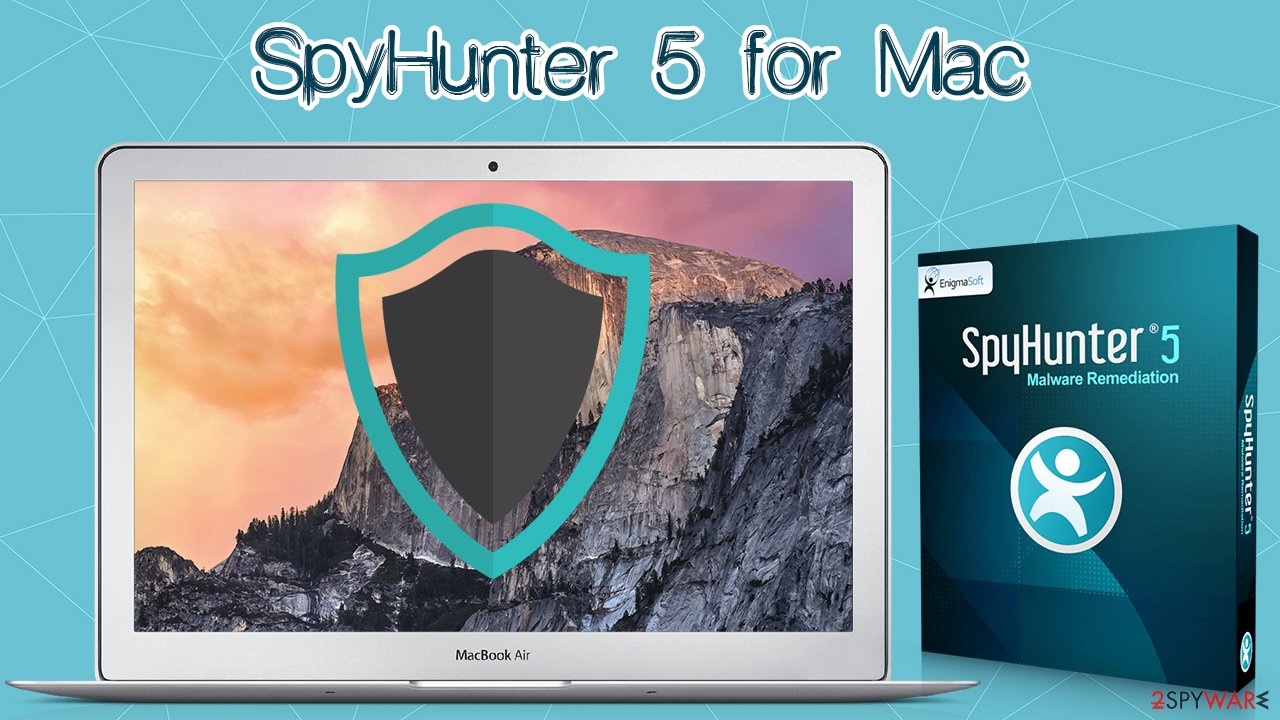 Mac version: capabilities and system optimization options
SpyHunter for Mac offers comprehensive security against various threats that commonly attack this operating system. Besides being able to repel malware, the app can also scan the system for vulnerabilities – this can successfully prevent unauthorized access by cybercriminals. Users can also set up scan time and scope in ways how they see suited for them – they can scan files, memory, browser cookies, and vulnerabilities.
The app is so much more than a regular anti-malware software, however. Here are a few features that users would gain access to as soon as they purchase the SpyHunter key:
Junk cleaner. It is not a secret that many older Macs are greatly suffering from memory and storage issues, which can result in lag, slowdowns, errors, or even crashes. These problems can be fixed easily with SpyHunter for Mac – users can choose to clear junk, remove duplicate files, and other unnecessary files.
Cookie manager. The software is also great for privacy. It allows users to take care of browser cookies – these tiny bits of information are stored within all browsers and can accumulate over time. While these can greatly improve the web browsing experience, they are also used for user tracking, an activity that was criticized by many.
Program uninstaller. Some applications, especially potentially unwanted ones, might be a pain to eliminate, as they inject several items and files in various places on Macs (Library, Profiles, Login items, LaunchDaemons, ApplicationSupport, and other directories). With SpyHunter 5, users can uninstall even the most stubborn apps with just a click.
Startup manager. When the system is booted, there are predetermined apps that load during this process. Some apps that are using the startup feature can cause serious slowdowns. Mac version of the app allows users to take control over this process, and ensure the startup is as smooth as possible.
You can download SpyHunter for Mac on the official website. It is compatible with all macOS versions 10.12 and higher and requires 250MB of free space on a hard drive.
Technical requirements and pricing
All users who are using the following SpyHunter for Windows versions can install and run the software:
Microsoft® Windows® XP (32-bit) Home/Professional/Tablet PC/Media Center (32-bit) with Service Pack 3 or later
Microsoft® Windows® Vista (32-bit and 64-bit) Starter/Home Basic/Home Premium/Business/Ultimate
Microsoft® Windows® 7 (32-bit and 64-bit) Starter/Home Basic/Home Premium/Professional/Ultimate
Microsoft® Windows® 8, Windows 8.1 and Windows 8 Pro (32-bit and 64-bit)
Microsoft® Windows® 10 Home/Professional/Enterprise/Education (32-bit and 64-bit)
However, users should keep in mind that minimum hardware requirements should be met as well:
1 GHz CPU or faster
1 GB of RAM
200 MB of available hard disk space or more
When it comes to SpyHunter's pricing, its yearly subscription costs around $40 – the cost can greatly fluctuate towards the lower end, as the company often engages in various discounts and special price deals, so you should look out for those.
In the meantime, competitors ask for much higher payments, for example, Trend Micro Maximum Security – $49.95, Symantec Norton 360 Deluxe – $59.99, Avast Premier – $69.99, Comodo Internet Security Complete – $89.99, Panda Dome Complete – $106.99, etc.[10]
Besides, a 30-day money back guarantee will assure you that you are getting your money's worth.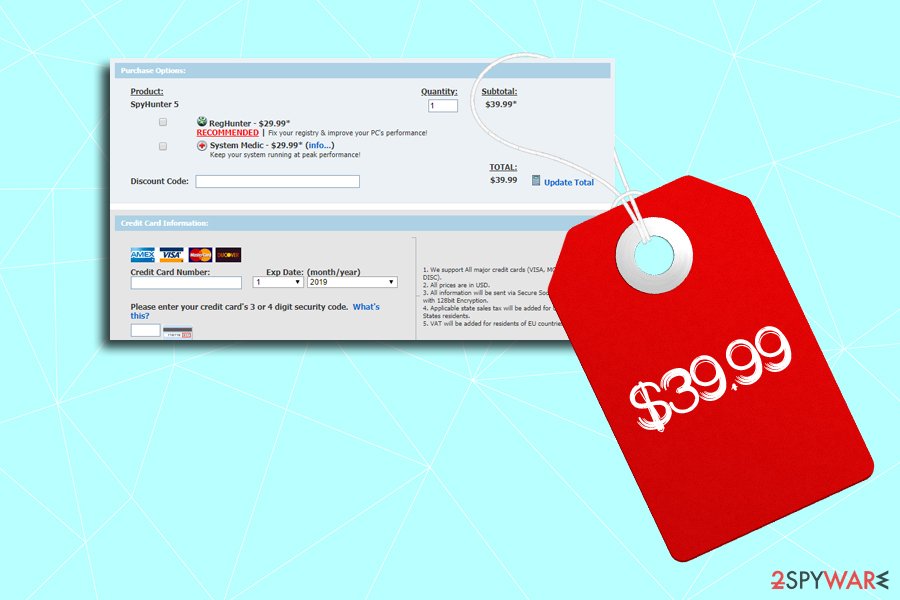 Versions
SpyHunter 4
SpyHunter 4 is an older version of its 5th version, which first appeared in 2016, making significant improvements over its 3.5 release, including more polished UI, excellent malware detection rate, Spyware HelpDesk feature, Network Sentry, and much more. 
This version also does an excellent job at catching and deleting active malware on the device, such as trojans, backdoors, rootkits, ransomware, adware, and other potentially unwanted programs. Besides, EnigmaSoft never stopped listening to the feedback from the customers, and always try to improve their product to make user experience just so much better.
According to the vendor, SpyHunter 4 is useful not only for a novice computer user but also an advanced one:
SpyHunter 4 has been carefully engineered to be powerful and complete enough for the most demanding technical professional, yet simple enough for a first-time computer user to safely and effectively utilize.
However, just as previously, users will have to purchase the full version of the app to enjoy its complete feature list, as well as remove malware.
SpyHunter 5
SpyHunter 5 is the latest and by far the most optimized version of the security program. If you are still using the previous version, you should immediately upgrade.
While some malware like browser hijackers and adware are more of a nuisance rather than real threats, malware can heavily modify your Windows operating system to the point where it can be not functional. In some other cases, viruses disable certain computer features, such as startup repair, program removal option, etc.
This is done with the help of Windows registry, boot sequence, and other Windows features modifications. It allows malware to run without interruption and steal personal information, lock up personal files, take screenshots, install other payloads, etc.
If the machine is broken by malware, however, there is a way to fix by using SpyHunter 5 – malware detection and removal tool. If your computer is not accessible – use the state-of-the-art HelpDesk feature, which will allow you to enter a bootable security environment from an ISO file. 
By using HelpDesk, you will also be able to chat to technical support directly, and the team will guide you on how to get rid even of the nastiest malware. Therefore, SpyHunter 5 is not only useful while fixing Windows registry and other elements that were corrupted by malware, but can also save you from reinstalling Windows from scratch.
SpyHunter ransomware: legitimate name abused by cybercriminals
SpyHunter ransomware is a threat that showed up in April 2019 and was crafted by GarrantyDecrypt virus developers. Hackers not only are using the name of the reputable security vendor but also pretend to be EnigmaSoft – we can assure you that the ransomware has nothing to do with the powerful SpyHunter 5 anti-malware software.
Security experts are still stunned about this hacker move and wonder whether they wanted to mock EnigmaSoft, trash its reputation or simply deceive people to make them believe that it is actually security software that they are downloading, as malware's main executable is named SpyHunter5.exe.
The ransomware was designed to lock all personal files after infecting users' machines and then demand ransom in the $HOWDWCRYPT$.txt note which reads:
All your files are encrypted by Enigma SpyHunter5s!
Our company SpyHunter is guaranteed to decrypt your files.
Creating and removing viruses is our vocation.
We will provide you with professional support.
You have 72 hours to contact us.
Email us at :
spyhunter5s@aol.com
Do not believe cyber villains – they are a separate entity that has nothing to do with SpyHunter – security software that is designed to fight and remove malware, helping all the victims. Additionally, while there is no decryptor for the .spyhunter encrypted files, paying threat actors is not advisable as they might steal the money and never send you the decryption key.
If your files are encrypted by the ransomware, you should use the legitimate version of the software and delete the virus immediately.
SpyHunter comparison to other vendors
SpyHunter vs. Malwarebytes
These two apps are quite similar malware removers. They both offer two types of versions – free (trial) versions and paid (premium) versions. No matter that Malwarebytes is presented as a free anti-malware, only its Premium version guarantees the real-time protection of the system (which is paid one).
People claim that Malwarebytes is causing system slowdowns,[11] so, if you don't want to sacrifice your PC's speed to keep it safe, you should think about SpyHunter. Also, if you think that customer service is an important thing, you should think twice before installing Malwarebytes anti-malware. There are lots of disappointed customers that have received no help from its developers. The more detailed comparison of SpyHunter and Malwarebytes anti-malware you can find here.
SpyHunter vs. McAfee
SpyHunter and McAfee belong to different categories of security tools, so the smartest decision that could be made when choosing between these programs is to install both of them. By using SpyHunter 5 AND McAfee, you can expect the highest protection level as both of these programs enable two different security layers on your computer. If malware manages to slip thru the first security shield, it can hardly happen with the second one.
However, if system speed is important to you, you should limit yourself to one anti-virus. As long as these programs have a very similar threat database but offer different prices for their users, the anti-malware is the one that we recommend. A full comparison of SpyHunter 5 and McAfee Antivirus is provided here.
SpyHunter vs Spybot
Only several years ago SpyHunter and Spybot were considered quite similar programs from the same category – anti-spyware software. However, times change, and technologies move forward every day, so you need to keep up with them to be able to convince your customers that it's worth selecting you instead of other products. Unfortunately, but it seems that the developers of Spybot have forgotten this rule. Today, their anti-spyware seems like an out-of-date tool filled with a poor virus database and a weak spyware remover.
In the meanwhile, SpyHunter presents an easy-to-use interface, a powerful scanner and an exceptional feature called Spyware HelpDesk. Even though the app does not have anti-virus functionality that was added to Spybot several years ago, it is still considered much more powerful malware remover. More details about SpyHunter and Spybot – Search & Destroy.

SpyHunter vs. Webroot
Webroot is a well-known anti-virus which looks especially attractive because of its cloud-based structure helping it not to leave a visible trace on the system. Also, it offers such features as system security, identity protection, password manager, backup and so on. While some of these features cannot be found on SpyHunter, we should note that Webroot cannot be tested for free. Besides, this program may fail to detect zero-day attacks and the latest cyber threats on the system.
If you have been thinking about an easy-to-use program with a huge threat database and Spyware help desk feature which helps you remove EVERY virus from your computer, you should opt for this anti-malware. Just like Webroot, this anti-spyware software is also light and does not cause system slowdowns. However, it lets you check whether your computer is infected with malware or not for free. More pros and cons of Webroot SecureAnywhere Antivirus and SpyHunter 5.
SpyHunter vs. Bitdefender
Bitdefender is a powerful anti-virus. However, if you want to prevent infiltration of potentially unwanted programs, such as browser hijackers and adware, you should use it in conjunction with SpyHunter which is dedicated to that. Also, you may notice system slowdowns from time to time when having Bitdefender on your computer what hasn't been noticed when testing the recommended software.
SpyHunter vs. AVG
There are lots of different opinions about AVG Antivirus. There are people who are happy using it and there are people who are very disappointed after installing this program. Beware that AVG has been used for spreading other programs in a bundle with it. This has never been done with SpyHunter. Also, it has been asking users to install additional tools for removing detected viruses from their computers. Finally, it may cause commercial ads on your computer. If you don't want to run into such things, you should think about another antivirus.
SpyHunter FAQ
Question: I have been looking for a reliable anti-malware, so I made a research on the Internet and decided to download SpyHunter. Everything seems fine, but my friend says that he saw lots of negative reviews related to it. Can these bad reviews be trusted?
Answer: It's great that you make your research before downloading programs on the computer. However, you should always keep in mind that not each of these opinions that are posted on the Internet can be trusted. There are lots of forums that belong to competitors of SpyHunter.
Obviously, for seeking to increase their income, they claim that SpyHunter is a virus, rogue or similar threat. It's NOT true. This is a tool certified by the West Coast Labs Checkmark Certification program, which is an independent testing service. Also, this program is an OPSWAT Certified Partner;[12] it has been mentioned on PC World, The Wall Street Journal, Forbes and other reputable sources.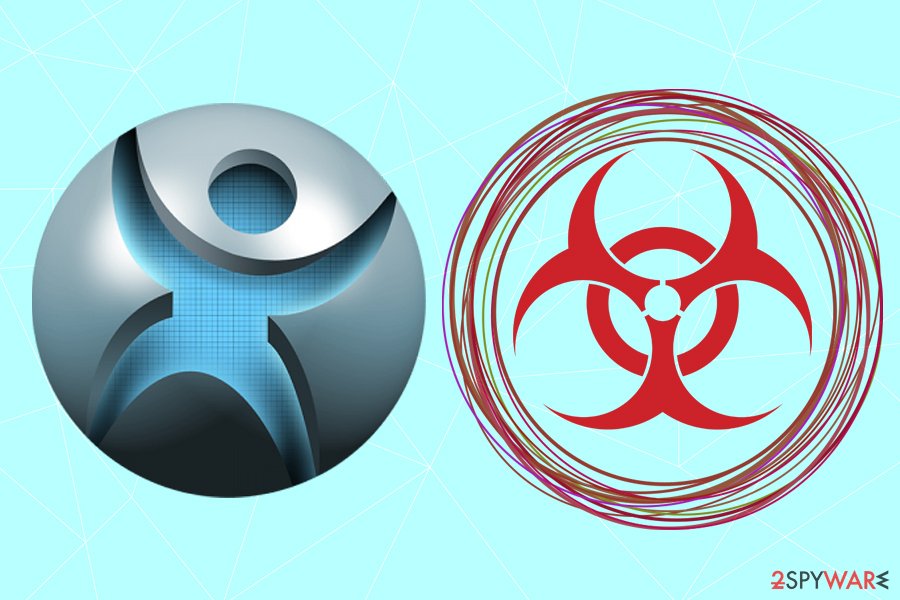 Question: I need a program to remove a virus from my computer. I want to download SpyHunter, but before doing so, I want to ask you can it be trusted just like other known security applications?
Answer: There are lots of people asking us 'Is SpyHunter a virus?', 'Can SpyHunter be trusted?' and so on. The app is made by Enigma Software and is a legitimate program, which was tested by a reputable testing service called West Coast Labs Checkmark Certification. If you have just entered a site, which claims that the app is a virus, then there is a huge possibility that it promotes a competitive program. These reviews are not professional, so you can safely ignore them.
Question: I need a free malware remover, and my friend recommended SpyHunter 5. Is it free?
Answer: No, it is a paid virus remover. However, you can install its free scanner to see whether your PC is infected or not.
Question: I have a brand new computer, and I am looking for anti-spyware to keep it safe. I would like to try this anti-malware, but there are lots of different opinions about it. Is SpyHunter a scam?
Answer: We receive lots of different questions about Spy Hunter is it safe, is it a scam and so on. No, it's not a scam. This is a reputable malware remover created by Enigma Software. It has been presented on various download websites for more than ten years – could a scamware last so long? Also, would it be approved by such testing services as West Coast Labs Checkmark Certification? We don't think so.
About the author
References
Reviews in other languages