Pinterest virus. How to remove? (Uninstall guide)
Is it possible to get a virus from Pinterest?
Pinterest virus is a term that describes scams[1] and viruses that are spread via the Pinterest platform. The platform itself is reputable and legitimate, and hundreds of thousands enjoy using it every day. Although Pinterest team works hard to add all dangerous and malicious domains to their exclude list, do not forget that malicious actors are quick to create new ones. Therefore, we suggest you be very careful and protect your PC with proper anti-malware tools if you enjoy using Pinterest frequently. To put it shortly, Pinterest is a place where users can save links along with their descriptions and set a preferable image that describes the pinned page perfectly. Such saved links are dubbed "pins," which can be added to users' boards. If you like someone else's pin, you can save it to your board. When the user notices an eye-catching image of a pin, one usually clicks on it to explore the content of the saved link. It can point to a Facebook page, tweet, article, or any website available on the Internet. Sadly, it means that it can point to a phishing page[2] or malware-laden website as well. In other words, anything can happen, and while the majority of such links get taken down rapidly, you can easily compromise your PC if you happen to be one of the first explorers to click on the malicious pin. If this happened to you, take actions to remove Pinterest virus right now!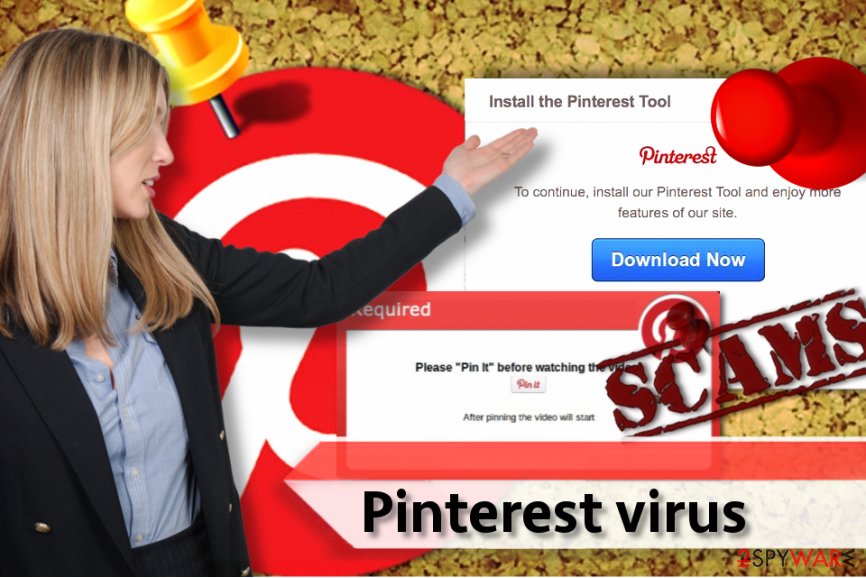 Slide 1 of 1
To put it shortly, we must say that criminal actors hunt for victims on various social platforms, and therefore terms such as Facebook virus[3], Instagram virus or Twitter virus emerged. Once Pinterest virus manages to get inside the system, it can become capable of stealing victim's private information, so there is a great danger of losing banking details, various passwords, and log-in information. Additionally, it may be set to hijack your Pinterest's account and make malicious pins appear on your profile. For example, it can share inappropriate images, scams or its copies in order to infect more PC users. If you want to avoid Pinterest virus, you should always make sure that you repin only these images that are stored on trustworthy sites. Of course, the most important thing is to make sure that you use updated anti-virus and anti-spyware programs running on your PC. If you do not have one, you might be interested in installing Reimage software. We also want to add that trying to complete Pinterest virus removal manually can cause additional issues because malware promoted via deceptive links can be highly sophisticated and hide its components deeply in your PC. Now, let's take a look at the list of scams promoted via Pinterest platform and also malicious programs that were promoted via deceptive pins by scammers.
Types of malware associated or spread via Pinterest
Pinterest Tool virus. Pinterest Tool[4] was promoted via bogus websites such as pinteresf(.)org. Such websites used to provide a download link to a vague "Pinterest Tool," which is actually a browser plug-in that gets access to read and save your login names and passwords used in various websites. Pinterest Tool Trojan gathers such information and then transmits it to culprits' remote servers. This malicious program can be used to collect private information and then illegally use user's full name or even credit card. If you accidentally installed Pinterest Tool, scan your PC with anti-malware software immediately!
Pinterest Board Collaborator Hijacking. This scam type mainly targets popular Pinterest users who have quite a lot of followers. Scammers create a board and invite the victim to collaborate on the board. If the victim accepts the invite, the board immediately appears on the victim's profile, and then scammers quickly fill it with malicious pins or pins that promote inappropriate content. This scam type was extremely popular a while ago when Pinterest used to allow to add collaborators without their consent. The issue seems to be fixed, but scammers keep trying to scam Pinterest users no matter what. To avoid Pinterest Board Collaborator Hijacking problem, do not agree to collaborate on boards created by strangers. If you want such board to disappear from your profile, remove yourself from its collaborators' list. This virus is closely related to Fake Pinterest Account virus, which is based on bogus profiles that are made to look legitimate accounts that belong to famous people. Such accounts are also used to invite people to collaborate on questionable boards.
Pinterest.aot.im virus. Pinterest.aot.im redirect virus is a potentially unwanted program that is used to serve annoying third-party ads for computer users who unwilling install it on their computers. This adware-type computer infection delivers annoying deals, coupons, discount codes, price comparisons, downloads, and similar content to computer users in a form of pop-ups, banners, and other forms of online advertising. Ads that this potentially unwanted program delivers usually originate from Pinterest.aot.im domain, and these URLs typically are very long. However, you might start receiving ads coming from other suspicious-looking URLs, too. If such ads started bothering you, do not click on them – they can throw you onto dangerous Internet pages. Instead, remove Pinterest.aot.im using these example instructions.
Tech Support Scam viruses. If you clicked on an interesting looking pin and you were redirected to a website that immediately triggered a pop-up that says "Error #268D3" occured or "You Have A ZEUS Virus," do not be scared. Pay attention to the details – can you notice any grammar mistakes in the message? Does the message originating from the website plays an audio record and suggests calling "certified Microsoft technicians for help"? If so, you were redirected to a tech support scam page, so quit it immediately. If you called these scammers, they would try to convince you that you need to purchase a certain pack of software for a ridiculous price. Some tech support scammers try to outvoice victim's common sense by telling that one needs to renew his/hers Windows licence. If such pop-ups keep reappearing on your screen, scan the system with malware removal tool to detect the program that may have infected your system after clicking on a malicious pin. 
Ways to avoid Pinterest malware
We do not say that you should stop using Pinterest due to viruses[5] that scammers try to distribute via this fun and useful information-sharing platform. However, you should be aware of tricks that cyber criminals use to enroll unsuspecting victims into scam promotion campaigns or trick users into visiting phishing or malware-hosting web pages. First of all, we would like to advise you to keep clear of pins that include a shady clickbait-type title or description. We hope that you understand that "Wow I just got a new iPhone 7 using a simple trick" or "You won't believe it! This pill helped me to lose 10 kilos in a week. See how!" are just eye-catching lines written to catch your attention, but not to reveal "secret tips" that nobody on this earth knows about. Links added to such pins are likely to redirect you to sites that ask for personal information, such as your email address and name, which are going to be added to spammers' databases later on. In the worst scenario, clicking on a Pinterest link can immediately download a severe malware to your computer, for example, ransomware or a Trojan. Another useful tip is to check the URL of the pin by hovering your mouse on the picture of the pin and then looking at your browsers lower left corner. You should see a line with the URL that the pin points to. If it looks suspiciously or ends with .zip or .exe, do not click on the pin!
How to remove Pinterest virus?
Once again, we recommend repinning only these pictures that are stored on reputable websites. If you have been tricked into clicking on a malicious image, you must scan your PC with updated anti-spyware without any delay. In this case, you should rely on Malwarebytes MalwarebytesCombo Cleaner or Reimage – these tools are extremely useful when in need of Pinterest virus removal. If you suspect that your Pinterest account was compromised, change your password immediately. If you cannot do it, contact Pinterest representatives immediately. You should not try to remove Pinterest malware on your own – let a professional malware removal tool detect all components that the infection has dropped on your system. Failure to delete malicious files manually can bring you more problems instead of solving them.
Alternative Software
Different security software includes different virus database. If you didn't succeed in finding malware with Reimage, try running alternative scan with Malwarebytes.
Alternative Software
Different security software includes different virus database. If you didn't succeed in finding malware with Reimage, try running alternative scan with Combo Cleaner.
About the author
References
Removal guides in other languages