Private Internet Access review
Private Internet Access is a privacy-focused VPN service that restricts third-parties and government from spying on you
Private Internet Access VPN (a.k.a PIA) is a VPN service provider that has been launched in 2010 by a US-based company[1] registered under the same name. The primary focus of the tool is to ensure privacy protection, prevent corporations, cybercriminals, and government from spying on the users by establishing a connection via a remote server and encrypting the user's IP address.
Based in the USA, this VPN service provider is currently recognized as one of the most popular VPNs in the US, China, Europe, Russia, and other continents. It ensures a stable connection on 3303 servers in 48 countries and features a high reputation[2] due to the advanced VPN tunneling, layered security scheme, operation at the TCP/IP interface or kernel level, strict zero-logs policy, military-grade encryption of online data, and exceptionally fast performance. 
Private Internet Access VPN is compatible with all OS types, including Windows, Linux, macos, iOS, and Android. Besides, it can work as an extension for Opera, Mozilla Firefox, and Google Chrome web browsers. The tool can be customized according to the user's preferences. 
In addition to masking users' IPs, the Private Internet Access tool is equipped with a multitude of additional features, including Kill Switch, DNS leak protection, and IP leak protection. With this VPN client, you won't have to spend the money on ad-blocking[3] applications as it has an in-built Mace feature, which recognizes third-party ads and blocks them automatically. 
All the services provided by the Private Internet Access VPN client have been tested by millions of people. Most of them admit that the tool is a powerful feature-packed VPN service for an affordable price. In this review, we will explain why you should become one of the VPN clients, what are the pros of this app, what benefits it provides, and how can you get it.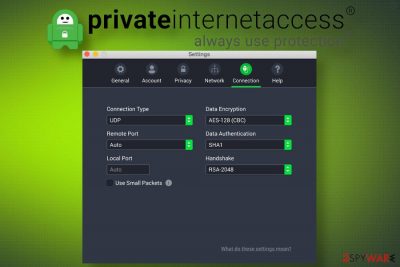 Name
Private Internet Access VPN
Privacy
The tool does not track user-related information
It is based on a strict no-log policy
Encrypts data, hides IP address to keep the user anonymous
Plans
Three plans available: 1 month, 6 months, 18 months. The price depends on the plan and discounts ranging from €2.66 to €9.29
Protocols
IKEv2/IPSec, L2TP/IPSec, OpenVPN (TCP/UDP), WireGuard
Encryption
AES-128, AES-256
Security features

DNS Leak Blocking
First-party DNS
IPV6 Leak Blocking
Supports TCP Port 443
VPN Kill Switch
WebRTC Leak Blocking

Additional features
Ad Blocker, SOCKS, Split Tunneling
Private Internet Access VPN ensures an absolute online anonymity
Private Internet Access VPN does not keep any logs of any kind and period. That's one of the features allowing this software to stand out from the VPNs crowd. The software developers follow a strict no-log policy, which means that it never records any log information transmitted through the network. 
The strict security policy ensures zero leaks of personal details when you go online, download the content, or search for anything online. Private Internet Access logs are never written on hard-drives and not activity logs can be seen by third parties. The Privacy Policy says:
The data controller does not collect or log any traffic or use of its Virtual Private Network ("VPN") or Proxy.
Strong security and encryption model
Private Internet Access or PIA is one of the safest VPNs on the market. It relies on a reliable encryption model to hide the user's IP address and Internet traffic. The tool supports several protocols[4], including OpenVPN, WireGuard, IKEv2, and L2TP/IPSec, as well as provides users with a possibility to choose between UDP and TCP connections. 
By default, PIA encrypts the Internet connection with the OpenVPN and AES 128-bit encryption algorithm. Nevertheless, users can customize the encryption model and use the AES-256 (CBC or GCM) cipher instead. The encryption for data authentication and VPN handshake by default is set to RSA-2048 and SHA-256, though users can change the level of encryption, set RSA-4096 and SHA-384, or turn of the encryption altogether. The possibility to customize encryption methods is highly appreciated since the stronger encryption means the slower Internet speed. Therefore, people can decide to rely on a weaker encryption model to increase the speed of the service.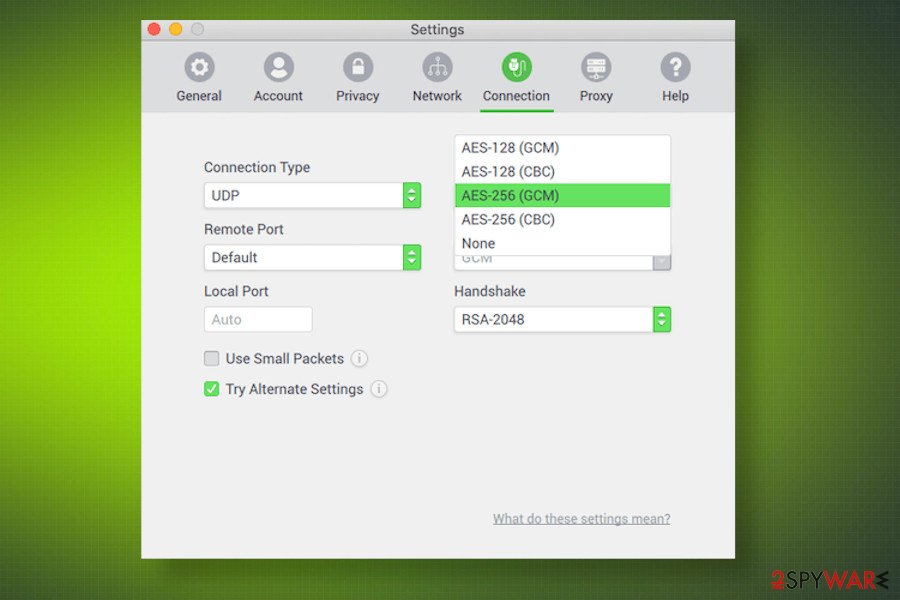 PIA is currently developing new support for the WireGuard VPN protocol, which, based on the latest tests, adds improves the speed of the VPN service and allows it to maintain the highest possible level of privacy protection and security. 
Another feature supported by PIA is in-built protection against IPv4 and IPv6 leaks, DNS leak, and VPN kill switch on platforms (some issues can be found on with PIA's browser extension). 
In addition to the encryption of Internet traffic and IP address, the VPN client is packed with additional features. Most of the features are aimed at experienced users to provide advanced security options. These are the following:
VPN kill switch
SOCKS5 proxy
Malware and tracking protection[5]
Split-tunneling
Port forwarding
These settings can be enabled via PIA's settings manually. Those using PIA's extension for Chrome can enable the features to block location access, cookies, website references.
Private Internet Access installation and compatibility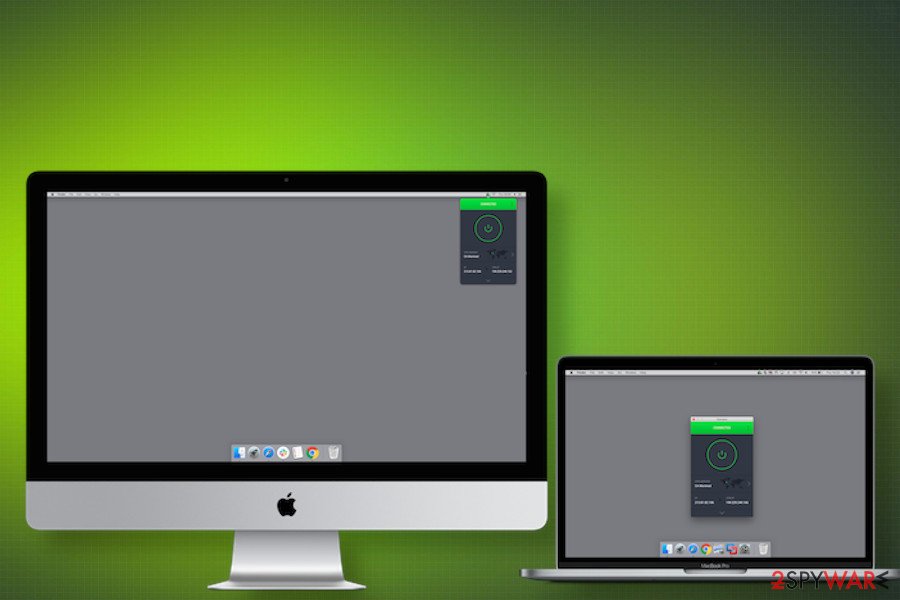 Unlike most of its rivals, the Private Internet Access VPN supports all types of operating systems, including:
Windows
Linux
macOS
iOS
Android
It's mobile and desktop versions are available, as well as a form of an extension for Mozilla Firefox, Opera, and Google Chrome web browsers. In addition to that, itis compatible with streaming devices like Amazon Fire TV Stick. Besides, it can be used up to ten devices simultaneously, thus making it a leader in cross-device usage. 
The installation of the app is easy to handle. Select the plan that suits your preference (monthly, 6 months, yearly), pay the dedicated amount, and run the downloaded installer. Although the interface may at first seem rather complicated, do not condemn it for the sophisticated look.
In fact, it's the interface is user-friendly and the setting customization does not require technical knowledge. Set dark or light mode, select language preference (19 languages available), and pick up either a compact default mode of detailed mode (displays quick settings menu, performance report, subscription type, and more).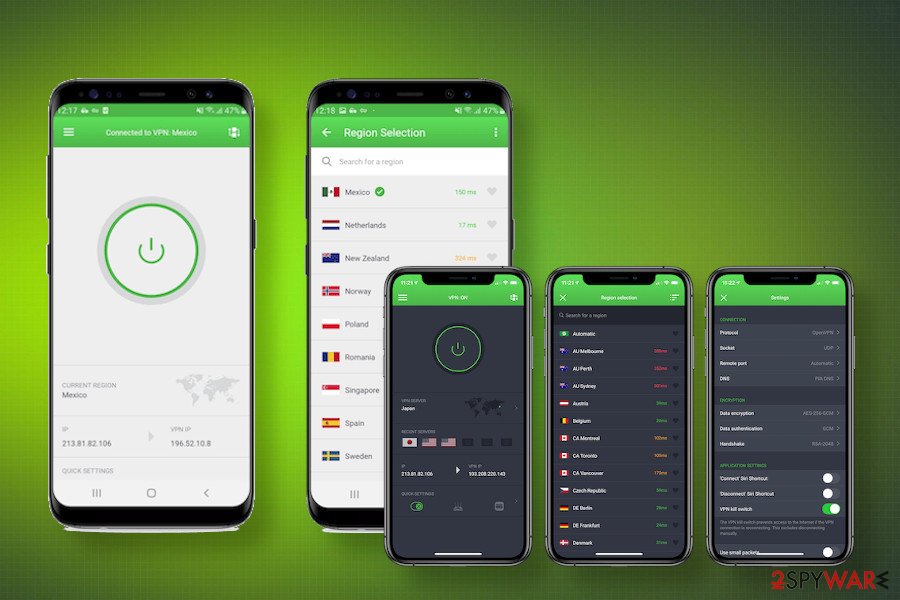 Speed, Performance, Unrestricted Internet access
It's known that VPNs, in general, are slowing down the Internet connection and download speed. Nevertheless, a professional VPN service should not slow down the Internet speed in general. PIA is the type of VPN that does not affect the Internet speed negatively. Those who do not require strong encryption, can apply customized settings and weaken the encryption to increase the speed if it seems too slow.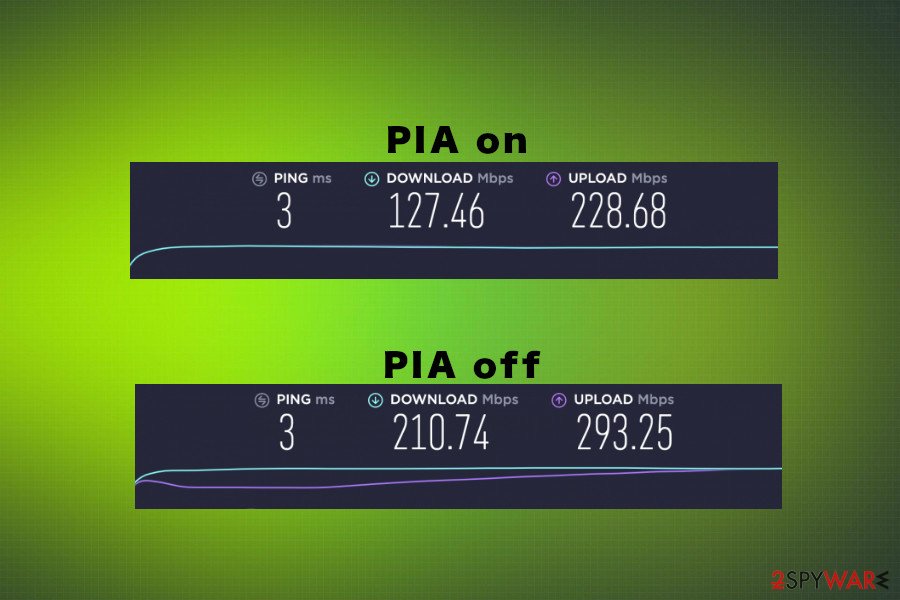 Nevertheless, using PIA people get unrestricted access to the US, UK, NL, CA, Romania, Germany, France, Sweden, and Swiss-based Internet Services[6]. Bypassing country restrictions is often the top-priority feature for users who aims not to protect their privacy, but rather access services like Netflix, BBC, Player, Hulu, Disney+, and many others.
There are many services, that are built on strict censoring policies, for instance, people from China have very limited Internet access. Thus, PIA can help to bypass these restrictions. In addition to unblocking the ISP or firewall, the PIA VPN can also unlock various P2P blocked by your ISP.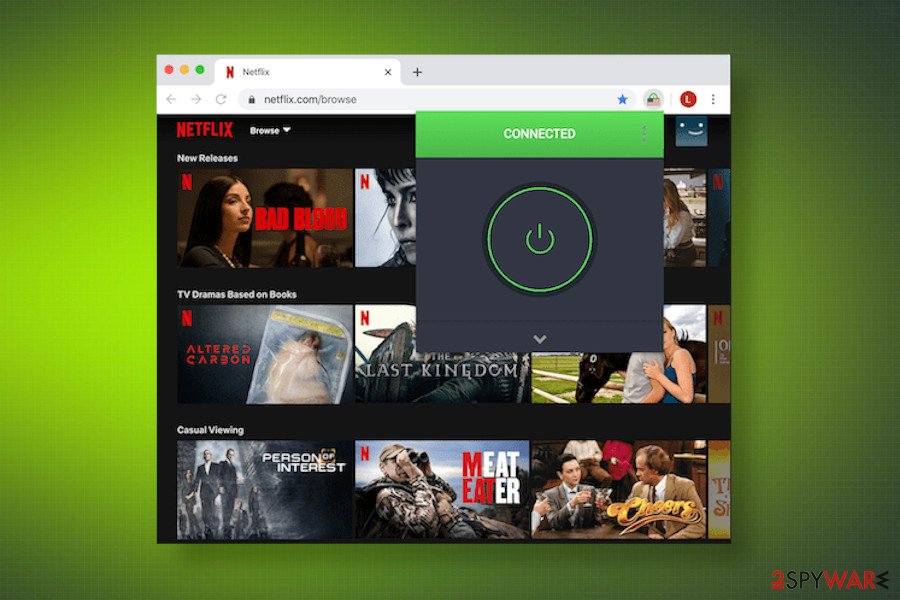 Devices, Pricing, and Plans
If you are considering purchasing the subscription of the Private Internet Access service, you can choose between three basic plans. Those who opt for testing the service are offered a one-month subscription for the €9.29 fee. Those who approve the service can save the money by subscribing PIA for six months for €55.74 one time payment. However, the service provider often offers discounts.
Currently, a six-month subscription can be purchased for €34.00 one time payment or €5.67 per month. The best price is applied for those subscribing to the service for one year. The usual yearly fee is €130.06. However, currently, people can use a 71% discount, thus paying the €2.66 a month or €37.19 a year + get a two-month free service gift.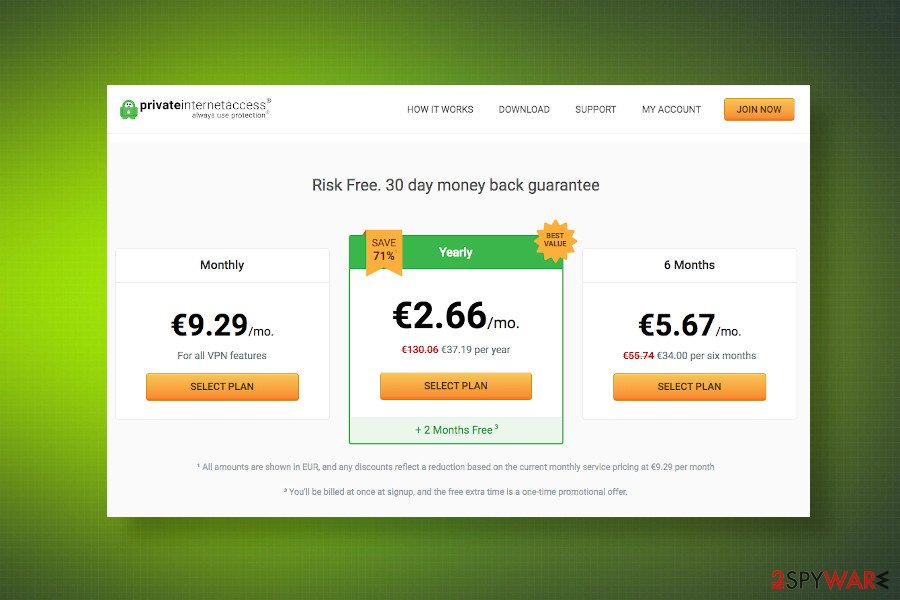 The prices for PIA services may vary, though the longer subscription you purchase, the lower the price will be applied. Besides, the developer often offers discounts for the service. The price for PIA is affordable for anyone. Besides, the purchase is risk-free as anyone who purchased the license and feels dissatisfied about it an use a 30-day money-back guarantee. 
It is important to stress the fact that PIA subscription allows users to use the service on up to 10 devices at the same time. Therefore, you can protect all the devices that you are using simultaneously by having a single service subscription. Besides, the registered users are provided with the 24/7 support (in English language only), live chat support (Monday to Friday), a full database of FAQs, and related articles that help to solve any of the PIA-related issues. 
The verdict on Private Internet Access VPN 
In the Private Internet Access VPN review, we have highlighted the main reasons why this service is useful and why people should opt for this tool. In the first place, PIA grants privacy protection, ensures anonymous web-browsing, does not store activity logs, nor record any information about its users. 
In addition, not only the government won't be able to spy on you. By using PIA, you will be able to bypass censoring policies, firewalls, third-party cookies, spyware, and disable third-party apps. Such additional features will let you browse the net more safely. 
While VPNs, in general, may slow down the speed of downloads or slightly affect the Internet load speed, the current digital era induces people to take precautionary measures to protect their privacy and clean the way from malware that may be lurking anywhere. 
Purchasing the PIA subscription is a great choice as you will get a feature-packed service for an affordable price. One subscription will allow you to protect up to 10 devices that you are using regardless of its platform, be it Windows, Mac, iPhone, or Linux. If you still have doubts, we strongly recommend you try a one-month subscription. You will lose nothing because you will be able to get your money back within 30 days if it will turn out that a VPN service is not a need for you. 
About the author
References