Wikibuy reviews. Main features of Chrome add-on (2021 Update)
Wikibuy reviews reveal: the browser add-on is a safe way to save money online
Wikibuy is a free extension that works as a browser assistant that is available on multiple browsers (Google Chrome, Mozilla Firefox, MS Edge, Safari) and is also cross-platform. It helps users to save money by giving price comparisons, best shopping deals, and discount coupons on such online shopping sites like Target, Amazon, eBay, and many more. Wikibuy is widely discussed by the online community due to the numerous fake shopping assistants, possible privacy, and developer's credibility issues.
Before starting the Wikibuy review, we can ensure that it's absolutely legitimate and safe to use. As well as other browser extensions and programs, this add-on also has pros and cons that we will discuss later.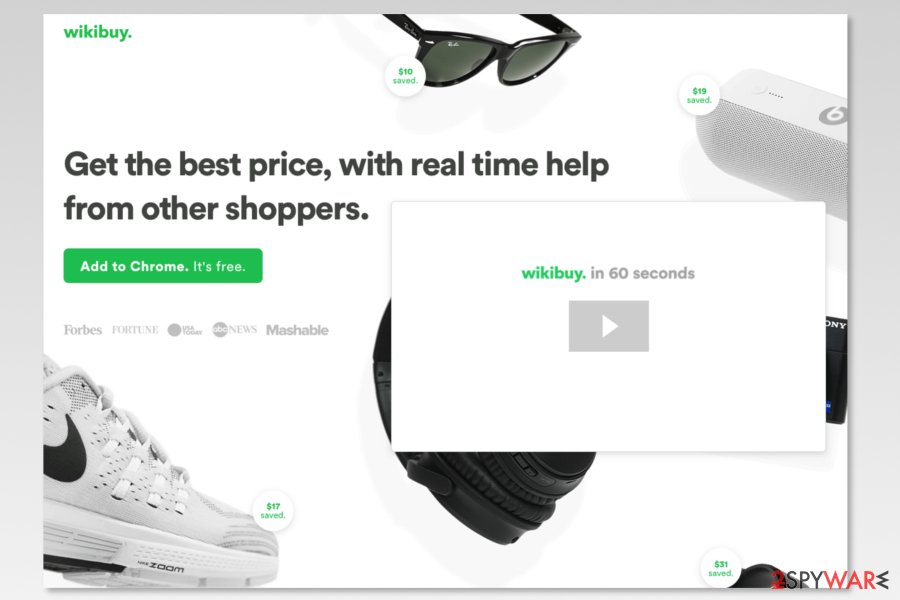 Once you download Wikibuy browser extension, you are asked to create an account. You can do it by entering your details on the form or using your Facebook or Google account. Once it's done users can take advantage of add-on's functionality:
Saving money – Wikibuy extension shows sellers that have the same good you are looking for and gives price comparisons. Thus, you can choose the lowest price of the product.
Wikibuy Checkouts[1] – Chrome extension offers to speed up shopping procedure by using their payment system that allows skipping filling checkout forms and hiding your payment details from the sellers.
Order tracking – they provide parcel tracking service, so you can see where you purchase is and when it is expected to be delivered to you.
Money-back guarantee – if your order goes missing, you can get a refund. Wikibuy provides a 100% money-back guarantee.
Loyalty rewards – users get credits for frequent shopping using the app which can be turned into real discounts.
Wikibuy legit app seems to enhance the shopping experience. Already many years in the operation, the extension was acquired by Capital One Bank in 2018, and since then became even more popular among users – enjoyed by more than 3 million users at the time of the writing. Nevertheless, not all of them are happy with it and chooses to uninstall Wikibuy and do their research instead.
However, if you find difficulties with Wikibuy removal, please scroll down to the end of the article and follow the guide provided there.
Theory of Wikibuy scam and other negative reviews
Despite all the advantages and positive feedback about the application, there are negative opinions as well. Among the most popular downsides are not providing the truly lowest price of the product, getting commissions from user's purchases, long parcel delivery time, and data tracking. 
Users often ask whether Wikibuy is a scam or not. Nowadays, there are many add-ons and browser extensions that pretend to be legit. However, they are used for collecting user's personal information, such as credit card details. However, this add-on is legal and does not steal any credentials.
Doing your own research can save you even more money
Users tell that Wikibuy does not always provide the lowest price. Despite the fact, it usually provides a lower price than Amazon; it's still possible to find a product on other online shops which is cheaper if you do your research on the web.
However, specialists from viruset.no[2] warn that extremely low price might be a sign of something shady. Before grabbing the good you need, you have to double-check the information about an online shop and read user reviews. There's a chance that you end up on a phishing site.[3]
Developers might receive commissions from user's purchases
Users assume that Wikibuy add-on does not provide truly lowest price on the market due to the possibly received commissions. Getting revenue is absolutely normal business practice. The add-on is available for free, and developers have to find a way to make income.
However, not providing an actually smallest price is not very fair. Thus, users might not find this add-on trusted or reliable.
Longer shipping time
In the forums, users also tell that buying products with Wikibuy provides longer shipping service compared to buying directly from Amazon or eBay. People report that instead of 2-day delivery, the time might be extended up to 4 days or even a week.
Data tracking and sharing
Finally, data tracking and sharing is another issue that discourages users from installing Wikibuy. Developers provide a detailed Privacy policy that informs about tracking personal and non-personal information. It's needed to provide ads and deliver purchases.
However, the concerning fact is that all collected data might be shared with affiliates. Thus, you might see third-party ads based on your clicks, purchased goods or search queries.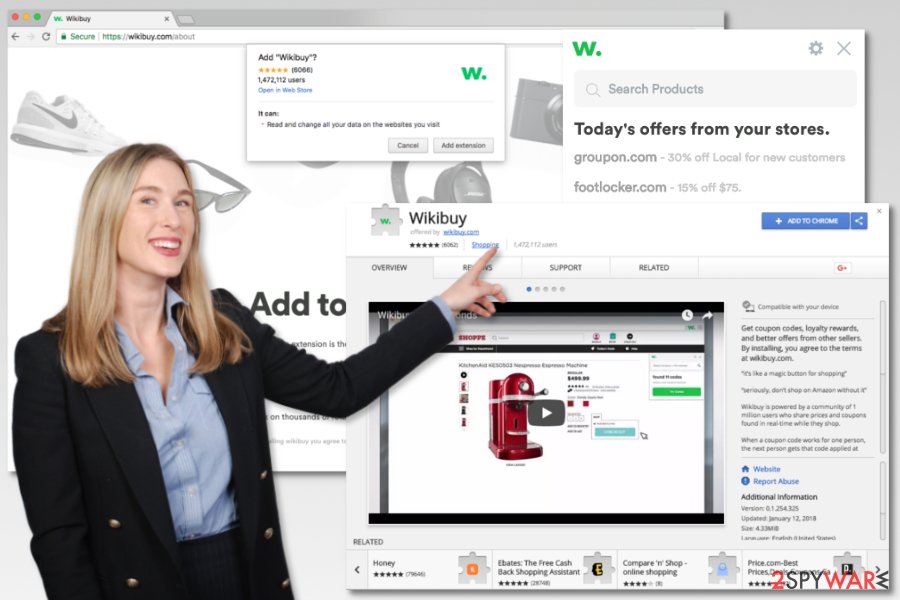 Compatibility with other browsers apart from Google Chrome is impossible
Initially released for only Google Chrome, Wikibuy is now also available on Microsoft Store, Firefox add-on page, and Safari extension store. Previously, users who access the official website using one of the browsers that are not Google Chrome would be offered to enter your email on the submission page. As a result, users could install this add-on and get the best price deals only on Google Chrome, limiting the number of happy customers.
As the development grew and acquisitions happened, Wikibuy was growing, and the number of platforms and browsers that the extension is compatible with increased drastically. Besides, the app is also available on Mac, Windows, iOS, and Android, so users can save money at home, and anywhere they go with their mobile devices.
Warning: there have been instances when a fake Wikibuy extension was being distributed by cybercriminals. Thus, please only download the app from the developer's website (www.wikibuy.com) or the official web browser stores to avoid malware infection and fraud.[4]
However, if you were ticked and installed bogus add-on or app, scan the system with reputable anti-malware software to remove Wikibuy automatically.
Installation of the shopping assistant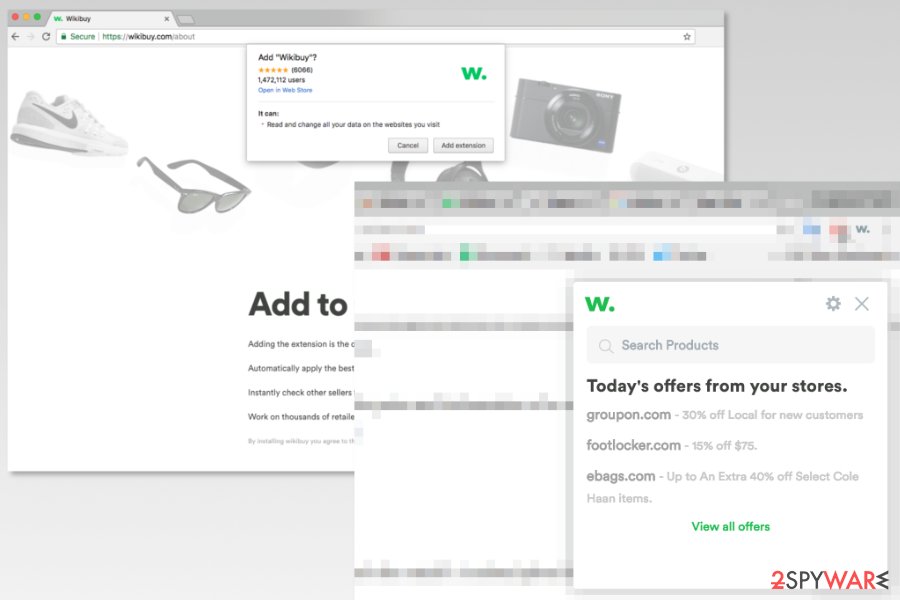 Wikibuy app is available on Chrome and other web stores, as well as on the official website wikibuy.com. Thus, users can download it manually without any difficulties. The extension itself requires only one permission – making changes on sites you visit. This activity is needed in order to display shopping offers or price comparisons on your visited e-shops.
However, there's a possibility that you might find Wikibuy offered to download in freeware packages. Software bundling is a legitimate marketing strategy. Though, you should be careful when installing programs and always check for the additional applications that you might not be willing or need to install.
Thus, the accidental installation of the Wikibuy Chrome extension should not be considered as a virus infiltration. As we have already mentioned, it's safe to use an application that cannot cause any danger to your computer.
Additionally, cybercriminals might be using the name of the app and create fake versions of the app. Therefore, you might find fake Wiki Buy extensions not only for Chrome, but Safari, Mozilla Firefox or other web browsers, or Android operating system.
Usually, the fake extensions are available in third-party app stores. You should stay away from them because they might take control of your browser and cause browsing-related problems, as well as privacy issues.
Uninstall Wikibuy from Google Chrome
If you want to remove Wikibuy from your browser, you can do it very simple:
Open Google Chrome.
Click Settings.
Navigate to More tools -> Extensions.
Find Wikibuy and click on the Trash icon on the right.
In the appeared pop-up click Remove option, and that's all – extension is successfully removed.
However, if you have installed a fake version of the shopping assistant, you should take care of your computer's security. We recommend using anti-malware software for bogus Wikibuy removal. A system scan with security software will clean up your PC within a couple of minutes.
About the author
References