BullGuard Mobile Security review, free download
BullGuard Mobile Security is a powerful antivirus app that was designed for Android devices. It promises a complete protection with antitheft controls, fast antivirus scanning, spam prevention and parental controls. As you may have already understood, BullGuard Mobile Security was released by BullGuard that can be called one of the fastest-growing brands in the market today. We have already reviewed Bullguard Internet Security, which, according to our experts, is a great tool when trying to prevent infiltration of viruses or when working on their removal. It can also help you avoid identity theft and other issues that can easily be initiated by various cyber threats nowadays. It seems that BullGuard Mobile Security acts identically – it is set to protect a phone from viruses and other harmful programs; it can easily detect all malicious apps that are already hiding in the system; it offers a great firewall and parental controls; it gives you ability to receive a very professional BullGuard's 24/7 customer support and so on. Unfortunately but there is no BullGuard Mobile Security free version available right now. Nevertheless, after purchasing its license you get ability to use it on 3 different devices at once. To sum up, it's a great tool for protecting mobile devices that have Android OS.
BullGuard Mobile Security review by 2spyware research center:
The first thing that we noticed after we decided to download BullGuard Mobile Security to our mobile device is how great its spam filter works – antivirus blocked several text messages that have been bothering us for a while. Once we installed it, we launched this program for a scan that took for us only several seconds. Just like when dealing with normal antiviruses, you can schedule BullGuard Mobile Security scan and check your device according to your needs. Once this program finished its scan, it returned informative scan results and gave us an opportunity to fix the system by eliminating dangerous or insecure apps from it. We believe that you will notice that every removal step is clearly explained and that you can easily remove virus with BullGuard Mobile Security without having to spend hours while analyzing its scan reports. By the way, this mobile antivirus has another great feature – it is prepared to help people backup their important files to Bullguard's servers. If you have ever heard about ransomwares, you will know that they can easily block your contacts, photos, music files and other important data. After you download BullGuard Mobile Security to your device, you can forget these dangers because this program will give you ability to recover your files and avoid additional problems. Finally, we were relieved after discovering that BullGuard Mobile Security updates itself automatically when the phone connects to the Internet. So, you can forget about them.
So, why should I select BullGuard Mobile Security?
If you want to keep your phone or other Android device safe, you should definitely think about BullGuard Mobile Security. No matter that it is still believed that spending money on mobile antivirus is useless, you should know that viruses are released each day and mobile market is getting bigger and bigger.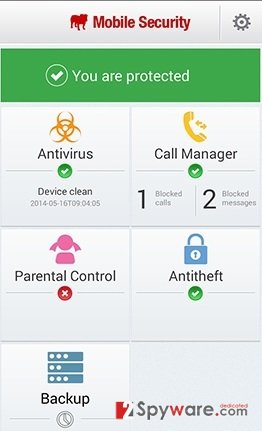 About the author
Reviews in other languages