---
Rating:
(49/100)
Yahoo Anti Spy review, free download
Yahoo Anti Spy review
Yahoo! Anti-Spy is a spyware detection and removal tool integrated into popular Yahoo! Toolbar for Internet Explorer and Firefox web browsers. The program is based on the same spyware definition database used in reputable eTrust PestPatrol anti-spyware. However, Yahoo! Anti-Spy is a fully legitimate application and cannot be called a clone. Its vendor Yahoo! is a PestPatrol official partner.

The program examines the Windows registry, running processes, cookies, files and folders. The user is not allowed to perform configurable scans. Yahoo! Anti-Spy checks only common parasite locations for known threats. This is why full system scan performed on our test computers did not take more than one minute. The program doesn't thoroughly examine content of each file and relies only on its spyware definitions database, which is updated on a regular basis. Such detection technique has a lot of disadvantages and may be quite ineffective against the most recent pests. However, such issues are quite rare, because PestPatrol spyware database is one of the most largest and currently contains signatures of approximately 30,000 different security and privacy risks.

Yahoo! Anti-Spy is an integrated component of the web browser's toolbar and therefore does not provide any additional functions and tools.

The program's interface is very simplistic, but yet easy-to-use. However, it may be quite inconvenient for advanced users who would definitely need more power configuring and controlling the spyware remover.

Yahoo! Anti-Spy is a free tool. It can be downloaded by any user of Yahoo! Toolbar.

The official web site is toolbar.yahoo.com.

Yahoo Anti Spy download:
NOT RECOMMENDED
Anti-Spyware Yahoo Anti Spy spyware remover was carefully tested by 2-spyware.com research center. The review is the result of our test. If you know additional information about Yahoo Anti Spy please
send us the note
.
Advice:
If your Computer seems Sluggish, or you see some unwanted Advertisements, redirects to the strange websites, then we recommend you to scan the system with reputable anti-spyware program. Do some FREE scan tests and you will see if there are some unwanted applications, whitch might be responsible for the tab stability of the system.

We might be affiliated with any product we recommend on the site. Full disclosure in our Agreement of Use.

By Downloading any provided Anti-spyware software you agree to our

privacy policy

and

agreement of use

.
Yahoo Anti Spy screenshot :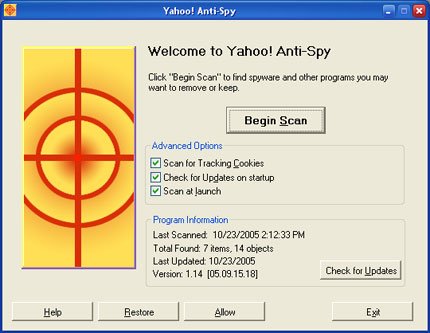 Scan in progress
Yahoo! Toolbar
Information added: 2005-10-23 07:54:44
Information updated: 2009-06-25 15:06:13
Additional resources:
Attention:
If you know or you have a website or page about Yahoo Anti Spy, feel free to add a link to this list:
add url


more resources
Spreading the knowledge:
It is very hard to fight against computer parasites on the Internet alone. If you have a website, we would be more than happy if you would like to cooperate and help us spread the information about latest threats. Remember, knowledge is the most powerful weapon. Help your visitors protect their computers!
Like us on Facebook
Latest spyware news:
Subscribe to spyware news
Ask us